Getting You Ready For The Festive Season
Christmas is a magical time, when homes are filled with sparkling fairy lights, shimmering fabrics and festive fragrances. If you haven't turned your attention to your Christmas interiors yet now might be a good time to start.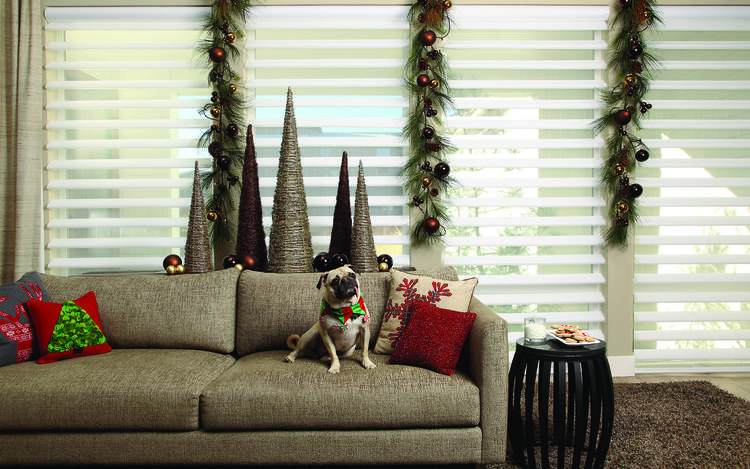 After a year like no other we are looking ahead to what is sure to be a very different festive season.
Why not take this chance to turn your attention from the outside world and get your home ready for a cosy Christmas? Twinkling lights, shiny baubles and a roaring fire will bring cheer to every heart, but don't forget to dress your windows to impress too!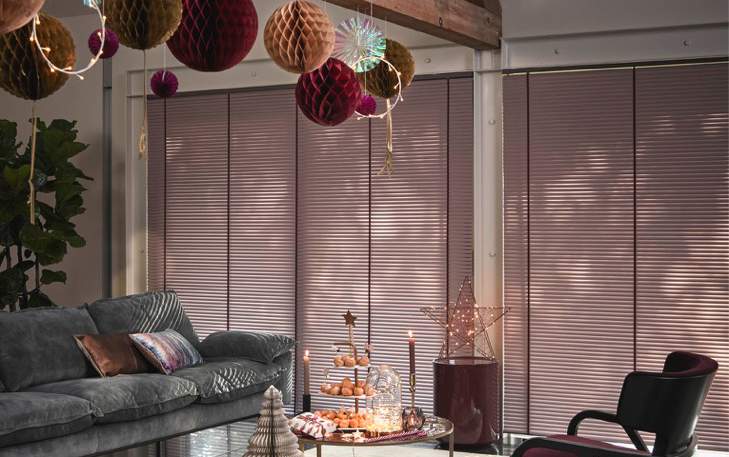 Luxaflex® Blinds
Crank Up The Cosy
There is nothing better than putting your feet up and admiring your room after a long, cold winter day. If you've gone all out with your decorations, but your window is looking a little lacklustre, our blinds can add that final touch of opulence. Silks and linens add depth and come in a range of patterns including stripes, florals, graphic prints and plains.
Luxe Velvet and chenille bring opulence and metallics, which are one of the hot trends for 2020 Christmas décor, transform a room with shimmering richness. You may prefer directional tweeds or light loving voiles for a final touch of simple, yet stylish elegance.
Luxaflex® Pirouette® Shades - Pirouette® Shades
Light Up Your Life
Sparkling fairy lights and strategically placed beautiful lamps go a long way to brightening a room in winter, but with Luxaflex you can make the most of the light outside too. With the sun low in the sky you may find yourself having to block out its glare by shutting curtains or blinds, which means people can't see your beautiful festive efforts inside!
Our Pirouette® Shades sheer backing fabric gently filters and disperses the available natural light, cutting back on daytime glare and making evening light last longer. The unique design is available in a wide range of looks to complement any room from airy sheers with undulating contours to luxurious weaves.
Luxaflex® Wood Blinds - Luxaflex®
Scandi Christmas Vibes
There are lots of new twists on Scandi style Christmas decorations this year, but one feature continues to be the mainstay……and that's the simplicity of rich natural accessories. Our Wood Blind range includes beautiful hardwood and modern faux wood materials that deliver the perfect balance of class and durability.
For a refined feel, our subtle head rails complete the look, or play with decorative tapes to add contrast or a pop of colour. We use wood made from well-managed forests and from recycled materials, so you can enjoy them with peace of mind.
Luxaflex® Duette® Shades with PowerView® Automation - PowerView® Automation
Baby, it's Cold Outside!
Two of the items at the top of everyone's Christmas list are warmth and comfort, but with the temperature dropping and the days so short it isn't easy to retain heat. Making the most of daylight thermal gain from big windows is a good start and trapping the warmth through systems such as PowerView is an instant energy win.
This smart home system can be timed to close as the sun starts to set and if you team it with Duette® Architella fabric construction you can prevent up to 40% of heat leaving through the glass. So, whether you're working from home or coming in from the cold after a hard day's work, you will be as toasty as the chestnuts by an open fire!
For more inspiration and expert advice on the right window blinds for your home, visit your local Luxaflex® showroom.