How To Decorate With Green For A Fresh Start To Spring
As the long rule of winter draws to a close, Spring greens are all around us. Emerging as buds in the garden or returning slowly to the bare trees, green is both inspiring and soothing and offers a huge spectrum of style inspiration.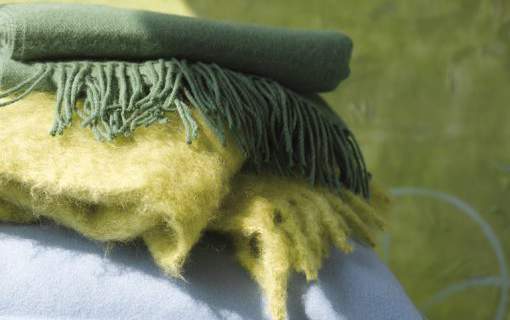 Seasonal Greens
If it's new to you, decorating with green hues can be trialled with the modest introduction of a few seasonal green accessories that perk up an existing scheme. But once the calming and serene effect of this more compelling version of a traditional neutral take root, it's likely that your green interior design ambitions will start to grow.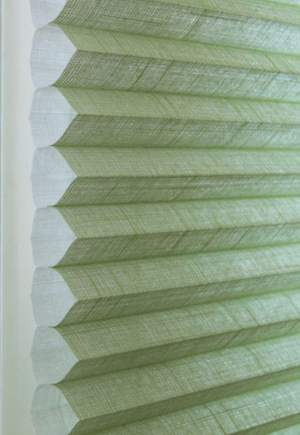 An Apple A Day
Apple fresh green décor has a particularly enlivening feel to the senses. It is a very calming tone, hitting the decorating sweet spot between fresh and neutral. Green as a predominant colour in nature, is recognised as the most soothing colour for restless minds, making it ideal for a study, bedroom or sitting room. This Duette blind keeps the look modern with the origami quality of the pleated green fabric, (another mindfully inspired activity). To make the most of its effects, keep the walls in a green paint in the same tone, and accent with nature prints salvaged from old books.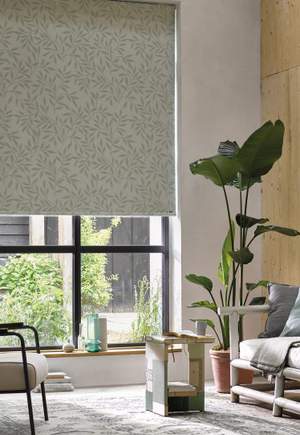 Gardener's Delight
How to decorate with green when you want a neutral, natural style? Keep it as a subtle highlight. This green floral fabric roller blind keeps the look fresh and subtle without overtaking the overall woody, naturalistic theme. The minimal take on a floral pattern also stops the large window just becoming a block of colour, and ties it in with the subtle shapes of both the rug and oversized houseplant. Soft green can be a grounding colour to support other more bold elements, and this instance also softens the dominant black lines of the window frame. So don't rule out floral interiors even if you have a very modern home; they can take your design somewhere unexpected.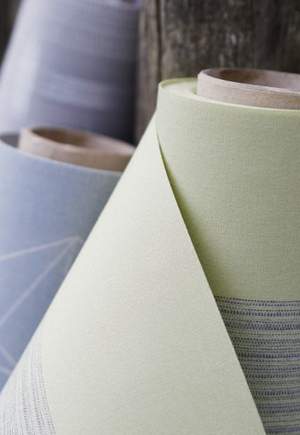 Over And Out
Awnings are a natural place to incorporate the charms of green, especially if you want something that will blend, rather than pop, against a mature garden. Adding in some inspiration from other natural elements, such as the sky, can bring subtle interest that won't dominate but will wear well with the forgiving qualities of the pattern. A spring green and a pale blue can give a French Riveriera feel on a little balcony or a classic English Country house feel across a wide outdoor dining area. The tones also give the added benefit of cooling the feel of any strong midday sun. (Hope springs eternal for the British summer).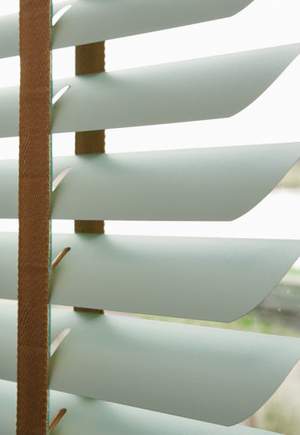 All In The Mix
The advantage of metal Venetian blinds is that they are easy to maintain and are splash proof in busy spaces, but in a white finish and as part of the very plain scheme, they can feel too much like a clinical doctor's office. Green Venetian blinds can be a great alternative to the standard white and still feel fresh, but with the confident edge lent by being a less obvious choice. Spring looks can be given a mid-century modern look when a pastel green is a matched with woven brown or tan tapes, a classic modernist combination.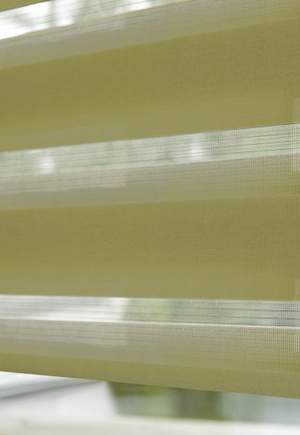 Fresh Starts
A spring green can be reminiscent of fresh buds, with more vivid urgent lime tones than other deep or pale shades. These green Twist Shades are the epitome of Spring style with their more edgy Spring fashion look, as lively colours return to the palette. This tone will allow the light diffused through them to keep more of its warm tone than cooler hued green blinds. Great colours to work against this positive energy are a bold deep pink or intense turquoise. Keep all the colours of a similarly vibrant hue, to stop one dominating another and keep the feel of the room gregarious and happy. Great for a playroom.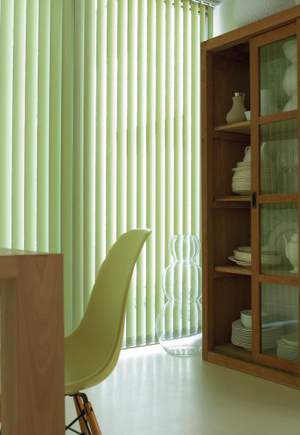 Upward Green Shoots
Bright green vertical blinds may seem like a big statement, but they are great for adding some interest to a picture window where the view may lose its allure in the colder months. They will tie into and reflect a verdant garden in the summer months but also add a wall of interest when there is less to see. Lime green vanes will cool a room in the heat of the day whilst being tilted to manage the light precisely, and are a less frosty alternative to blue.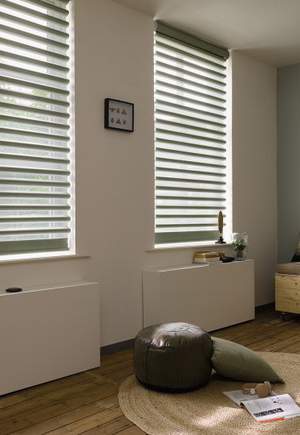 A Green Interior
A luxe green interior can be easily achieved by adding some Pirouette blinds into even a pared back scheme; often when a scheme is very plain the introduction of just one fabric that with a subtle sheen or richness brings back a sense of comfort. A green material shot with a pale gold against natural wood textures can add in some low key luxury, and reflect back shimmering warm lamps or candles as night falls. So consider green window coverings as an alternative to heavy curtains as a way to bring home some warmth without cluttering up your decorating vision.