Cosy up for winter
Rebecca Jones
Tips, Trends
As the leaves change colour and temperatures prepare to drop more permanently for the colder months ahead we're here to share some cosy living ideas that will create a comforting space in your home.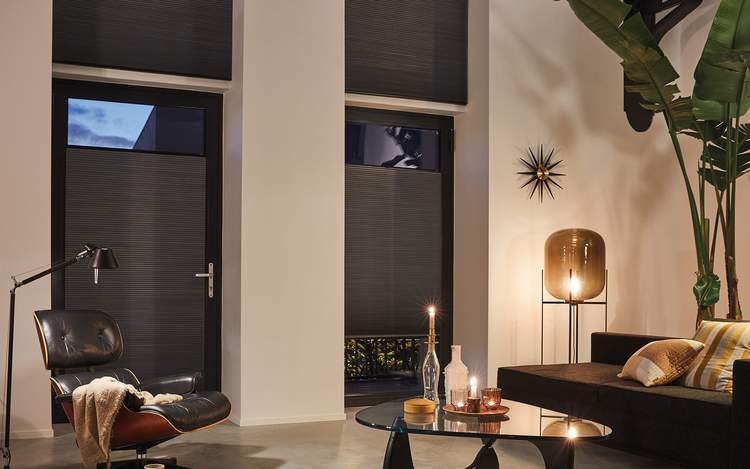 There's even a name for this interiors trend 'cosycore' is the buzzword word you need to know! So, pens and paper at the ready - prepare to take a few notes.
Layer up
Multiple layers aren't just for the outdoors - layering soft furnishings in your living areas and bedroom is a simple yet effective way to click into the cosy vibe.
Experiment with different fabrics and textures to elevate the look while choosing similar tones and balancing patterns to keep it cohesive.
We can't get enough of sheepskin throws - add these to the foot of your bed or arm of the sofa for ultimate comfort. What's more, there's plenty of faux options on the market so it doesn't have to break the bank.
This layered look also works with rugs. Throw a sheepskin rug on top of what you're already working with and you've nailed cosy chic in one fell swoop!
Subtle glow
We're all about creating the perfect ambience using a combination of natural and artificial light.
Keep lighting turned low - main lights are a large no, letting lamps, lanterns and candles do the talking. Table lamps on side tables and cabinets are ideal for functional lighting while floor lamps create pools of lights to add dimension and definition to the space.
Of course, your window treatments are designed to put you in control of the light that streams in. Which Luxaflex® shades are you loving?
Wood blinds
Up close
The closer, the better, right? If space allows, position your seating in a way that encourages closeness and conversation. Create a central focal point in the middle of the room with a styled up coffee table or practical pouffe.
L-shaped sofas are made for this - offering plenty of seating for family and visitors to take a moment to chill.
And did we mention snacks? All great gatherings are in need of a snack, so grab your favourites and bunker down with a movie.
Go dark
Deep, dark tones on your walls will instantly create an intimate setting. Feeling brave? Go all out and paint the ceiling too. Elevating the room with lighter, softer furnishings, in contrast to the walls.
Think squid ink and charcoal, moody blues and forest greens to create a cocoon like effect to curl up into.
The perfect partner is the ever-popular bouclé chair. Derived from the French word meaning curled or ringed, bouclé is big for interiors adding luxe and texture wherever it's placed.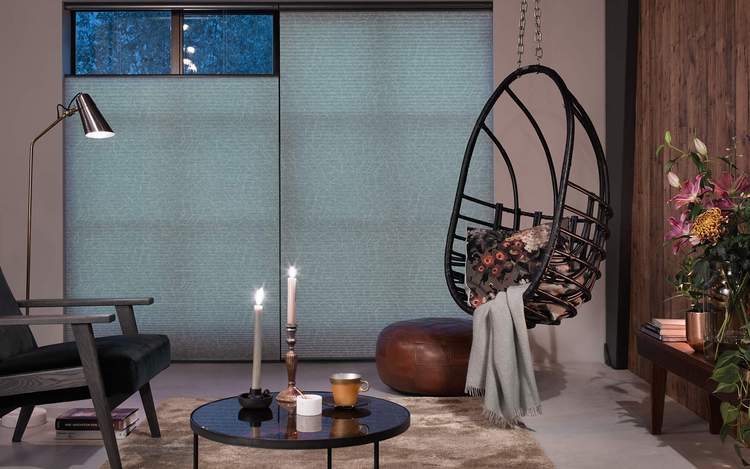 Duette® shades
Heat on high
With energy bills at all time highs, we're having to be a little imaginative when it comes to staying warm at home. Of course, there's the obvious of wearing extra layers and keeping doors closed but have you thought about your window coverings?
Windows are one of the main sources of heat loss in the home, so if left uncovered you're missing an opportunity to retain heat in the room.
Not only for windows, ensure large openings including french doors, sliding doors and conservatories are covered too.
Our Duette® Shades are the product you need for maximum energy-efficiency, the blind's honeycomb-shaped cells create an insulating layer at your window, heat is trapped creating an energy-efficient, insulating layer during the colder months - keeping your space toasty and most importantly, cosy.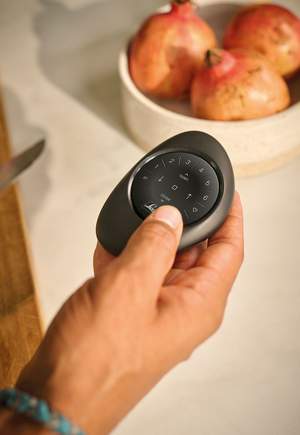 PowerView® automation
When paired with PowerView® automation you can maximise the sunlight and reduce the cold entering your home with automated settings and bespoke schedules.
Control all your Duette® shades from your smartphone, Pebble remote control, or via voice control.
Outdoors in
It may be a complete juxtaposition but bringing the outdoors inside to create a homey atmosphere is all the rage and something that can be adapted so easily into your existing interiors.
Pine cones, natural logs and greenery look great with plants promoting physical and psychological benefits to our mental health by adding calm and zen to your home.
Are you prepping for a cosy season ahead? Visit your local Luxaflex® retailer to see all the choices to make your home more energy-efficient and stylish.