What's Best for Patio Doors?
Sliding or Patio doors are a great addition to any home, creating an indoor-outdoor feeling and making rooms feel lighter bigger.
There are many types of Luxaflex® window treatments for patio or glass sliding doors depending on your style preferences and needs;
Do you need shade from the sun?
Is preserving your privacy important?
Are your patio doors frequently used to access the garden?
Your local Luxaflex ® retailer will help work out what's best for your unique situation but here are some ideas to inspire you!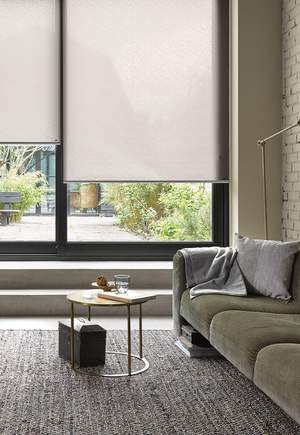 Patio Door Blinds
Patio Door Types
Patio doors come in many different systems, types, and styles.
Growing in popularity with homeowners, patio doors add light and a sense of pace to a room. The latest generation of patio doors, suit any type of home with new design features and options;
Bigger size sliding doors
Flexible opening options
Slimmer door profiles
Contemporary design
Designed for security and weather resistance.
Extensive colour and material choices
Whatever patio doors you have chosen, our range of made-to-measure window coverings will fit seamlessly with a style that suits your décor. That's the benefit of choosing a bespoke product made to your specification.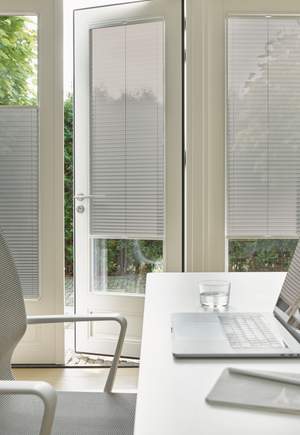 French Doors
What is the difference between French Doors and Patio Doors?
Whilst both are stunning options, the main difference between French Doors and Sliding Patio Doors is the way they open.
French doors are double doors that swing on hinges, while sliding patio doors slide on a track along the wall.
At Luxaflex® we make window coverings that work on both door types. If you have French doors, browse our ideas page
Window Blind Ideas for Patio Doors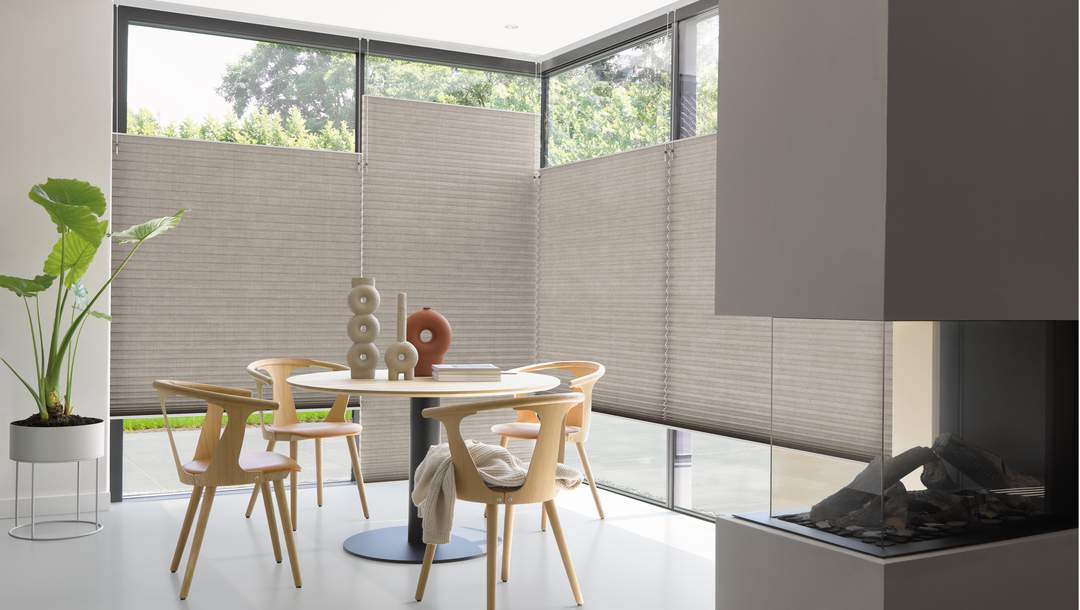 Luxaflex® Duette® Shades
Luxaflex® Pirouette® Shades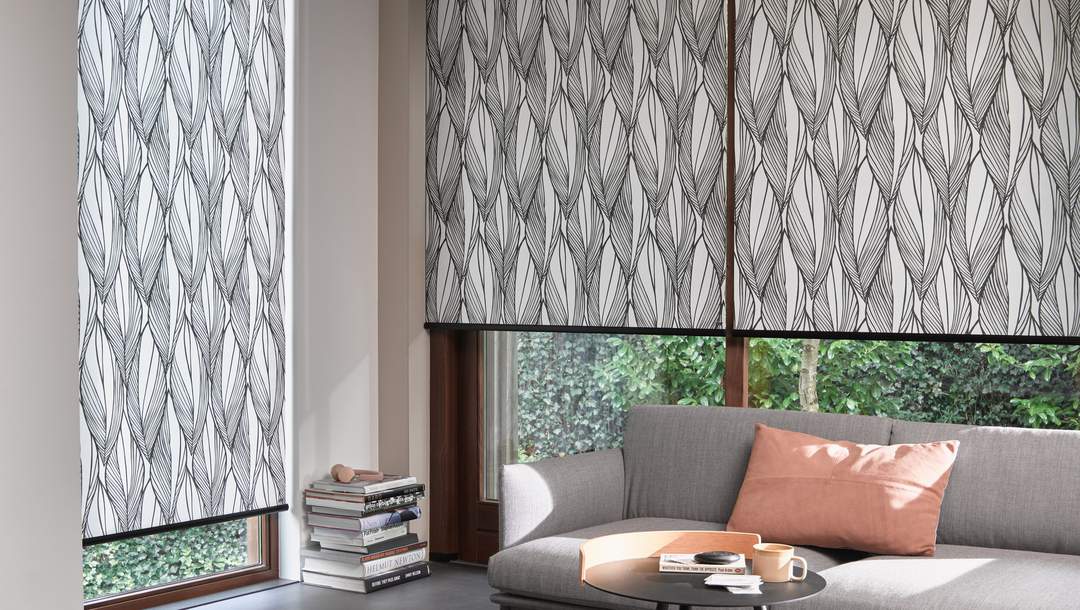 Luxaflex® Roller Blinds
Luxaflex® Sonnette® Shades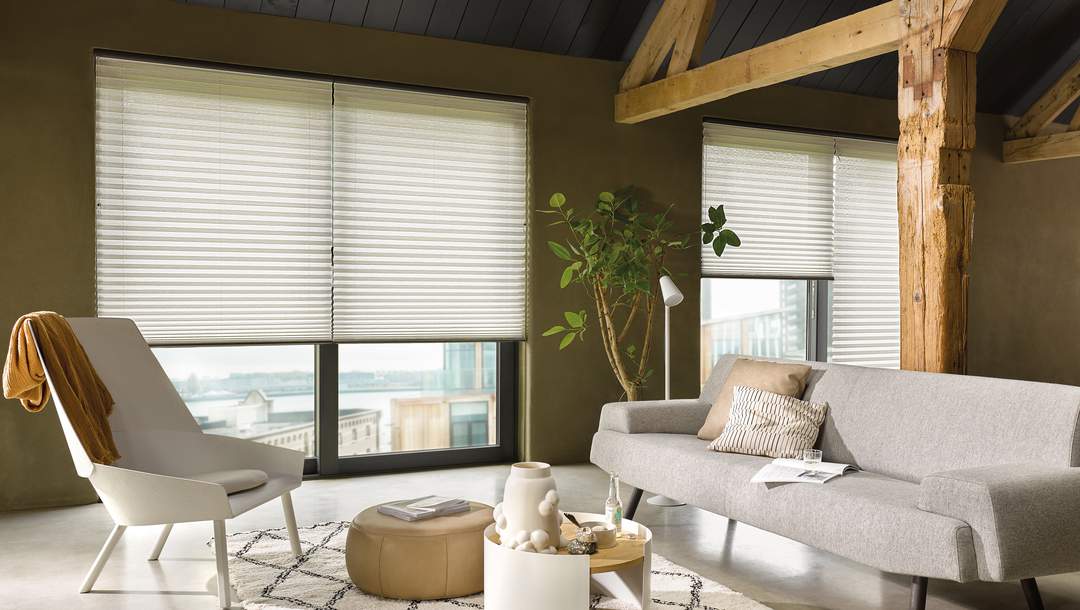 Luxaflex® Plisse® Shades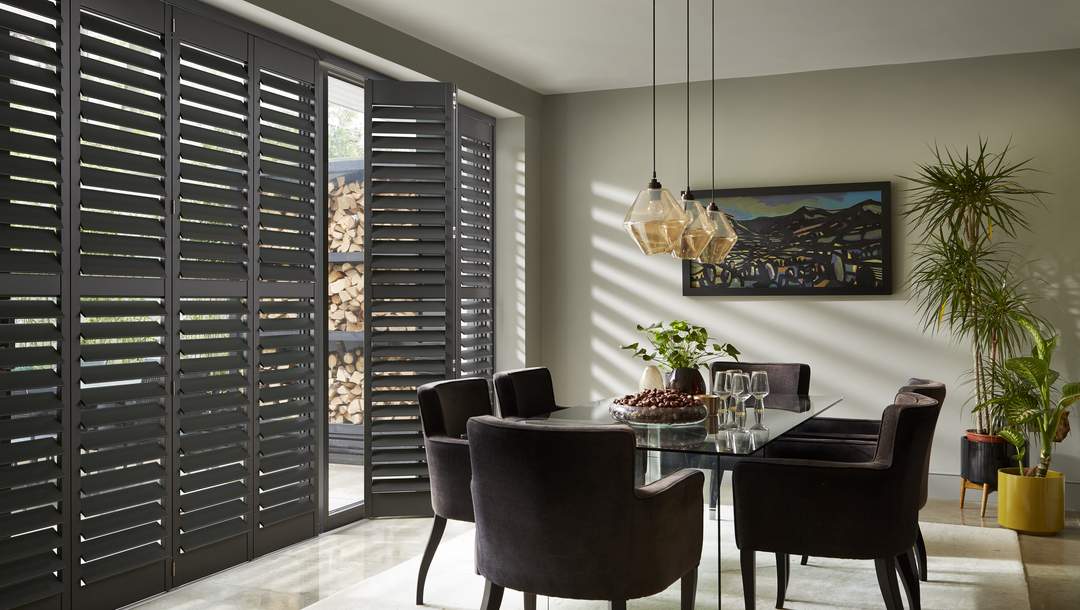 Luxaflex® Shutters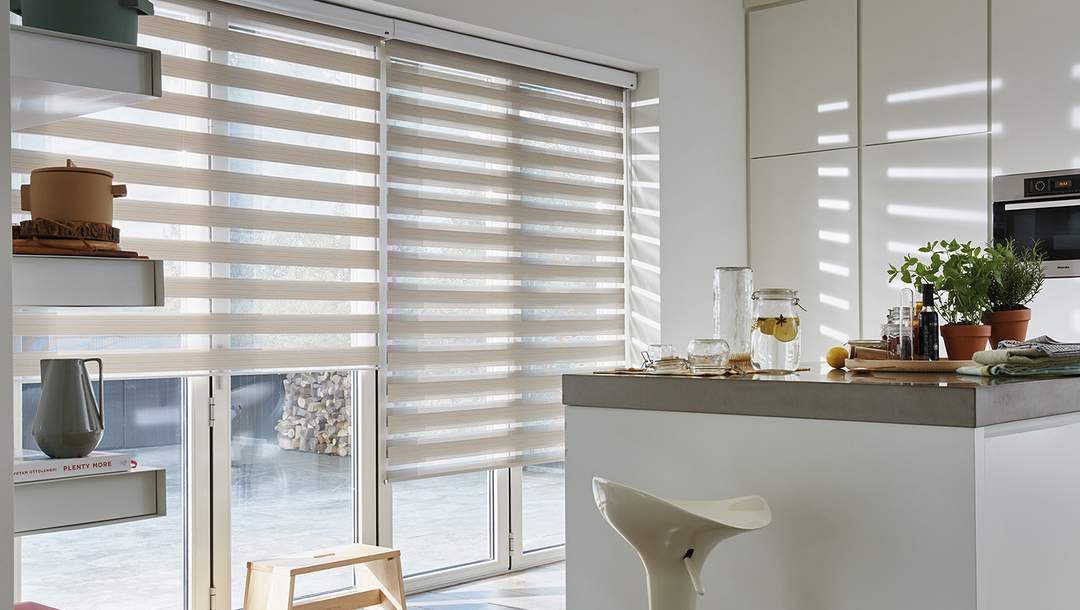 Luxaflex® Twist - Day & Night Blinds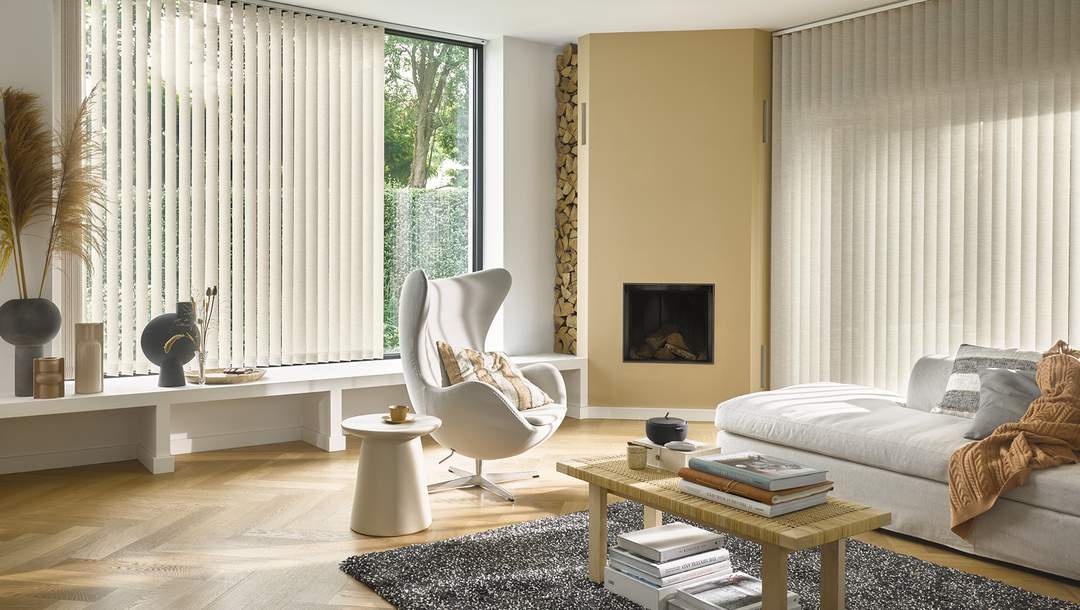 Luxaflex® Vertical Blinds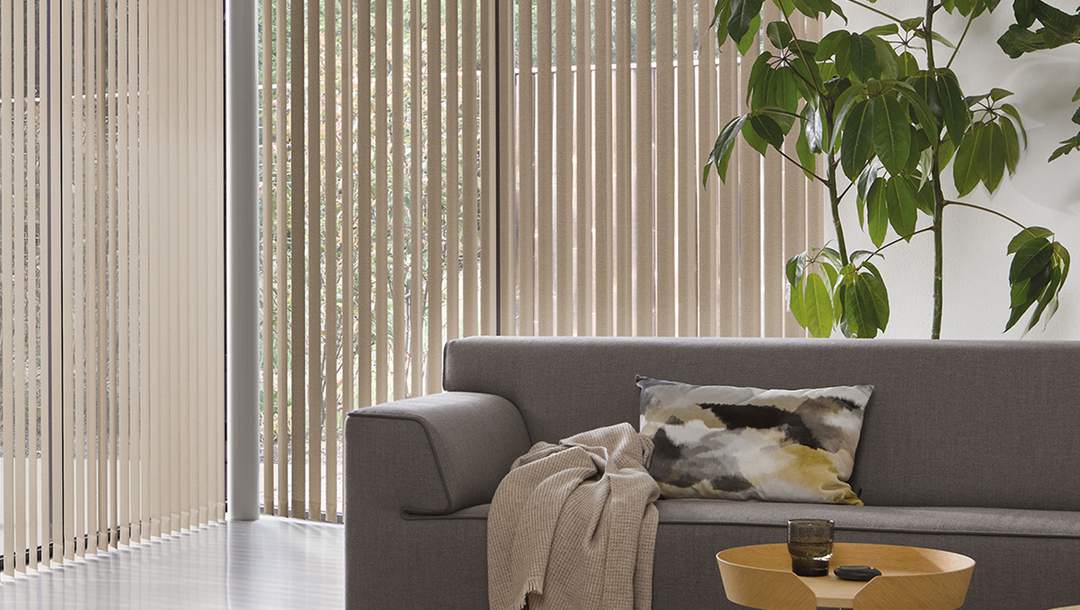 Luxaflex® Vertical Blinds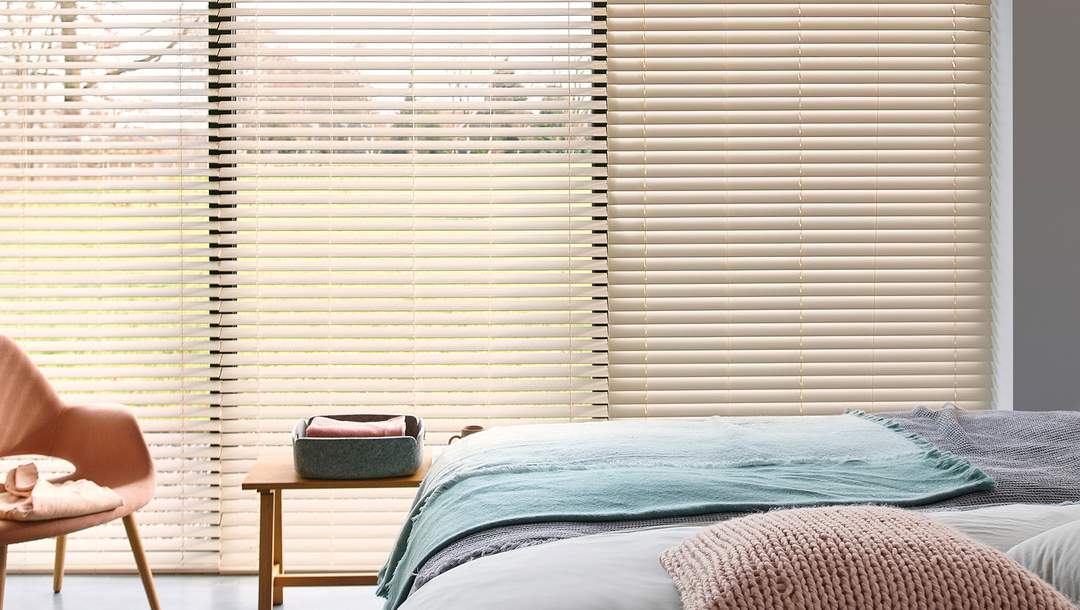 Luxaflex® Wood Patio Door Blinds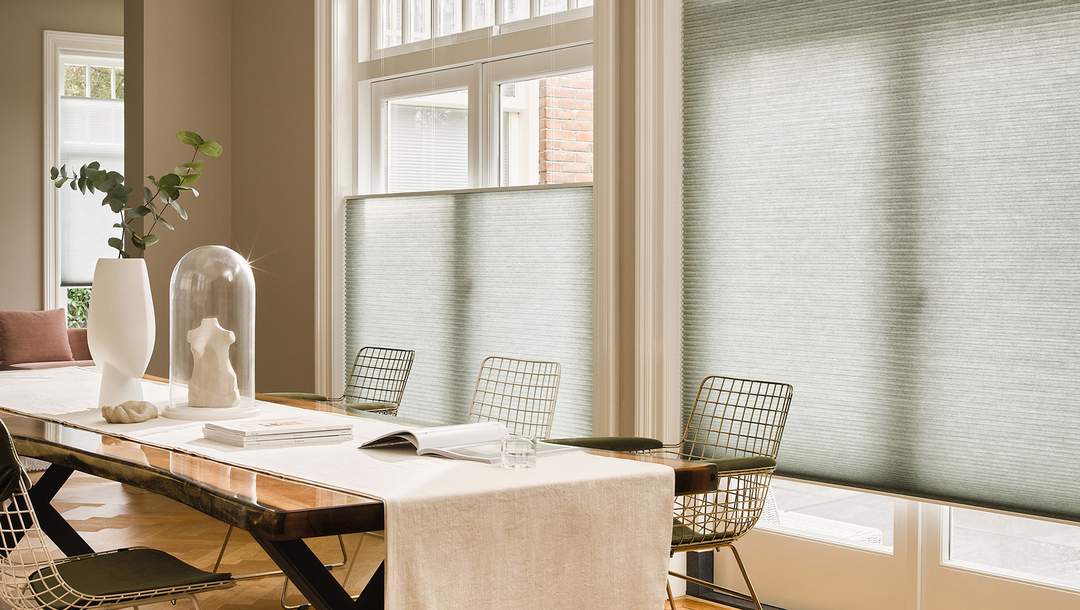 Luxaflex® Duette® Shades
Patio Door blinds
Roller Blinds for Patio Doors
The essential simplicity of a roller blind creates the perfect blank canvas to make a stunning statement on patio doors.
From bold prints to shimmering sheers our collection offers new, exciting ways to manage light and elevate your patio door.
The slimline design of roller blinds when raised, also reveals all the glory of your views.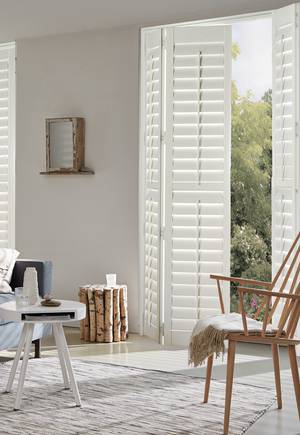 Shutters for Patio Doors
Shutters for Patio Doors
Our bespoke patio door shutters offer a unique look' and practical solution for sliding glass doors.
Stylish shutters neatly stack to the side for easy access to your patio door and simple to use louvres and tilt rods let you open and close, tilt or stack the shutter panels to suit your changing needs - day or night.
The excellent insulation properties trap cold or warm air between your Shutters and the patio windows, reducing heat loss in the winter months and reducing heat gain in the summer. This helps make your home more comfortable and energy-efficient all year round.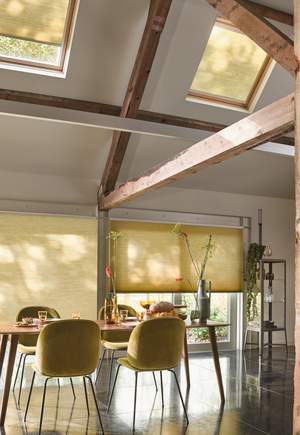 Luxaflex® Duette® Blinds
Are Patio Doors Energy Efficient?
Large patio doors are great for letting in lots of natural light but too much warm sun or cold glass can make rooms uncomfortably warm or cool and not energy efficient.
Our Duette® Blinds with a unique honeycomb cell that traps the air, making rooms cooler in summer and warmer in winter, keeping your valuable heating energy in your home.
Duette® fits many window types including skylights. This means you can coordinate your whole room style in the same fabric.
And for convenience and safety, you can choose cordless control or smart home operation to control your patio door blinds.
Patio Door Blinds - Sealed in pocket
The Best Privacy Solution For Patio Doors
If your home is overlooked by neighbours, Vertical Blinds are a practical and stylish choice for patio doors as the vanes can be adjusted to give you more privacy whilst still letting in light when you need it.
And, our smart home control enhances your privacy even further, letting you create privacy settings that move your window coverings automatically even when you're not at home.
The width of your windows is not a problem as our Vertical Blinds can be made in virtually any size and shape of a patio door.
And our sealed-in bottom plate design eliminates the need for stabilising chain links along the bottom of the vertical blind. This is ideal for high-traffic windows or doorways where children and pets might be moving through.
Find a Luxaflex® Showroom
Get expert advice and inspiration on choosing the perfect Patio Door window treatments for your home.
patio doors blinds - sliding patio door blinds
Venetian Blinds for Patio Doors
Flexible Venetian Blinds can create just the right design balance to match the scale of your patio door and room style.
The slats can be adjusted precisely for privacy and light management, but if you want to focus on your view, our unique MegaView® design will close and tilt just like a normal blind, but when open reveal twice the view to the outside.
And with a choice of subtle colours to the latest textures and smart home controls, Venetian Blinds can create the ultimate contemporary style for patio doors.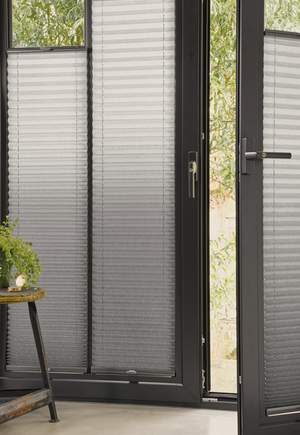 patio door blinds uk
Easy Access to Patio Doors
Patio doors often provide the key route to the garden so highly used, especially in the summer.
If accessing your door handle is important, our FrameFit ™ and TruFit® systems are ideal as they won't affect the opening or closing of the door.
These clever solutions are ideal for uPVC windows as no drilling is required, as the blinds sit neatly inside the window panel. As there are no operating chains, FrameFit™ and TruFit® are inherently child-safe.
Depending on your style preference you can choose from Roller Blinds, Pleated Blinds, Venetian Blinds, or energy-saving Duette® blinds. Whatever style you choose, your blind will become an integral part of your door with a sleek modern style.
Patio Door Blinds and Shutters - Patio Doors Blinds
Patio Door Blinds for Light Control
Managing light levels when you have large patio doors can be tricky but our Twist® Day & Night blinds offer a great solution for every room, but especially multipurpose rooms.
Combining two fabrics, one sheer and one opaque means you can adjust your Twist® blinds to give you flexible light and privacy control when you need it.
Easy to use, you can open and close your Twist® blinds like Roller blind, to let in light or in the evening to have complete privacy, room darkening, and a cosy feeling.
All the controls are hidden from view, so they don't detract from the sharp design style that day and night blinds are known for.
You can see all colours and styles at your Luxaflex® showroom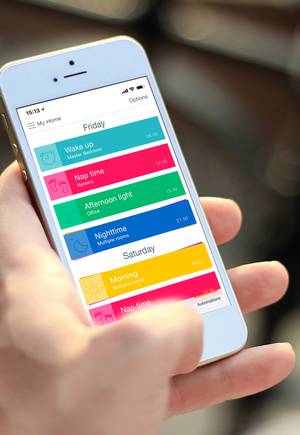 PowerView® Automation
Patio Door Blinds with a Remote Control
For the ultimate convenience, choose our PowerView® Automation system to control your patio door window treatments via a remote control or app on your smartphone.
You can use PowerView® to raise your patio door blinds automatically in the morning, improve your home's sense of security, or change the mood from daytime light to cosy evenings. PowerView® also connects to Apple Home Kit, Amazon Alexa, Google Home, Nest, and many more smart home systems.
Your Luxaflex® retailer will show you our full range of child-safe operating options and help you choose the best solution for your home.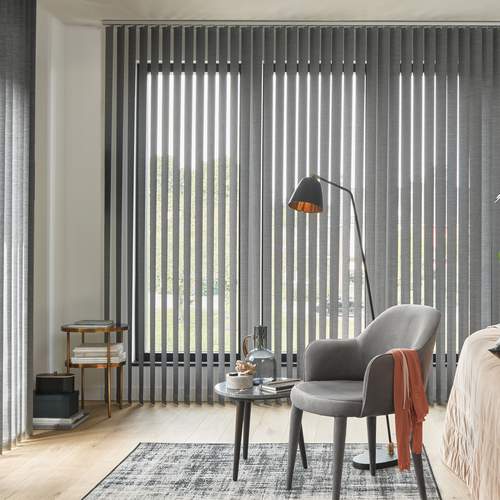 Smart Home Living for Patio Door Blinds
Our innovative wireless system lets you move any Luxaflex® PowerView® patio door blind according to the schedules you set. Enjoy perfect light and privacy, energy efficiency, and everyday convenience - all delivered automatically with PowerView®.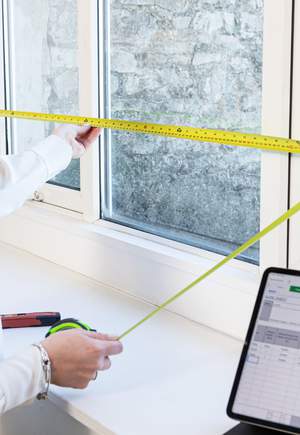 How to Measure
How to Measure and Install Patio Door Window Coverings?
All Patio Doors are different and that's why accurately measuring and installing window treatments is critical.
This is not a task you should worry about as your local Luxaflex® retailer is an expert in measuring and installing so will take all that stress away.
When you have shortlisted your product, they will visit your home to assess your windows, check important details like light control or privacy needs and then measure everything precisely.
It's an important step as accurate measurements ensure a perfect installation for proper fit and function.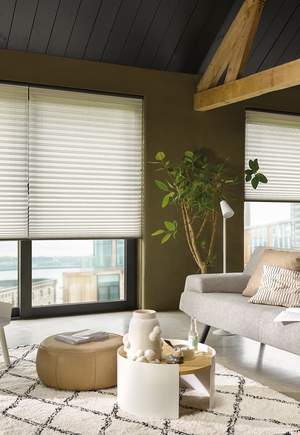 Get Expert Advice for Your Patio Doors
Get Expert Advice for Your Patio Doors
To see our complete range of made-to-measure Patio Door window treatments, book a free consultation with your local Luxaflex® retailer and get expert advice and inspiration too.
They'll guide you to the best solution for your home. If you are looking for solutions for your French Doors of Bi-Fold Doors, check out our helpful guides.