Blinds & Shutters for Shaped Windows
Get the look you want
We all enjoy making our homes unique and that can include unusually shaped windows.
At Luxaflex® we've created a range of stylish made-to-measure blinds and shutters for almost every window shape and size - so you don't need to sacrifice your individual style.
Your local Luxaflex® Showroom will help you get the right product for even the trickiest windows, but here are a few ideas to get you started...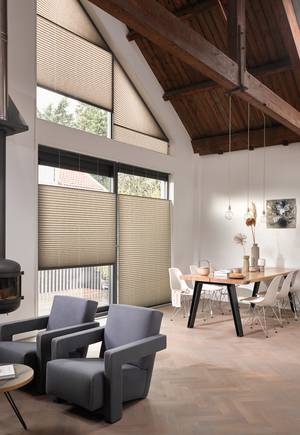 Luxaflex® Plisse Shades - Angled Windows
Angled Windows
We'll sort out the shapes, so you can just concentrate on finding a window treatment style you love. Our Duette® & Plissé Shades, Venetian, Vertical Blinds all offer stylish solutions for angled windows.
Choose from a wide range of gorgeous colours and designs that add both style and practical features for privacy and light control with manual and motorised control.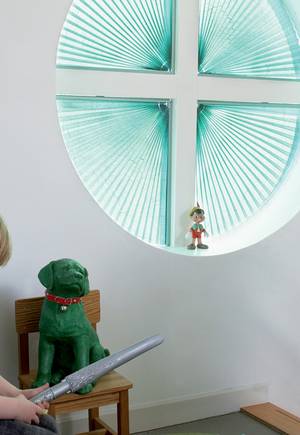 Luxaflex® Plisse Shades - Round Window
Solutions for Round Windows
Round windows offer a unique look for modern and traditional homes, however, you might also need to protect your privacy from onlookers. As all our window blinds are crafted for your individual windows, you'll be guaranteed a precise fit.
Talk to your friendly Luxaflex® dealer who will give you expert advice on the best solution for your round windows.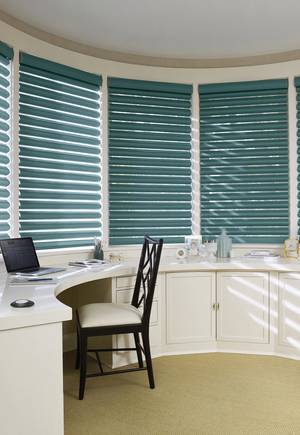 Luxaflex® Pirouette® Shades - Bay & Corner Windows
Bay and Corner Windows
There are many types of bay and corner windows so it's important to invest in a custom-made blind for a perfect fit and function.
The good news is that Luxaflex® offers lots of exciting styles for bay windows - all made to measure for your exact window configuration.
Choose from the soft fabric style of Pirouette® Shades, sleek Venetian Blinds, practical Vertical Blinds to insulating Duette® Shades, or the crisp style of Plissé Shades (pleated blinds).
You can see all the options and get expert advice at your local Luxaflex® dealer.
Luxaflex® Roller & Venetian Blinds - Sliding Doors - Blinds & Shutters for Shaped Windows
Patio Windows & Sliding Doors
Sliding windows or patio doors can create an outdoor feeling - making rooms feel more spacious - but sometimes, they can let in too much light at certain times of the day.
Almost all Luxaflex® window treatments can be used with these types of windows as each blind is custom made for the exact proportion of your windows or doors.
Our exclusive styles in classic and contemporary looks, include Designer Roller Blinds, stylish Wood Blinds, modern Vertical & Venetian Blinds, or Duette® & Plissé Shades. And for the ultimate convenience - choose PowerView® Automation with instant smart home control.
Luxaflex® Skylight Blinds - New Blinds & Shutters for Shaped Windows
Skylight or Velux Windows
Adding a skylight or a Velux window is a great way to make a room brighter and more open but sometimes all that sunlight can be too bright (or warm) and spoil all the fun.
Our Skylight blind range includes beautiful light filtering styles for natural light without glare, to practical room darkening fabrics for bedrooms and TV rooms.
Our custom-made blinds fit Velux and all other leading brand skylights with looks for your individual style.
Find a Luxaflex® Showroom
Get in touch today to get expert advice and inspiration too for your shaped window blinds or shutters.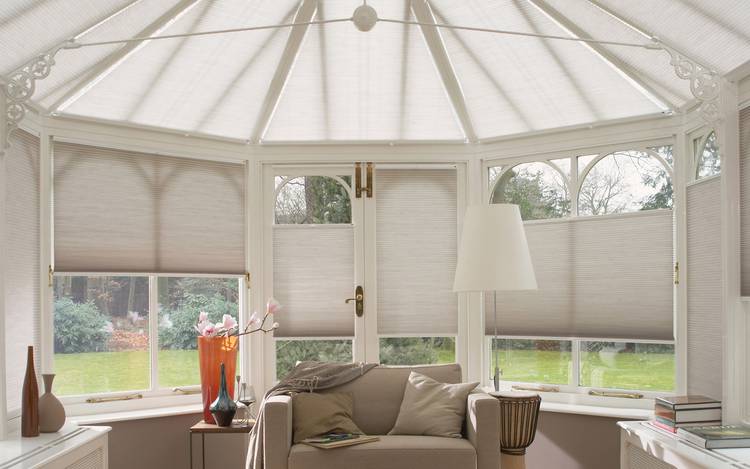 Luxaflex® Conservatory Blinds
Conservatory Roof Lights and Windows
Conservatories and glass rooms often have windows in different shapes, sizes, and opening methods and can suffer from extremes in temperature.
Our unique Duette ® Shades fit virtually every conservatory door, window, or roof light opening - so you can create a cohesive look in every glazed area of your conservatory.
Choosing Duette® Shades can really make a big difference to the comfort and usefulness of your conservatory by keeping it cooler in summer - warmer in winter - and insulated all year round. Stylish too with an inspiring range of colours and patterns to choose from.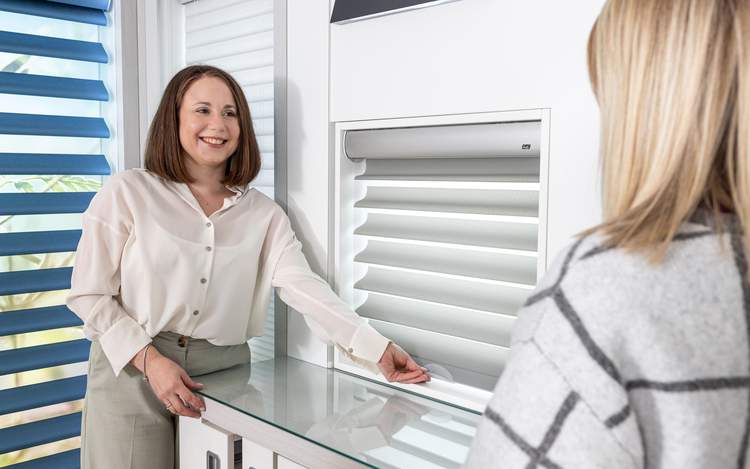 Get Expert Advice
Get a Free Consultation
Don't worry about choosing the right blind or shutter now as your local Luxaflex® retailer is an expert in our products and will help you choose the very best products for your window shape, size, and style.
Get in touch today!
FAQ's - Blinds for shaped windows