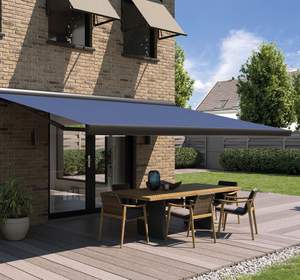 Custom Made Awnings • External Solar Shading • Electric Awnings • Sun Protection • Retractable Arms • Heating & Lighting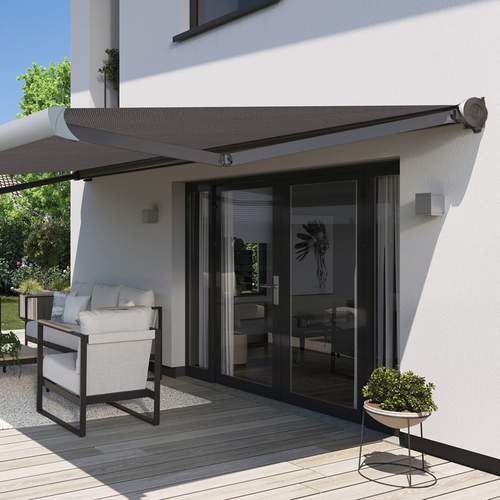 Extend your outdoor living
Our stunning collection of Awnings will help you create an oasis of calm that suits you and your family's needs, making your garden feel like an extension of your home.
There's nothing to stop you having a full Sunday dinner on your patio, elevenses by the pool or breakfast on the veranda!
Our incredible range of Awnings mean you can experience alfresco dining in shade, shelter and comfort.
The advanced fabric technology helps protect the fabrics colour so it won't fade and contains a UV treatment to assist in blocking out the sun when you're enjoying time outside.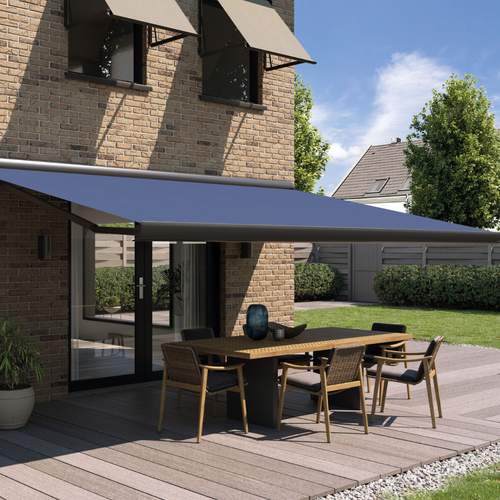 Why a Luxaflex® Awning?
Energy Savings: By blocking the sun's rays, a Luxaflex® Awnings can reduce the amount of heat entering your home, reducing the strain on your air conditioning system and ultimately lowering energy costs.
Increased Comfort: By providing shade and shelter, a Luxaflex® Awning can create a more comfortable outdoor environment, even on hot summer days.
UV Protection: Awnings can protect against harmful UV rays, helping to prevent skin damage and keeping your furniture, carpets, and blinds from fading.
Increased Longevity: A Luxaflex® Awning can protect your windows and doors from weather damage, prolonging their lifespan and reducing the need for costly repairs.
Aesthetics: The Luxaflex® Awning collection is available in a variety of styles, colours, and materials, so you can choose a perfect solution that compliments the look of your home.
Enhanced Privacy: Awnings can provide privacy, while still allowing you to enjoy the beauty of the outdoors.
Thanks for your request
We will respond to your request as soon as possible.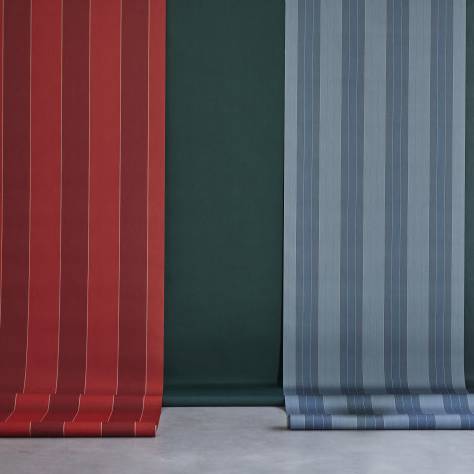 Fabric choices to suit any style
Luxaflex® Awnings are a simple and affordable way to add exterior shading to your patio with lots of exciting style choices.
Our special Awnings fabrics are treated to withstand variable UK weather conditions and are built to last with premium materials.
Enjoy a stunning choice of bold stripes, jacquards, and plain fabrics, all designed to add instant style to your patio.
All our Awnings come with a Luxaflex® guarantee for peace of mind.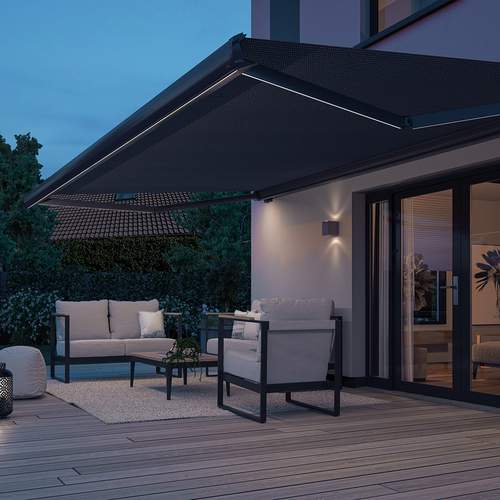 Easy to use motorised control
Electric Awnings
For ease and convenience, your Luxaflex® Awning can be controlled at the touch of a button. From simple control to advance operation, our made-to-measure electric systems are designed to meet your needs for convenience, practicality, and comfort.
Our Electric Awning options range from systems which extend and retract the arms, operate LED lighting within the arms as well as heating options - creating fully customisable solutions for you and your home.
To make sure your Awning offers the correct amount of shade for you, your local Luxaflex ® retailer will do a full technical assessment of your home and windows to ensure your shading needs are met with your new Awning.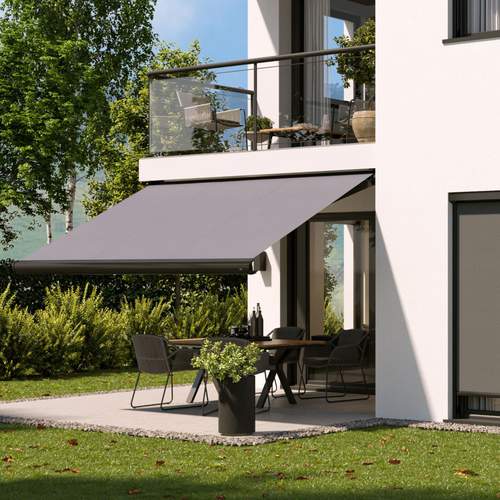 Convenient and easy to use
Is a Retractable Awnings Worth it?
When investing in your home there will always be the question "Is this going to be worth the money?" A retractable Luxaflex® Awning for your patio or garden offers many advantages you might not have considered;
Expanding the size of your outdoor living space
Providing shade and protection from showers
Automatic motorised control for convenience
Built-in lighting and heating options for extra comfort
Keep the heat out - a retractable systems naturally helps to cool your home
Measured and installed by experts for a perfect fit and function
Peace of mind warranty.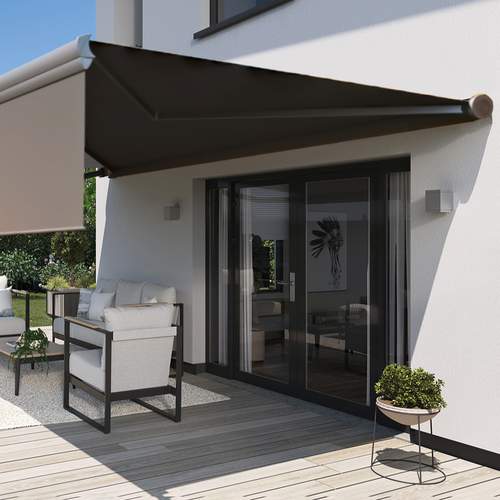 Durable fabrics
Do Awnings Protect From The Weather?
Our Awnings can offer protection from light showers and drizzle by directing it away from the house or sidings around your windows and doors.
In addition they are the ideal solution for protection against the sun, creating a perfectly shaded area for you to relax and by blocking the sun's rays a Luxaflex® Awning can help prevent skin damage
Luxaflex® retailers offer expert advice on what to consider when choosing an awning so you can enjoy stress-free alfresco living.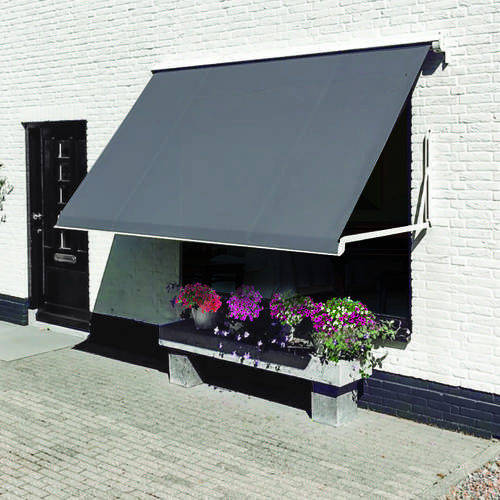 Drop Arm Awnings
Our cassetted Drop Arm Awning is beautifully styled featuring slim but durable arms. The cassette offers protection for the fabric by enclosing it neatly into the cassette box.
Drop arm Awnings offer an ideal solution to protect your room and smaller terrace or balcony as the Awning fabric is projected forward away from the window instead of resting vertically against the facade.
This breaks up austere facades and adds a light Mediterranean flair to buildings. This permits an outside view even when they are lowered.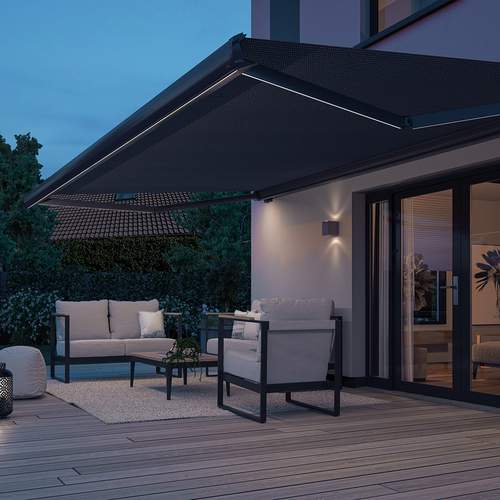 Extend your day & night
Awnings with Heating & Lighting
Why end the fun early?
With the Formosa Max and Formosa Max with extra valance LED lights can be fitted into arms. The benefit of lighting extends your day into the late evening making your patio a truly useful outdoor living room.
And for extra comfort and cosiness, add an all-weather heater that extends the season to spring, summer, autumn, and maybe even winter.
Find a specialised Awning dealer
Visit your local Luxaflex® showroom to get expert advice and inspiration for your new made-to-measure Awnings.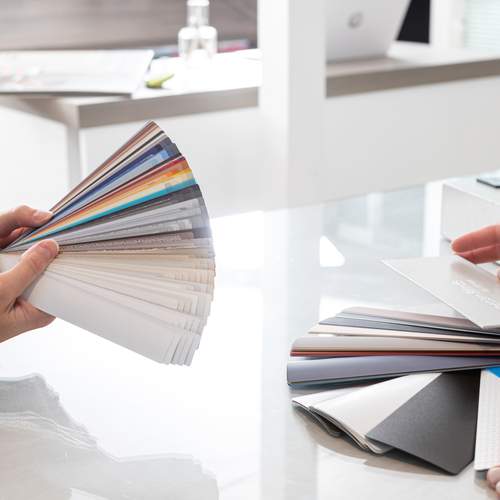 Find a showroom
Together with our local expert, you can look at inspiration for your room and get to know the products and materials you like.
Home consultation
We'll measure your dimensions, assess your lighting, and make sure everything is perfectly designed for your home
Seamless installation
Relax and let Luxaflex® professionals do what they do best. Always knowing you're covered under our guarantee.