Why Choose a Luxaflex® Electric Awning?
Luxaflex® Electric Awnings offer the best in outdoor living, providing custom-made shading solutions for small terraces to large outdoor entertaining areas.
Featuring the latest in design and functionality, our Awnings are made with high-quality materials with convenient electric operation.
Creating a new outdoor space with external shading is a great way to extend your home and maximise the garden. Awnings provide extra protection against the early morning and late evening chill – but with all the feel-good benefits that fresh air and a great view they bring.
Enjoy Sunday dinner, elevenses by the pool, or breakfast on the veranda! Our superior range of exclusive electric Awnings means you can experience al fresco dining in shade, shelter, and comfort.
For instant shading the remote control lets you operate your Awning with the touch of a button!
Made to measure for your home with a Luxaflex® guarantee for peace of mind.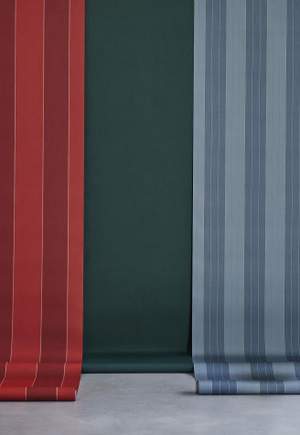 What Styles Are Available?

Create an exciting outdoor space with maximum privacy
Whether it is a garden, balcony, terrace, or poolside, our range of electric Awnings and pergolas offer a new way of living outdoors that reflects how you want to live. Reflecting the latest design trends you can create an exciting outdoor space with maximum privacy.
Whether you want to make a bold design statement or a more subtle style, our exclusive Dickson® fabrics range offers infinite possibilities to make your electric awnings a stunning feature of your garden.
Don't be afraid to go bold and add a dash of colour to your awning to match your planting or garden pots!
From glorious colours to modern stripes and jacquards, our unique fabrics have a water-resistant coating to prevent water and dirt penetration.
Be Inspired! Electric Awnings Inspiration Gallery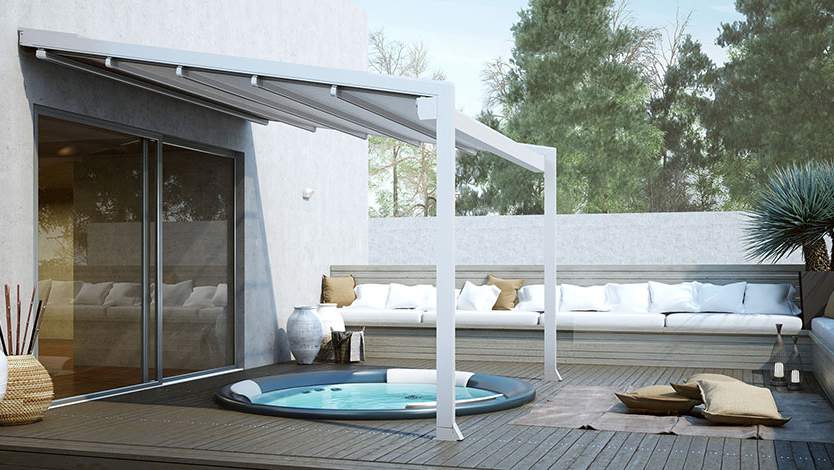 Electric Awnings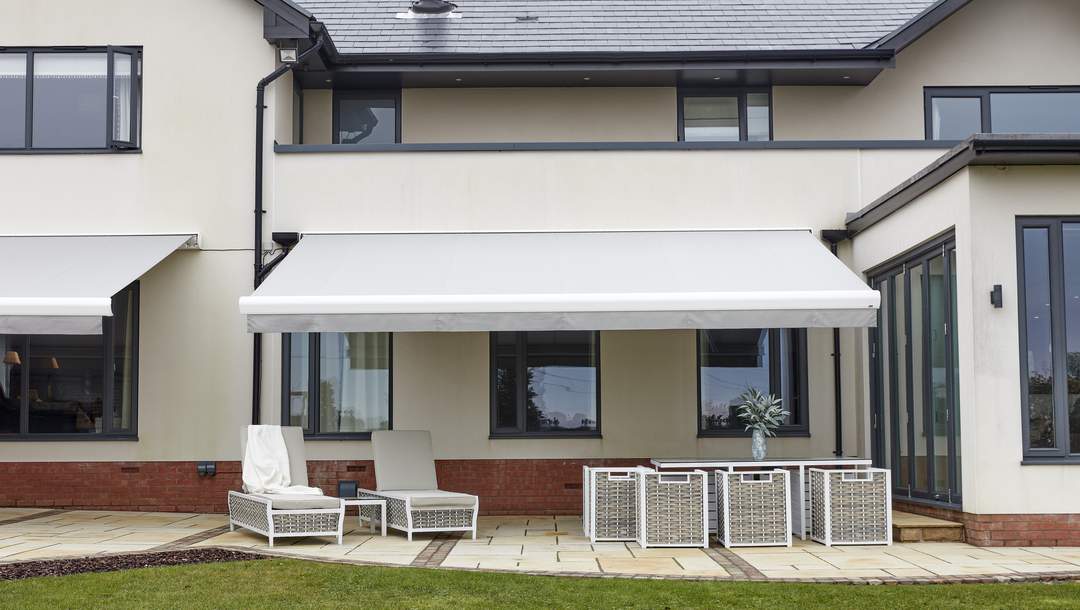 Electric Awnings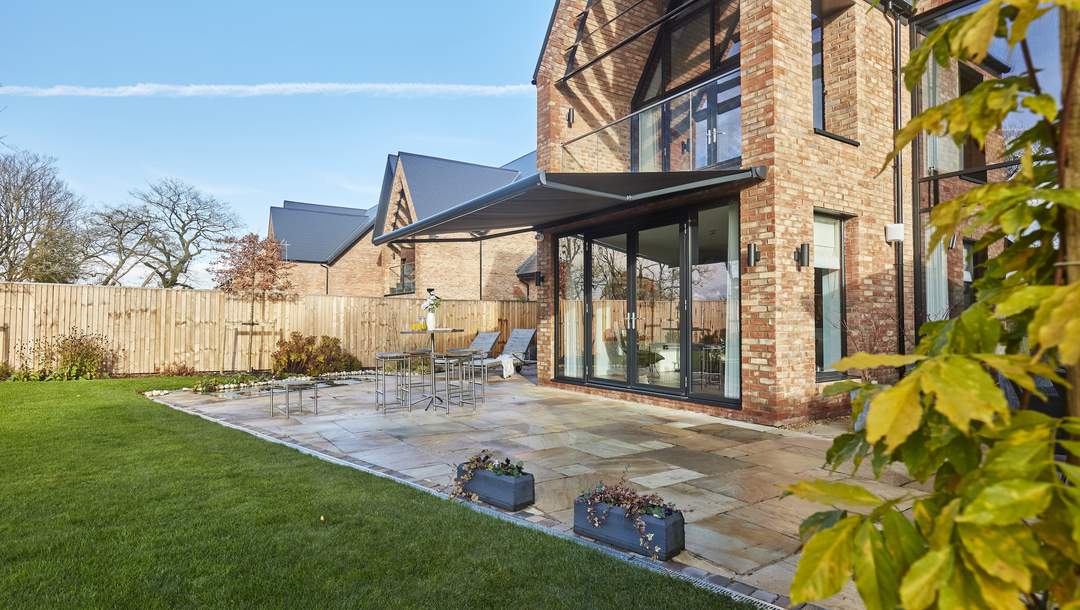 Electric Awnings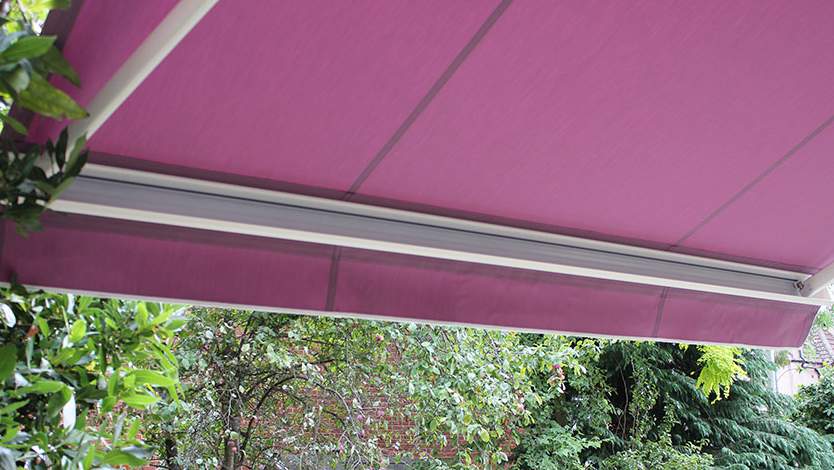 Electric Awnings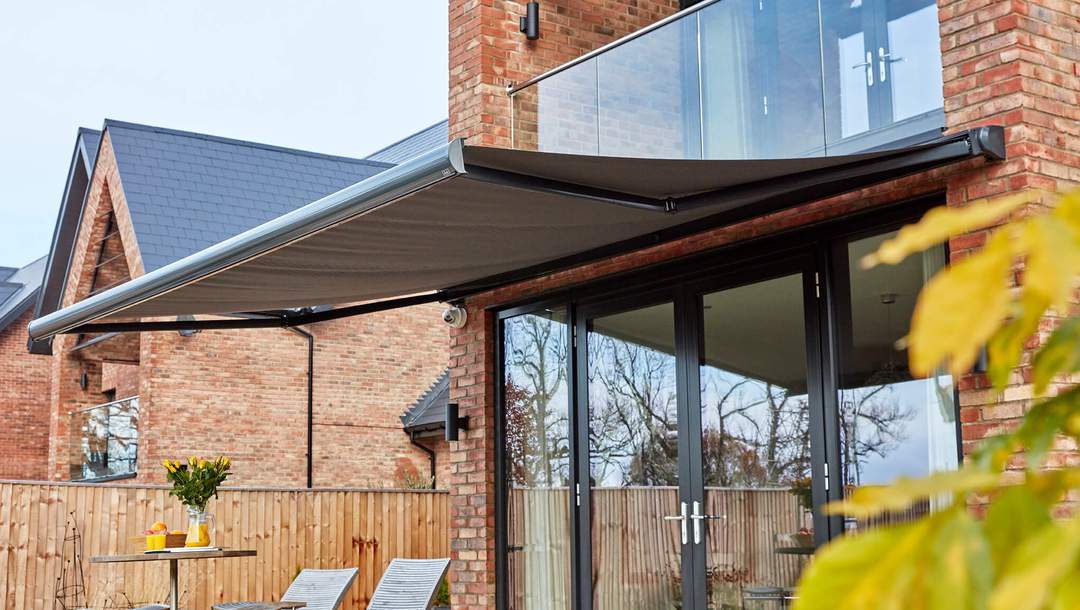 Electric Awnings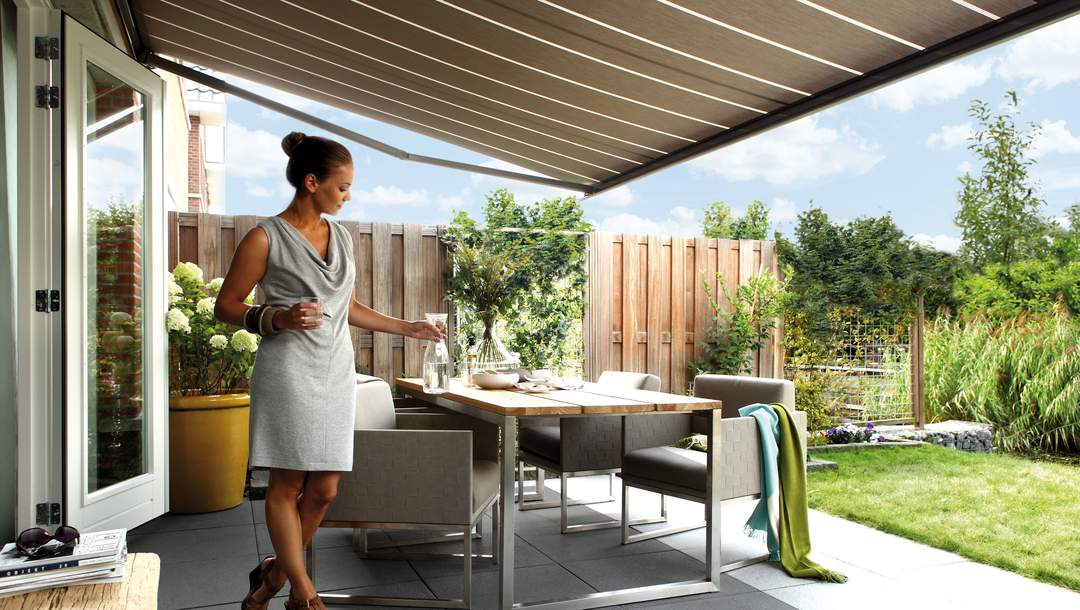 Electric Awnings
Can I Add Heating & Lighting?
Adding all-weather heating and lighting to your electric awnings is a great idea as it extends your day well into the evening.
Soft lighting can be added either as spotlights in the arms or as an integrated lightbox. Other choices include a cosy heating system for those chillier evenings and a music system for when you want to dance the night away!
From spring, summer to autumn you can enjoy the outdoors even more with integrated heating and lighting.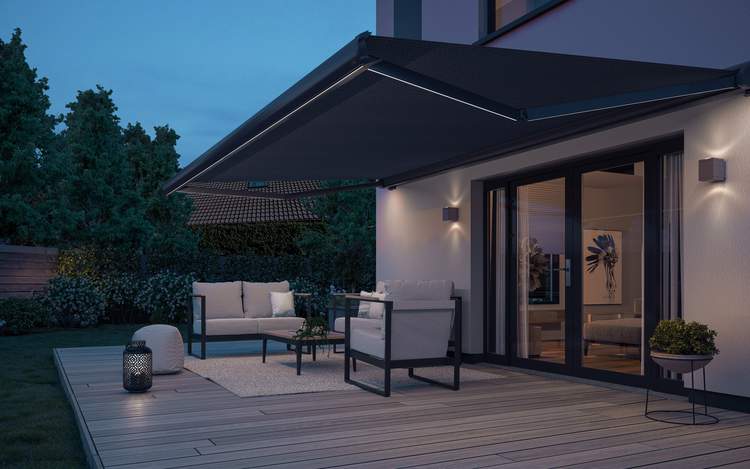 Electric Awnings with Heating & Lighting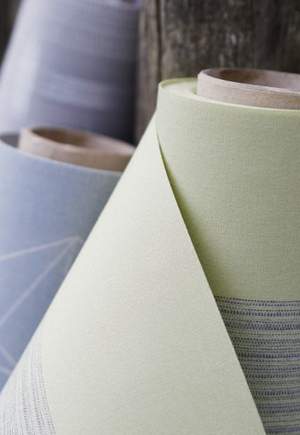 Electric Awnings
Are Awning Fabrics Durable & Sustainable?
Awarded the sustainable OEKO-TEX label (class II, products in direct contact with the skin), Dickson fabrics are produced without hazardous substances and do not pose a threat to health, the skin, or the environment.
And the solution-dyed yarn used to produce our awning fabrics offers long-lasting resistance to UV rays and weather conditions. Even when exposed to strong sunlight, the fabrics retain their colour for a very long time.
Our Awning components are designed and tested to resist and last over time even against corrosion from atmospheric agents. We want to take care of the environment so we use eco-friendly materials in the production of accessories and components for our awnings. shades
Our sustainable approach means you can make a responsible choice for your home and family.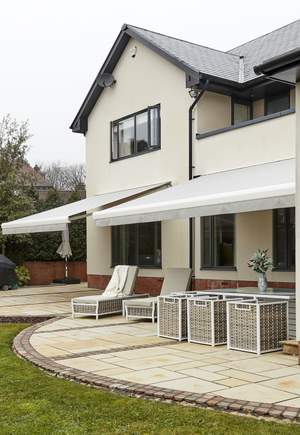 Why Do I Need A Technical Survey?
To ensure the perfect fit and function of your electric Awning, a technical survey of your home is a critical part of the process.
Your Awning surveyor will take care of this important step which includes checking electrical supplies, wall construction, and load-bearing capabilities.
And down worry if you live in a single-story building like a bungalow as your awning with be installed with specials brackets to fix it the wall.
The next step is to check the size of your Awning should be. As the sun moves throughout the day so your awning needs to be large enough to provide shade at all times.
This is one of the important parts of the technical survey to ensure that once in place, your Awning is located in the right position to shade your home properly.
Will The Installation Require Drilling Walls Or Rewiring?

Electric Awnings will need some drilling to get access to your power source.
The installer will drill a small hole in the wall so the power lead can be plugged into a socket in your home. Your Luxaflex® retailer will answer any questions you may have regarding installation when they conduct the technical survey at your home.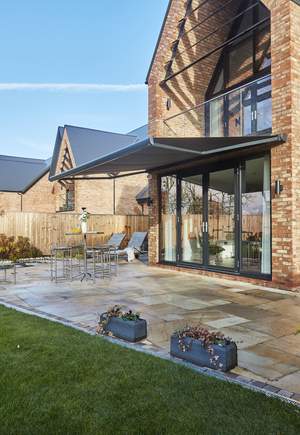 How Much Does An Electric Awnings Cost?
All Luxaflex® Awnings are made to measure so we cannot give a price online or on the telephone without seeking your home, outdoor space, and then measuring all the details.
When you book a free consultation with a Luxaflex® awning specialist, you can browse the fabrics, models, and added accessories. Once you've shortlisted your choices you'll receive a no-obligation quote to consider.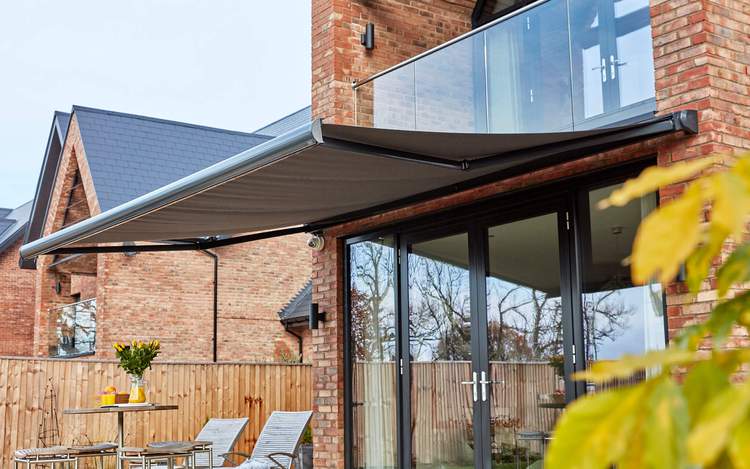 Additional Advantages of Luxaflex® Awnings
Electric Awnings are easy to use and keep the effort to a minimum.
Enhances your home and lifestyle
Convenient electric operation for instant shade
Awnings are a natural air conditioner, keeping you cooler outside and out
Protects from up to 98% of the sun's harmful UV rays.
Prevents interior and exterior furnishings from fading
Reduces energy cost by not running expensive electric air conditioning
Durable designs made from premium materials
Water-resistant fabrics that won't fade or rot
An affordable way to extend and add value to your home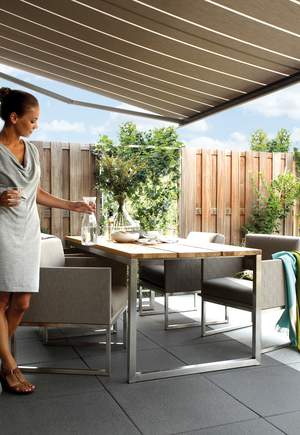 Electric Awnings
How Do I Protect My Awning From The Wind?
Luxaflex® Electric Awnings also come with a choice of integrated sun, rain, and wind sensors.
These sensors instantly activate the Awning to open when it registers the sun's rays or retract the awning when the winds seem too high or it is raining.

Wind Sensor
Automatically retracts the awning should it become too windy – especially helpful if you live in an area prone to windy conditions, your house is high up or your awning is extra-large.

Sun Sensor
This measures the intensity of the solar radiation and automatically extends the Awning in sunny conditions. This not only provides valuable shade when it gets hot but also protects your interiors from harmful UV rays that can fade floors and furnishings.

Rain Sensor
This handy sensor will automatically retract the Awning if it rains heavily, protecting your awning from getting completely wet.
Your Luxaflex ® awnings specialist will advise you on the best accessories for your home and lifestyle.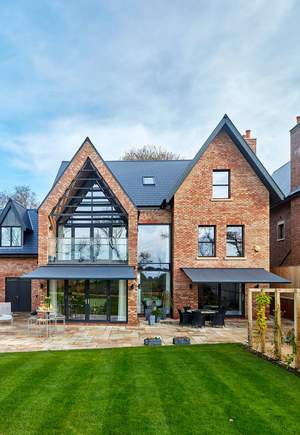 Where To Buy Luxaflex® Electric Awnings?

At Luxaflex® we pride ourselves on creating made-to-measure awnings that give you peace of mind as well as pleasure.
From expert advice with on-site visits from your Luxaflex® Awning retailer, you'll get the very best service and quality. With years of experience and knowledge of our products, your Luxalex® retailer will ensure you will get the very best solution for your property and style.
Book a free consultation today.