Why Choose a Retractable Luxaflex® Awning ?
Extra living space is something we all crave, making our homes and gardens as useful and as flexible as possible.
Adding an attractive retractable Awning creates new opportunities for the whole family to enjoy the patio, and not just in the summer! In the springtime and autumn, your Awning can be used to extend the season, especially with built-in heating and lighting.
A good investment for your home, a retractable Awning is a very inexpensive way to extend your home and gives you more time to enjoy the garden and family time.
Luxaflex® Awnings feature superior materials and designs that not only look superb but are highly durable too.
Let's look at the top reasons retractable Awnings are such a good investment for your home.
Retractable Awnings
How do Awnings protect you from the sun?
Installing a retractable Awning over your patio or decking provides valuable shade and protects you from up to 98% of the sun's harmful UV rays.
By reducing the sunlight means you reduce the overall temperature of your patio space – this makes it more comfortable for the whole family to be outside when the weather is good.
When the Awning is not in use, it can be neatly closed away into a cassette box which provides protection from the elements.
Awnings also offer protection from light showers and drizzles by directing the water away from the house or sidings around your windows and doors.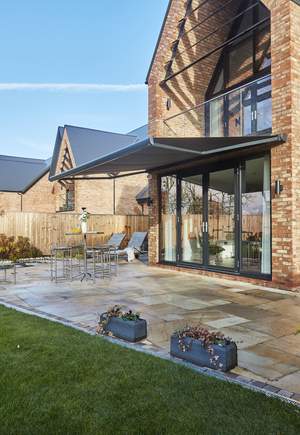 Retractable Awning
Do Awnings stop harmful UV Rays?
A Luxaflex® made-to-measure retractable Awning can block the sun's heat and harmful UV rays before they hit your home.
Direct exposure to damaging UV rays can cause discoloration, fading, and damage to furniture and flooring both inside and out.
By using a remote control, you can protect your interiors further by adjusting the Awning to create more shade. If you also combine an Awning with an interior blind, you can add even more protection from UV rays.
How can Awnings help reduce energy costs?
A professionally installed awning can help reduce your energy costs by cooling an interior space room through natural shading.
This means you don't need to run expensive air conditioning or fans in the summer, and in winter, the Awnings can be fully closed so your home can take advantage of free warmth from the sun.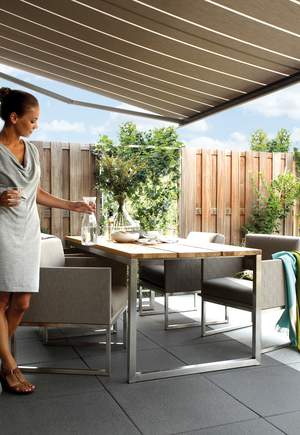 Retractable Awnings
Are retractable Awnings easy to maintain?
Luxaflex® retractable Awnings are made from premium materials and highly durable fabrics. Luxaflex® awnings are a stylish and affordable way to add extend your garden living space with lots of styles to choose from.
Our special Awning fabrics technology protects the colour and won't rot or fade. Able to withstand variable UK weather conditions, our Awnings are built to last and are easy to maintain.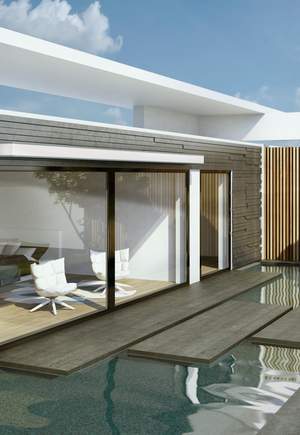 Retractable Awnings
Are retractable Awnings worth it?
When thinking about buying a retractable Luxaflex® Awning for your patio or garden there are many advantages you will enjoy!
Expand your outdoor living space
Lots of colours and designs to choose from
Enjoy your patio with a practical and stylish sunshade
Protect your interiors from harmful UV rays
Automatic motorised control for convenience
Handy remote control or manual operation
Built-in lighting and heating for extra comfort
Cassette design provides protection when rolled up
Wind sensors to retract the awning in windy conditions
Retractable awnings naturally help to cool your home
Durable, easy to clean, and maintain
And with expert advice from your local Luxaflex® retailer with professional measuring and installation, you can enjoy your Awning for years to come with our peace of mind warranty.
What styles do retractable Awnings come in?
Whether you live in a city apartment, cosy cottage, or new build house, our wide range of exclusive Awning styles will inspire you.
From bold stripes to attractive jacquards, and stunning plain tones, our fabrics will offer instant design appeal to your patio, garden, and furnishings.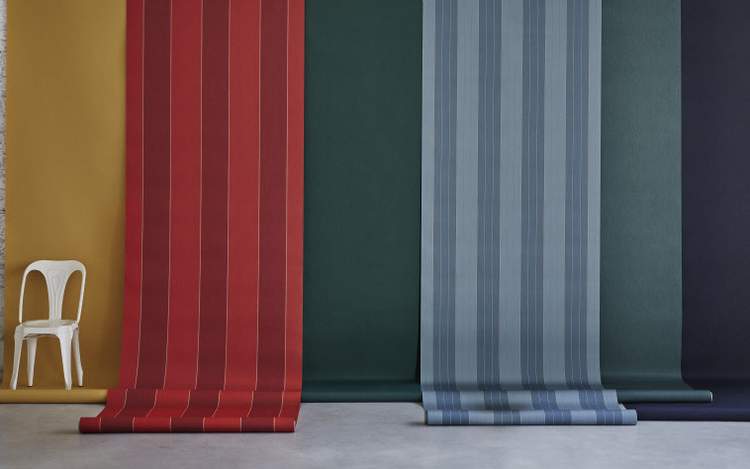 Awning Fabrics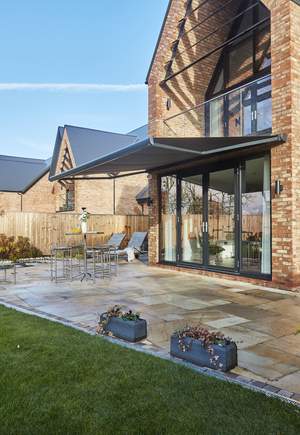 Retractable Awnings
Are retractable Awnings easy to use?
Absolutely! Our custom-made Awnings are measured and professionally fitted so very easy to use.
You can choose from a simple manual operation or go for a convenient electric awning with a handy remote control.
With a manual Awning, you simply use a crank arm to unroll and roll up the awning or with remote control, you just tap a button, and instantly the awning will open, close, or adjust to meet your shade needs.
Don't worry if you are not sure which option is best for you as your local Luxaflex® retailer will show you all the options.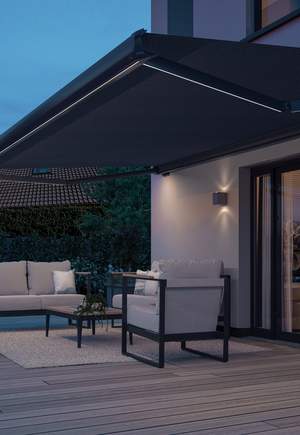 Retractable Awnings
Can I add lighting and heating to my Awning?
Adding lighting and heating to your Awning is a great way to extend the usefulness of your outdoor living space.
Our all-weather heater extends the season to spring, summer, autumn, and maybe even winter keeping you cosy till late a night. You can go further by adding an all-weather music system to get the party started!
How will wind effect my awning?
By adding a sun and a wind sensor means the Awning will move automatically when it registers the sun's rays, and retract when the winds seem too high.
The sun sensor is also very handy as it will automatically open the awning when the sun shines to provide much-needed shading for your patio. When it starts to get windy no need to worry as the wind sensor will close the Awning automatically protecting it from wind damage.
Expert Advice
Where to buy Luxaflex® Retractable Awnings UK?
At Luxaflex® we pride ourselves on creating products that give you peace of mind as well as pleasure. On-site visits from your local Luxaflex® retailer to guide you and give you expert advice will ensure the perfect Awning design for your property and style.
Book a free consultation and start your dream Awning today.
FAQ's - Retractable Awnings