Beautiful Bay Window Ideas
If you are lucky enough to have beautiful bay windows in your home then you'll know the benefits of extra sunshine and great views that they can provide. But like many good things in life they also come with their own particular quirks, so we've created a handy guide to the best bay window treatments for your property. Each room in our home has a different purpose, so they'll also have different challenges. Consider room by room..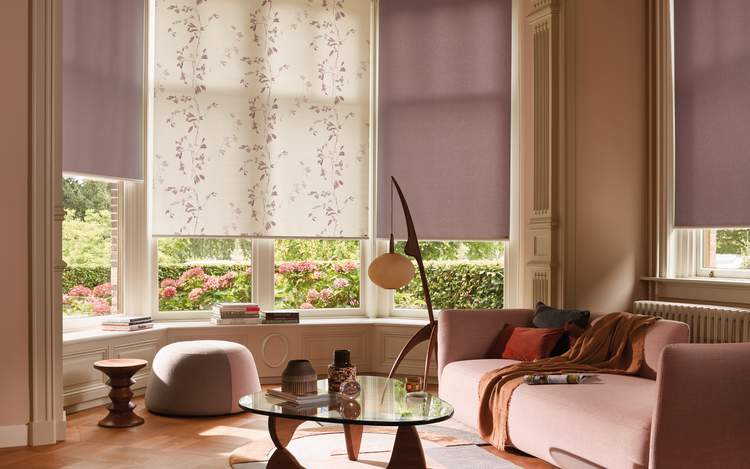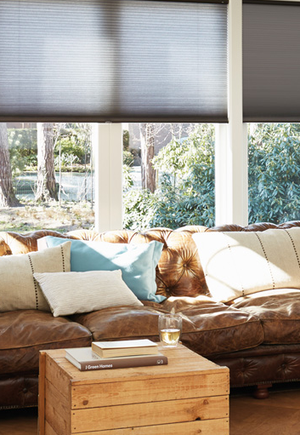 Modern Bay Window Duette® Blinds
Living Room
Bay window ideas for the living room need to incorporate privacy as well as warmth as often the sheer amount of glass can leave you feeling exposed (as well as chilly).
Living room window treatments, if facing onto the street, should allow as much light as possible but with added discretion. Consider a more sheer blind such as the Duette® Shades in Batiste fabric, in the lightest weight of its three thicknesses.
Or for more privacy choose a top-down/bottom-up blind that gives you a view and your privacy. If you are overlooked from flats above deep window valances can obscure the view and add in some nice fabric softness when combined with edgy wood blinds.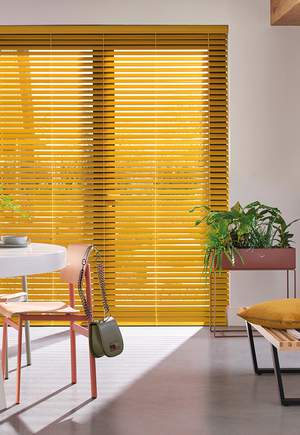 Wood Blinds
Kitchen
On the upside, a kitchen bay window is an ideal spot for a window seat to help create some extra room for informal dining.
But also consider a kitchen window treatment needs to be able to withstand heat and steam so look for water-resistant wood blinds or shutters that repel moisture and dirt (this can also include fabric blinds) as they are easily wipeable.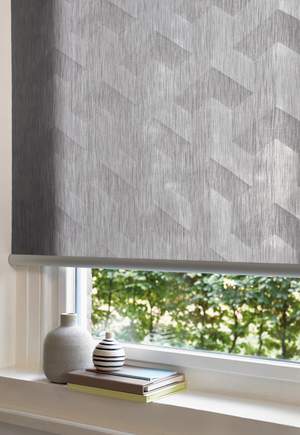 Roller Blinds
Bedroom
Bedroom storage ideas are always in demand for extra duvets and sheets or seasonal clothing.
Bay windows can create a wonderful frame from which to gaze outside from the comfort of your bed, but you will need to manage any light carefully.
Bedroom window treatments should combine a sense of comfort with some practical qualities for a good night's sleep.
Try room-darkening blinds combined with curtains to maximise the sense of luxury with a sense of being cocooned.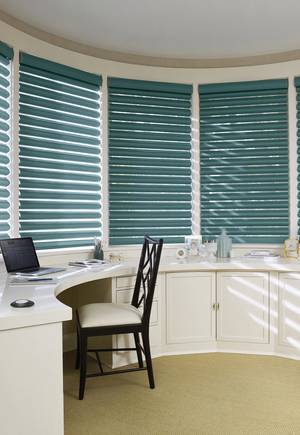 Luxaflex® Pirouette® Shades
Fabrics & Materials
Your look need only be limited by your sense of adventure.
Bay window blinds work great with a hardstyle edge such as patterned graphic print or dark wood, even in a period property. If you want something with floor to ceiling scale traditional curtains for bay windows, valances or drapes can lend drama but can look very heavy.
Don't feel pressure to be dictated to by the age of the house; a brightly coloured blind such as Pirouette® Shades can complement the shade of the bay and any period moulding without seeming out of place.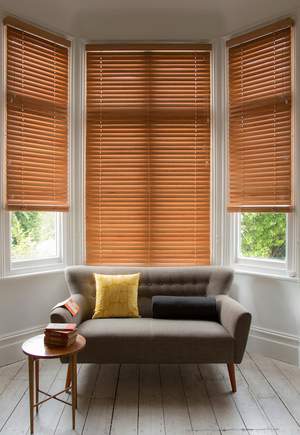 Sitting room wooden blinds
Efficient Use of Space
Bay window designs in modern homes often struggle to feel part of the overall room: a lonely table sat in the window need not be the only answer.
Try a built-in window seat or bay window furniture that will fit neatly like a love seat to make a real feature of this space. What do you need most in your home that you don't have?
How about cutting a desktop to shape and sitting it on cool industrial trestles for a home office area?
Or a bay window shelf that runs above for records or books? Or toy storage that slides out under your window seat so playtime is quickly tidied up?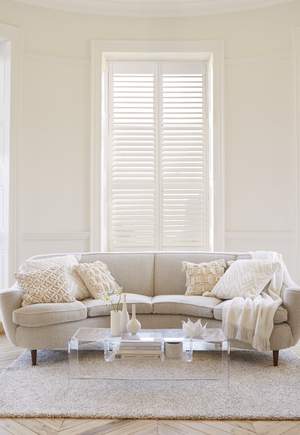 Bay Window Shutters
Allow Light In Without Losing Privacy
Bay window blind ideas need to balance the win of lovely morning light, the bright midday sun, much needed late afternoon light and at night create a private intimate space.
Shutters for bay windows can result in incredibly energy-efficient window treatments, blocking in heat and keeping out sound.
If you like fabric at your windows our new Pirouette® shades softy filter the light with a soft folded style. They also mean that you feel extra snug and secure as you settle in to enjoy your cosy night in peace; added bay window bonus.
Check out our complete range of gorgeous blinds and shutters for shaped windows.