Style Sustainably with Luxaflex®
Style and sustainability? Yes please! With Luxaflex® you're spoilt with both. Of course it's in our nature to design, manufacture and sell as sustainably as possible - but what about the rest of your home?
We're here to share some of our top tips and advice on styling sustainably - little tweaks here and there and larger investments you can make to be a touch kinder to our planet.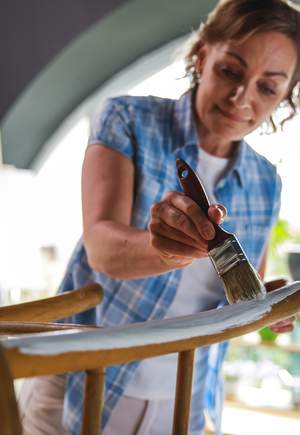 Upcycle on the up
Upcycling - you've all heard of it, but have you given it a whirl? Give an existing piece of furniture in your home or a 'new to you' item a little facelift - transforming the original item into a statement piece, perhaps something more inline with your current style aesthetic.
Maybe you're feeling brave and will go all out with chalk paint to give that lived-in shabby chic affect or perhaps some quick fixes like changes to knobs and handles will do the trick to create a new vibe.
Psst, one of our favourite upcycling hacks is decoupage, using wallpaper to cover a chest of drawers - creating the drama without breaking the bank.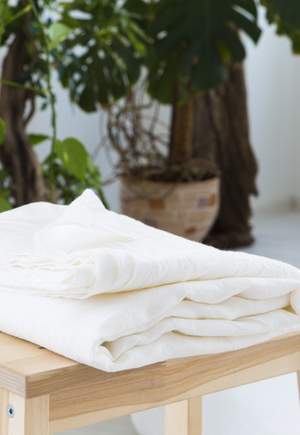 Luxe soft furnishings
For high-use items like towels, bedding, duvets, cushions and pillows - there's only one way, high-quality. While a slight investment on initial purchase, it'll pay in the long run - lasting longer meaning you won't need to repurchase (and add to landfill) as often.
For towels, be sure to look out for double-turned edges and double stitching to prevent fraying while phrases like '100% natural', 'recycled resources' and 'certified cotton' are key ones to look out for when shopping for soft furnishings.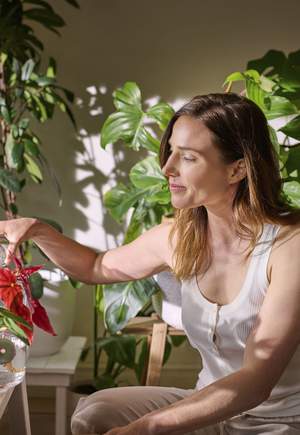 Luscious leaves
Bringing the great outdoors in not only does wonders for our mental wellbeing but also helps purify the air in your home as well, creating a sense of calm in your space.
Think tall Fiddle-Leaf Fig Trees in your living space and branchy Olive trees in your dining area. Or, what about some petite, potted herbs in your kitchen - perfect and practical - all ways to brighten up a space while keeping it natural and environmentally-friendly.
Choose plants that are in keeping with your aesthetic and choose wisely. Wannabe gardener? Go for something that needs attention and love like the famous Fig tree. Or, if you're not great with nature, Boston ferns and bamboo palms look amazing and are simple to maintain.
And finally, keep it au naturel
Picking the most natural fabrics and materials will definitely give you brownie points when it comes to your carbon footprint. Some of the most sustainable materials for your home include bamboo, wool, cork, teak and hemp.
Investing in meaningless furniture that does nothing but 'look great' is a thing of the past. We want to 'look great, do great'. That's why at Luxaflex® we're particularly cautious when it comes to selecting materials for our blinds and shutters.
With numerous sustainable certifications under our belt, we work with four principal certification systems:
Cradle to Cradle Certified™️
OEKO-Tex® Standard 100
Greenguard Certified
Forest Stewardship Council (FSC)
Interested in our products with these certifications? Look no further than our Roller Blind fabric options, Duette® Shades, Vertical Blind materials and Aluminium Venetian Blinds - all proudly awarded the bronze level Cradle to Cradle Certified™️ stamp.
We're also wildly passionate about our products manufactured using GreenScreen® Sea-Tex™️ fabrics - doing the most for our ocean friends by recycling plastic washed up on our shores.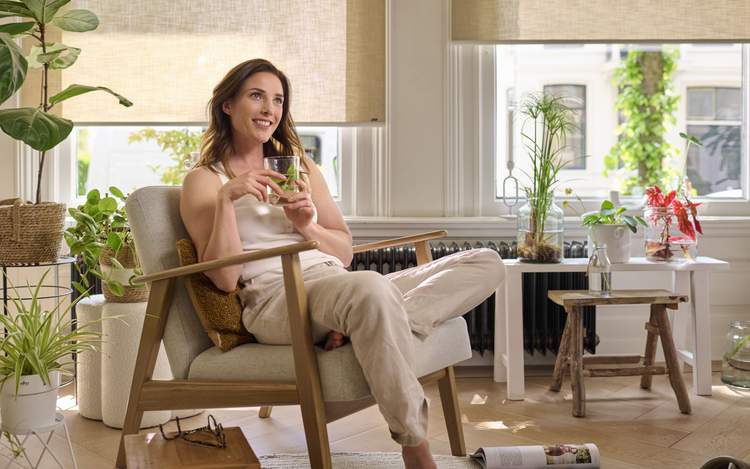 So, what are the benefits of making sustainable choices?
Let's break it down…
Support the environment
Create a healthier living environment
Help your home become more energy efficient
Reduce your carbon footprint
Decrease landfill waste
Help with ocean pollution …and more
Explore more of our sustainability credentials and see how we are constantly trying to evolve our practices to do more and do better.
We'd love to see how you live sustainably or what little tips and tricks you practise when doing your bit for the environment. Comment on our social media channels and let's continue the conversation.