6 Of The Best Country Kitchen Ideas
All country style kitchens have something in common – warmth, a rustic edge and usually a sense of the hearth at the centre of the home. The look of traditional kitchens might not appeal, but there are still lots of country kitchen ideas you can use to design a kitchen that you can't wait to get home to. Here's our guide to getting the best of country living into your design.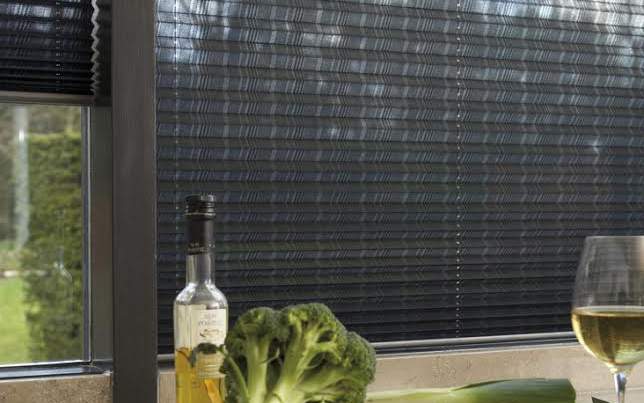 Materials
You can still achieve your dream country kitchen whilst incorporating lots of other styles, as with this look it's almost all about materials. Shaker cabinets, solid wood units or upcycled doors from wooden planks, these all work wonderfully combining clean lines with rougher hewn materials. For kitchen work surfaces consider solid wood kitchen worktops, for flooring options natural stone flooring, terracotta and granite tiles are all natural choices. Pretty floral fabric over an open cabinet, and everyday items such as hanging copper pans or utensils from ceiling racks will lend a homely instant country cottage appeal.
Kitchen Islands
The addition of a kitchen island with seating gathered around can bring a sense of conviviality to your kitchen providing a place for family and guests to perch. It can also add much needed work surface space and suits the ethos of country kitchen décor. An important aspect is the kitchen island lighting, as that it should draw the eye to the working element of the space, especially if it houses the hob or main prep area. If you want a movable kitchen island, such as butchers block, use dimmable fittings so the focus doesn't ended up always brightly lighting an empty space. And remember they don't always have to match your other kitchen elements; wooden oiled worktops or even concrete worktops with the sink sunk into it can make a great standout feature.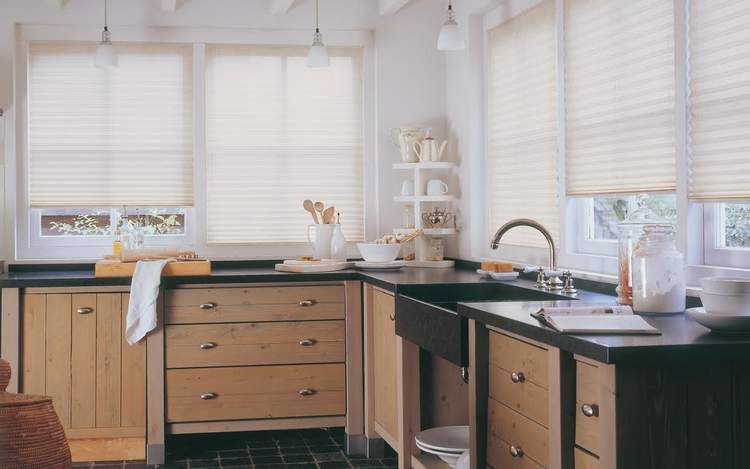 6 Of The Best Country Kitchen Ideas
Classic Elements
Traditional kitchen design such as oak kitchen cabinets naturally invoke cottage kitchen warmth. Other period building elements such as kitchen beams or kitchen cornices should be highlighted in paint or lighting spots to maximise the effect. If you don't have these details, return some classic styling with a vintage wooden laundry drying rack, butchers block countertops, hanging pot rack and open kitchen shelving ideas.
Fireplaces & Hearths
For anyone lucky enough to have a kitchen fireplace the kitchen hearth really can become the heart of the home. Fireplace cooking has a certain romance to it (marshmallow toasting without the cold) and a large Georgian fireplace evokes warming stews or potatoes baking in the flames. For a kitchen with a fireplace surround but for those who don't want open fire, try a wood burning stove and for a very small kitchen try one of the tiny stoves designed for canal boats; they create as much heat but take up much less space.
Country Cooking
Nothing says country style kitchen like a range cooker or Aga stove. Aga's work by holding the heat in the heavy cast iron components from a low level burning source and subsequently are always ready to cook. Latest models offer much more variety including models that can be turned off and on as you need and smaller models for less roomy kitchens. Modern dual-fuel range cookers are great for ultimate control when cooking (quickly responsive gas for hob and electric ovens for even cooking) whilst adding a similar look to the traditional Aga.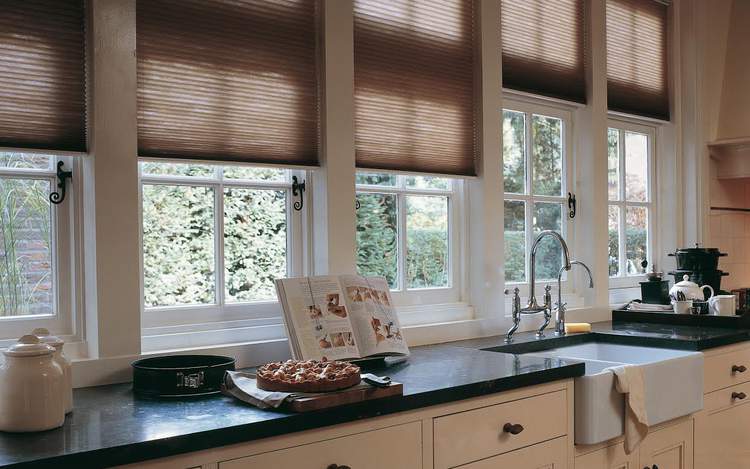 Blinds
Little Touches
As usual it's all in the details, and adding a small amount of pattern such as gingham or vintage print in your kitchen fabric, as cushion covers or table cloths, can have a big effect. When it comes to your window coverings ensure you can maximise light when needed but also manage the mood through the day and night. Fabrics that work well in a kitchen need to reflect the life of a kitchen; steam, heat and condensation. Metal Venetian blinds are nicely wipe-able but if you like the ability to open the window to let out the humidity, our Tilt and Turn blinds sit in a window or frame, and move with them allowing you full range of movement. Add in our special Dustblock coating which can repel moisture and dirt to keep your window covering in the best condition possible.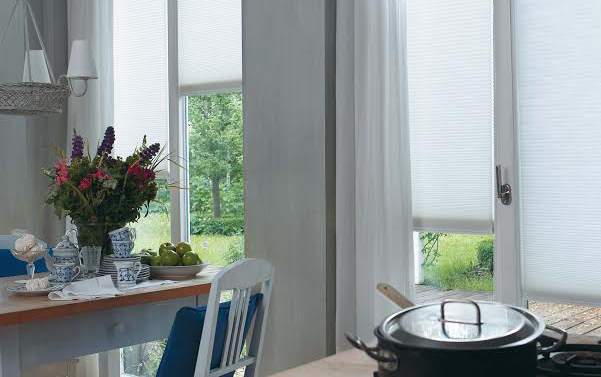 Country kitchen white blinds
Copper or vintage light switches, kitchen shelves such as 50s kitchen storage cabinets with mismatched crockery, kitchen furniture collected from car boot sales or kitchen storage such as dry storage tins will add instant romantic charm. But use these ideas sparingly so as not to make it seem like fake room set. Even just a roller blind in a pretty green reminiscent of a Georgian paint colour can add a gentle nod to the country kitchen without being to clichéd. And of course, always having the kettle on.
For more ideas on how to style your country kitchen (or any other style you like) see our Kitchen blind ideas.