Best blinds for bathrooms
Have you been wondering what are the best window coverings for bathrooms? We've answered these questions and more...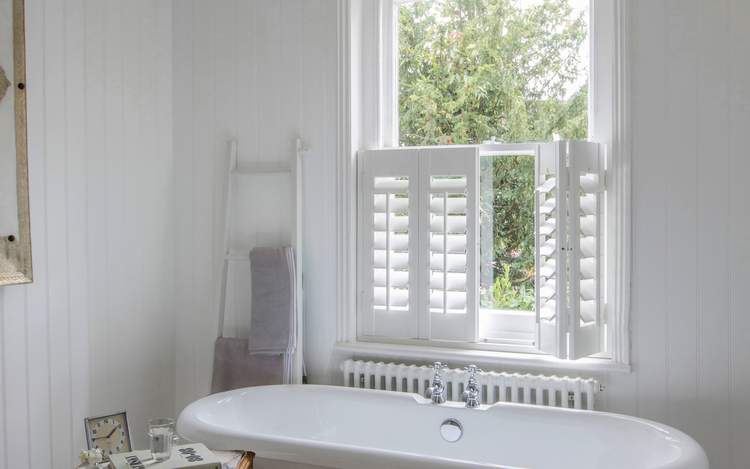 Have you been wondering what are the best window coverings for bathrooms?
Are blinds durable enough for bathrooms? Are shutters hard to clean? Do you even need window coverings if you have privacy glass? We've answered these questions and more in the sections below.
Your local authorised Luxaflex® retailer will be able to advise on the most suitable products for your home's specific style.
What fabrics are best for bathroom windows? Are blinds durable enough?
When it comes to bathroom blinds, there are a number of factors to take into consideration when choosing how to dress your windows.
Makes sure you choose durable materials which are water resistant and can stand up to the high humidity you'll find in domestic bathrooms. These could be blinds or shutters, but check with your installer about humidity resistance. However well ventilated you consider your bathroom to be, there's still a high level of steam your furnishings will have to withstand.
Bathroom bottles and soap - Bathroom shades
Why do I need anything at my bathroom window?
If your bathroom has opaque or frosted glass, you may not need blinds, shades or shutters for privacy reasons, however – they can still serve an important energy efficiency purpose.
Bathroom windows are no different from other windows in your home in that you can lose up to 50% of your home's heat through them. Duette® Shades from Luxaflex® provide a particularly good thermal barrier thanks to their unique honeycomb design. They were created to (stylishly) keep your home warm in winter and cool in summer, and their special fabrics are resistant to moisture in the air too.
Also, remember that there are different levels of privacy glass. Just because it's slightly blurred – doesn't mean your neighbours can't see you clambering in and out of the bath (albeit slightly fuzzily).
To create a haven of calm and light a few candles in your spa-style bathroom before bed, you may want to block the glare of outdoor streetlights with blackout blinds or shutters.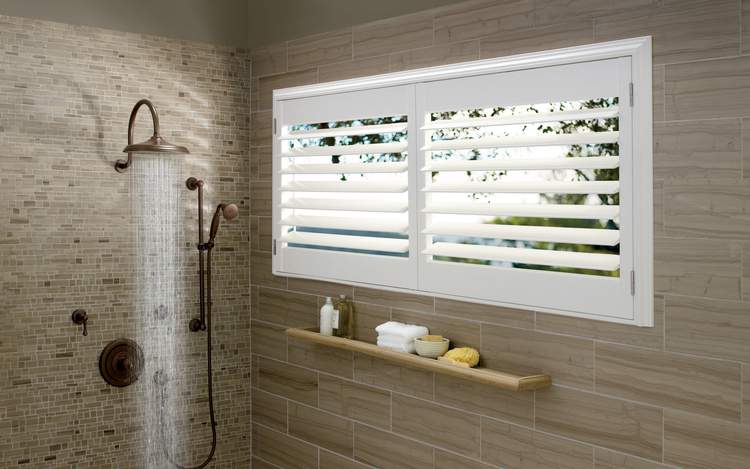 Bathroom shutters
Are shutters water resistant?
Luxaflex® bathroom shutters bring beautiful aesthetics and impressive water resistance. They offer pared back Scandi-style combined with practical benefits, such as being easy to clean, child safe and resistant to moisture so they won't warp, fade, crack, or chip.
These shutters can be configured to suit the shape of your window and your requirements when it comes to protecting your privacy or managing the light. Reassuringly, they also come with a 25-year guarantee.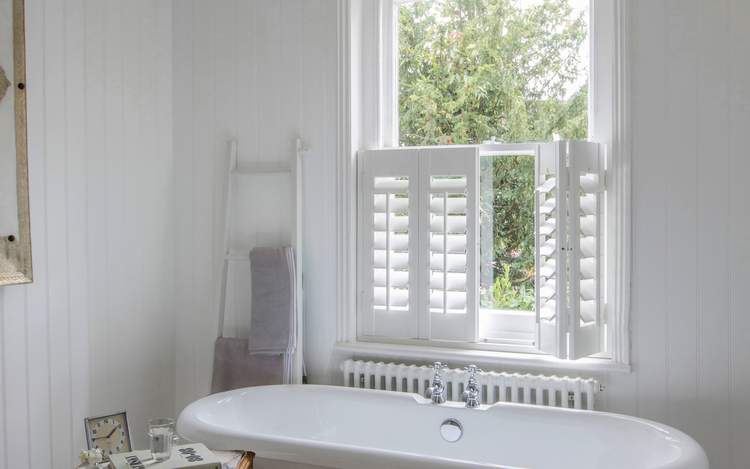 Café style bathroom shutters
Do shutters have to cover the whole window?
Café style shutters cover only the bottom half of your window. The top half of the window remains clear and open to maximise natural light.
This is particularly practical for tall windows and also super stylish, bringing a sophisticated Parisian look to your home. Cafe shutters work brilliantly in every space but particularly in living rooms, kitchens, and bathrooms thanks to their hard wearing properties.
Are shutters easy to clean?
Tough and UV-resistant, Luxaflex® faux wood shutters are easy to clean with just a little soap and water. The stainless-steel hinges are resistant to rust so will stay looking as good as new for years to come. Faux wood shutters also allow air to circulate easily within your home, providing good ventilation.
Can you use wooden blinds in a bathroom?
Luxaflex® Faux Wood Blinds mirror the natural warmth and tone of real wood using manufactured materials that will stand up to the daily rigour of bathroom humidity. These blinds can be manually raised and lowered, or become part of your smart home system for ultimate convenience and control.
Not only are they able to blend with any bathroom décor, they are also easy to clean, water-resistant, and highly durable.
Roller blind with floral print - Bathroom details
Are roller blinds practical for bathrooms?
Simple style - big impact; roller blinds are perfect for contemporary bathrooms with clean, uncluttered lines. Practical, custom-made Roller Blinds from Luxaflex® come in a range of colours and textures which are all easy to clean and resistant to moisture.
Roller blinds also give you the chance to add pattern and personality to an otherwise simple and practical space, why not sail away on seaside stripes or go bold with gold?
From sheer looks to room-darkening fabrics, the choice is yours. Roller blinds can also be controlled by PowerView® smart home automation; making it easier than ever to operate your bathroom blinds.
Are bathroom blinds easy to clean?
Luxaflex® bathroom blinds and shutters are very easy to keep clean, plus they stand up to the condensation and humidity you'd find in any bathroom, however well ventilated.
And with countless looks and colour choices, and solutions for privacy and light control, there's no need to compromise on style or performance.