Patio Awnings - Living the Outdoor Dream
Relaxing with family and friends is the best especially when you can enjoy your patio and garden at the same time.
Made to measure Luxaflex® patio Awnings not only offer practical shade but are a great way to extend the use of your garden throughout the seasons. And as you would expect from Luxaflex®, our patio Awnings are made from the finest materials and built to last.
Big on style too, patio Awnings really add the wow factor to your home. Our range of durable weather-resistant fabrics come in a host of stunning colours and styles to work with your home and garden style. From subtle to bold, there is a look for every taste.
As the leading custom-made brand in the UK, you'll be guaranteed superb performance, quality, durability, and service when you invest in a Luxaflex® Awning.
And you'll be guided by knowledgeable Luxaflex® retailers who are experts in our Awnings so will make sure you will get the very best patio awning for your home and lifestyle.
What Style of Patio Awning Should I Choose?
The starting point is to work out what you need from an Awning.
What size is your patio? Very large, medium, or small?
How much shade and privacy do you need from your patio awning?
Do you need heating and lighting in the awning?
Is there a particular colour and style you have in mind??
Do you want a manual, electric patio awning?
Retractable of a fixed awning?
Don't worry as this is where our specialist Awnings retailers will help you.
When you book a free consultation, they will sit down with you to work out all your practical needs and show you all the features and style options. You just can't get this personal service when you buy an off-the-shelf patio awning.
When a patio Awning has been custom-made to your exact specification, it takes away all the risk.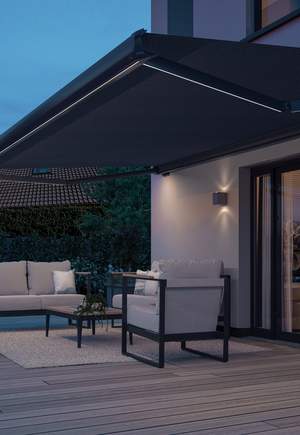 Patio Awnings with Lighting
Can Patio Awnings Be Motorised?
Electrically operated patio Awnings are a big trend as they offer so many advantages.
Instantly adjust the awning with remote control as your shading needs change through the day
Quickly close the Awnings into the neat cassette when not in use
Integrated wind and rain sensors to automatically retract the Awning in bad weather.
For extra comfort, integrated lighting and heating accessories extend the use of your Awning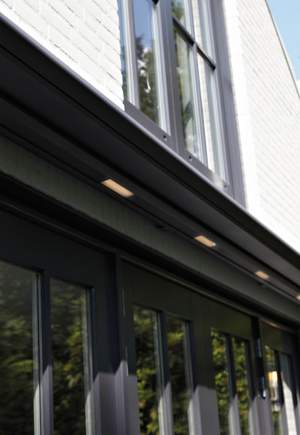 Patio Awnings
What Is A Cassette Patio Awning?
The cassette is the box that sits on the wall of your home to store your patio Awnings when retracted.
The cassette covering encloses your patio Awning completely and provides maximum protection from the elements like wind and rain.
By enclosing the Awning when not in use, keeps your awning looking pristine, clean, and easy to maintain.
Your Luxaflex® Awning specialist will show you how this works and assess if this is the best solution for your home.
Why Do I Need A Technical Survey?
After your initial consultation with your shortlisted patio Awning in mind, the next step is for your Luxaflex® retailer to conduct a technical survey of your home.
This is an important step to check the details of your home to ensure your Awning will fit and work correctly.

This includes assessing wall construction and load-bearing elements, and locating where guttering and downpipes are situated in relation to the Awning, and checking the electrics (for motorized awnings).
Once this process has been completed you will get a free no-obligation quote. All you need to do is confirm the order so we can start the exciting part of manufacturing your custom-made Awning!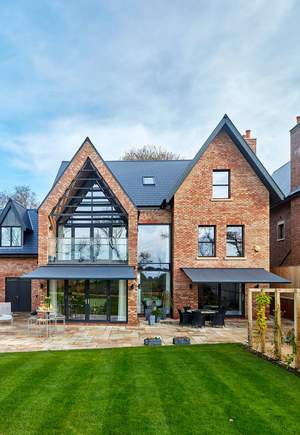 Patio Awnings
Why Choose A Luxaflex® Patio Awning?
When investing in your home with a custom-made Luxaflex® Awning you will enjoy many advantages that make your awning a pleasure to live with.
Expert advice from our specialist retailers
Experienced surveyors
Premium quality patio awnings
Exclusive colours and designs
Weather-resistant fabrics that won't fade or rot
Electric and manual control
Stylish sunshade solutions for every budget
Protect your interiors from harmful UV rays
Instant motorised control for convenience
Useful remote control or manual operation
Integrated lighting and heating extend the seasons
Cassette for protection when rolled up
Automatic wind sensors for an awning in windy conditions
Durable, easy to clean, and maintain
And with expert advice from your local Luxaflex® retailer with risk-free professional measuring and installation, our Awnings come with our peace of mind warranty.