Create your very own Spathroom
Turn your own bathroom into a tranquil spa. Explore all the ways you can update and tweak your bathroom to create a sanctuary in the heart of your home.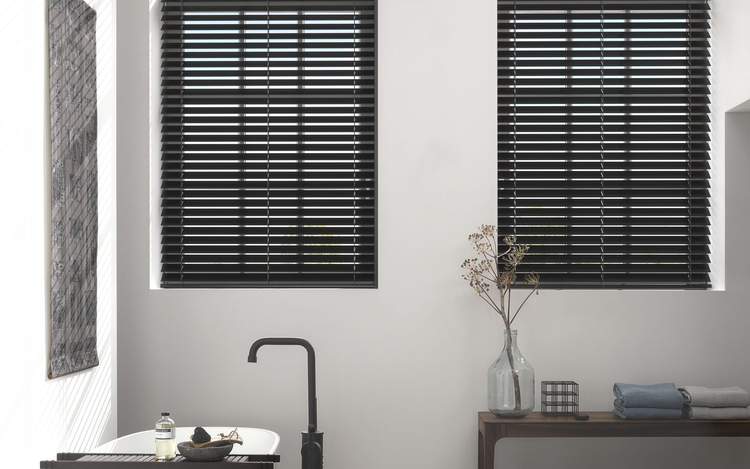 We've got a new word to add to your vocabulary… Spathroom.
Spa and bathroom. Get it? Great! Want one? You betcha!
We're all about bringing a touch of zen to our lives, something that can be tricky to find amongst the hustle and bustle of daily life… not anymore! Turn your bathroom into your very own tranquil spa, it will soon become the most-loved room in your home.
Want to find out more? We're exploring all the ways you can update and tweak your bathroom to create that sanctuary in the heart of your home.
Let's dive in…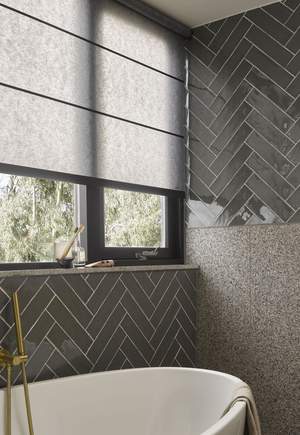 The fluffier the better
Let's start simple. Treat yourself and invest in some high-quality cotton bath sheets and face cloths for instant luxe when you step out of the shower.
Go that extra mile and bag yourself a chunky robe and don't forget to hang it on the radiator or towel rail for a warm hug and that luxury hotel vibe in an instant.
Tile tones
Planning a full bathroom renovation? Pick your tiles carefully and keep "spathroom" in mind. There's no reason to keep it clinical and all white. Choose terracotta shades or pastel tones to put a spin on the typical spa.
We're loving the herringbone approach when it comes to tiling patterns or keeping it simple with a vertical stacked placement for a fresh modern look.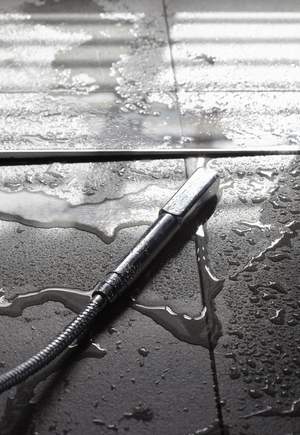 Walk-in or wet room?
What's your preference? Fully immerse yourself into your sanctuary with a wet room. We're talking floor to ceiling chic tiling with an extra large rainforest shower head for that spa-like downpour.
Walk-in showers offer the element of luxury with large glass screens and embedded tiled shelves within the walls to house all of your self-care beauty must-haves.
Statement features
Maybe it's not in your budget to completely overhaul your bathroom but switching out hardware, fixtures and fittings is a great way to introduce that spathroom vibe.
We can't get enough of the combination of brass with white porcelain basins and bathtubs.
Yes to succulents
Plants and greenery are a staple when it comes to improving wellbeing, making them an essential in creating your very own spathroom.
Not only will they help you achieve a stunning bathroom aesthetic but plants help to improve the air quality indoors. Don't fancy your chances of keeping some plants alive? Choose succulents for an easy plant choice that will thrive in the humid environment.
No to clutter
Empty toothpaste tubes, spilt shampoo, kids' bath toys - we're afraid they're all a no! Say bye bye to your clutter and spend some time clearing space and tidying most-used items into easy-to-access storage baskets and drawers.
A tidy bathroom is a tidy mind and a great headspace means you'll well and truly take full advantage of your zen time.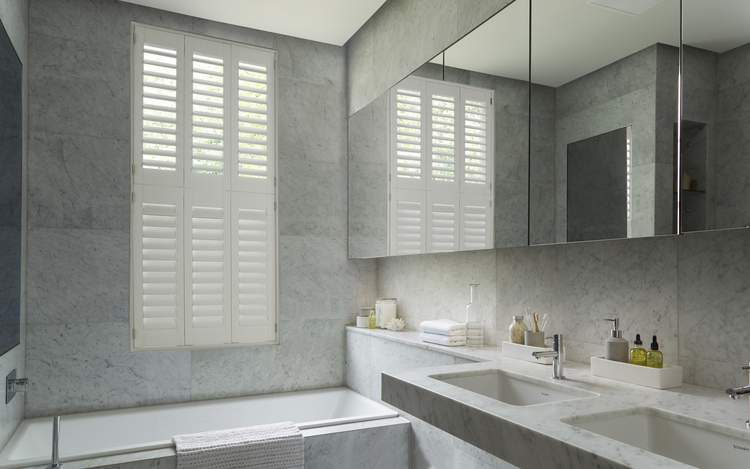 Privacy is key
Like you'd want in a spa, a little privacy can go a long way. That's why appropriate bathroom window treatments are essential.
When choosing blinds or shutters ensure they are designed especially to withstand the elements of a steamy spathroom.
Luxaflex® LightLine® roller blinds are a great option as they can easily be wiped down to maintain quality or invest in faux wood venetian blinds from our Elements collection for a classic look that stands the test of time.
How are you styling your bathrooms to create a sanctuary in your home? We'd love to see your spathrooms, share photos with us on our social media channels.