Creating A Beautiful Blue And White Bedroom Effortlessly
To get you started, we've rounded up some of the best blue and white decorating ideas to get your creative ideas flowing.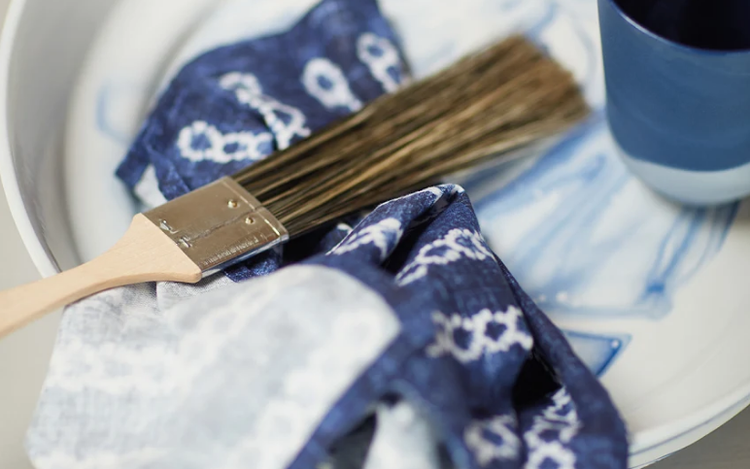 It's a timeless combination. At once both fresh and homely, refined but great for every day and an accessible style solution which can soothe many a cross-gender decorating war. In fact, blue and white is the ideal place to start for bedroom colour ideas that capture the popular vote. It's also hugely versatile; depending on the proportions in which each shade is used, a blue and white bedroom can feel fresh Danish or have an All American, Sag Harbour quality. To get you started, we've rounded up some of the best blue and white decorating ideas to your creative ideas flowing.
1). Nice Compliment
Blue and white bedroom ideas often need a visual foil to play against. Adding in the deep walnut tones in these Wooden Venetian Blinds can bring the easy chic feel of French Breton stripes in the linear structure, and let the different tones of blue stand out; with only the white for contrast the design could feel very flat and one dimensional. Even plain blue bedroom ideas need contrast to feel sumptuous and rich rather than subterranean and dour.
2). On a Plate
Blue and white pottery is a great place to take inspiration. Whether the scenic inspiration of Dutch Delft tiles or the pastoral landscapes of the famous Georgian Stoke potteries, the brush marks and depth of tone perfectly illustrate how much range there can be in such a limited palate. In these roller blinds, a light touch watercolour brush stroke brings a casual freshness to blue and white bedroom ideas. These can act as a slightly softer touch to an otherwise plain or graphic scheme.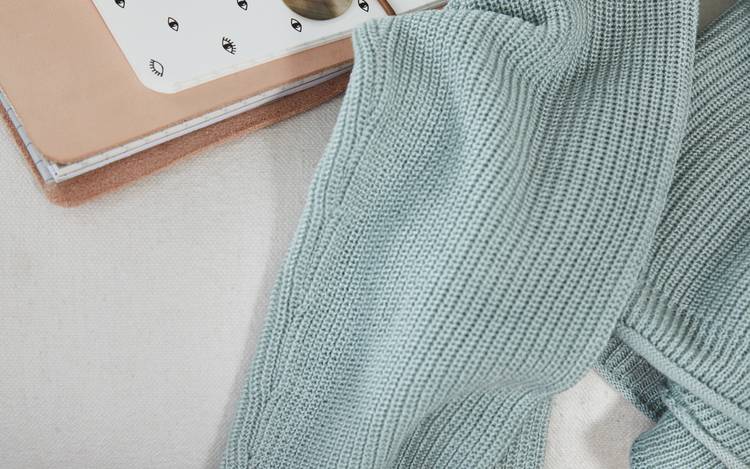 3). On the Wall
From geometrics to pretty little polka dots, blue and white wallpaper may be high contrast but the combination always feels fresh and easy. The edge blue and white décor has over other strong combinations, is that they are a harmonious rather than opposing pairing. For example, black and white can feel very strong and rarely feels like a backdrop, but more a demanding statement design. Even dark navy blue fabric wallpaper feels softer and more inclusive than other deep colours. For a lighter touch, pale blue bedrooms with a delicate wallpaper pattern are so soothing they make a great choice for a welcoming guest bedroom, as they can seem comforting and calm regardless of the age, gender or taste of your guests.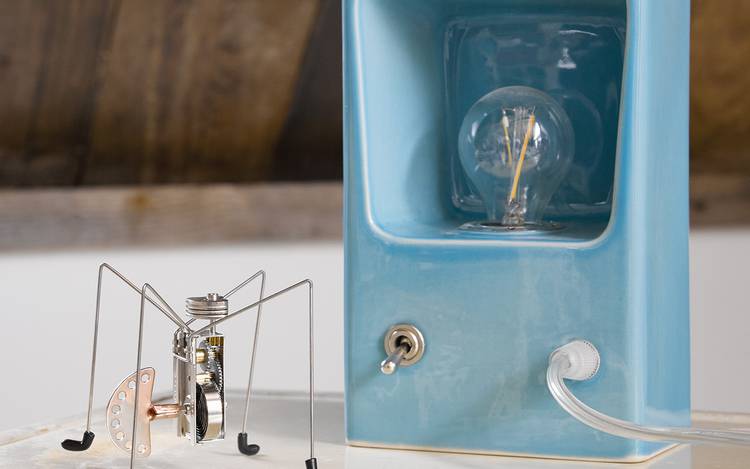 4). Fresh Breath
Blue bedroom accessories add some instant cool, refreshing interest. But for an added dimension try some harder materials to make the lighter shades seem very lightweight. This glossy ceramic light and even the side table edge, make this sky blue feel much more modern as a material than a pale blue wool blanket that can feel quite ethereal. The sharp folds of a Plisse shade in a sky blue with white hardware look sharp and modern, especially against mid-century modern dark oak or walnut furniture and an expanse of white walls. If you do use harder edged objects, choose a white paint for walls with a warm, yellow base to stop the room feeling too clinical and create a gentler, overall ambience.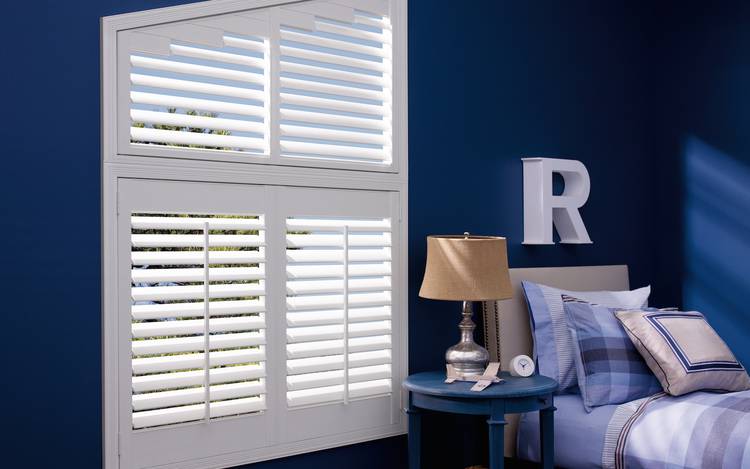 5). Harbour Style
Navy blue bedroom ideas always benefit from the fresh contrast of white. This combination instantly shouts American Martha's Vineyard style. When looking for a blue paint for walls consider how it will respond to both daylight and electric light: enough of the room needs to accessorised to lift the scheme during the day so the shade isn't oppressive, such as adding in these white letters on the wall, implementing blue and white bedding ideas and these fresh white wooden shutters. At night choose yellow-based light bulbs or shades to warm up the tone of the light as it strikes the paint to create an expensive-feeling golden glow.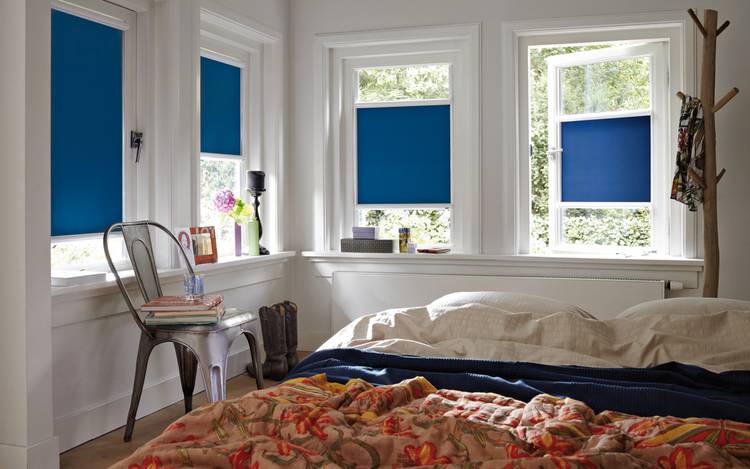 6). Take a view
If blue bedroom walls is a step too far for your tastes window coverings such as these Day and Night blinds still show commitment to the blue and white cause whilst letting white rule as the dominant colour. These are ideal for a south-facing room that can feel very hot and uncomfortable, as the blue colour cools the feel of the room whilst the ability to place the shade in a wide variety of positions allows both privacy and visibility. If you want to break up the monotony of too many navy blue bedroom accessories and warm up the scheme in winter, a rich woven blanket in warm reds and oranges or a tan tone will layer the mood nicely.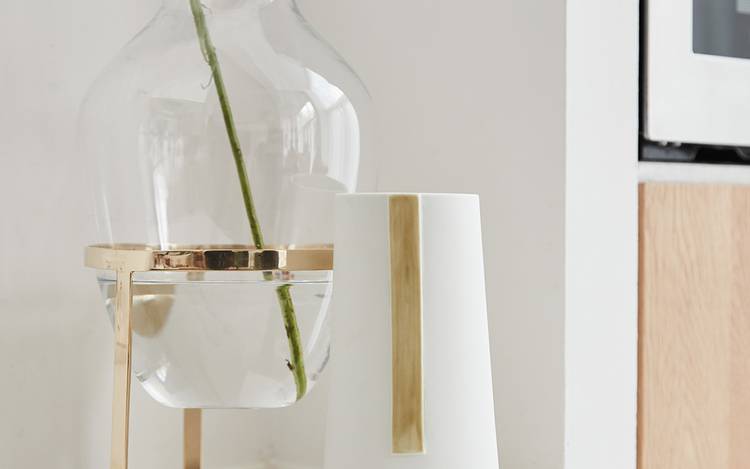 7). Baby Steps
If you want to play with blue and white decorating ideas for a bedroom there are some simple tricks to get the look, before you enter a long-term relationship. You may have an all-white bedroom already that just needs a refresh and if not, create a backdrop with chalk white paint for an easy base. Then start adding small touches such as a stack of books in shades of blue harvested from other rooms in the house, or stems of blue hydrangeas, Iris or cornflowers. Try a blue and white water jug thrift store find, or a small blue and white pottery bowl for keeping rings and other trinkets. You can take your time finding blue and white treasures and let them gradually take up more of the scheme, like a gently rolling, sea blue wave. A calm, mindful way to decorate, and seemingly appropriate for
the delightful scheme that is timeless blue and white.