Creating the perfect creative space for you to work
Creativity flourishes when we feel relaxed in our environment and that's why the perfect home office is essential to your productivity. Like many others, we've spent the last few weeks working from home, for some this might be normality, for others it's a strange new world that we find ourselves in and for how long, who knows? Having the right home office is essential for productivity and comfort, so, if your make shift desk is failing you, it might be time to reconsider your options.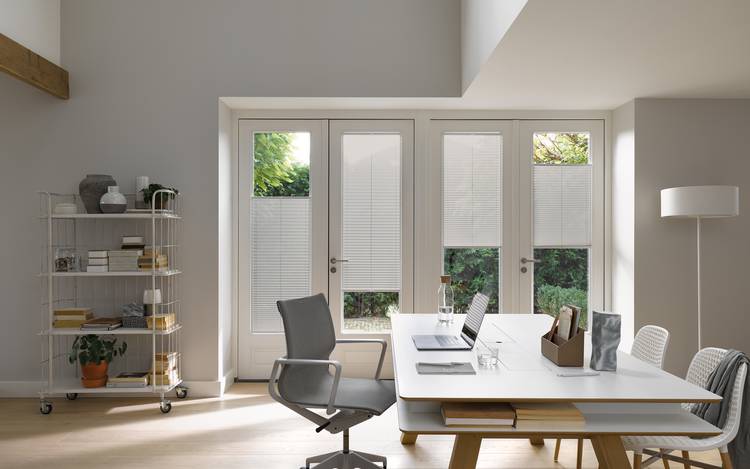 Clear Air, Clear Thoughts
Start with what you can't see before you plan for what you can. Your ability to concentrate depends on being comfortable and alert. Try positioning yourself close to a window or extend your view across the garden, in turn this will help you to feel relaxed and inspired.
Fresh air can work wonders, but if you find yourself in a confined space, conventional equipment such as a small air conditioning unit can pull heat and dust out of an overheated space, helping to keep things fresh. Or, air purifiers which clean pollen and mould are useful as they're known to niggle allergies and make you feel drowsy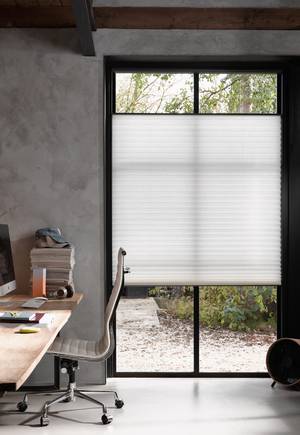 Heading in to Spring, heat and light is most likely to become an issue, so finding the right shade to harness the effects of the sun and seasons is essential. Home office blinds can keep warm or cool in or out, depending on your needs.
Duette® Shades and in particular fabrics can deflect the glare from the sun that heats up a room. Or, if you decide to make the most of a hot summer's day and work in the evening instead, then keep the heat in the room as the sun drops with the same blinds. The gauzy structure of many of our fabrics, such as some of those used in Pirouette®, maximises any available daylight by dispersing it gently across the room, preventing the need to switch on electrical light for longer.
When you do need to call on electric light, remember home office lighting can still mean healthy lighting. Vitamin D can be an issue for many, especially those who work indoors who don't get as much time outdoors as they'd like. A natural daylight bulb can work wonders for lifting spirits, as can contemporary pendant lighting that addresses a more demanding need. Look for those that can deliver at least 2,500 lux (the measure of light that lifts mood) and can change tone as you like from bright to warm.
Create the Right Head Space
Clutter can clog the mind as well as your home office setup. If you're considering going paperless at home then a paperless home office is the obvious place to start. Set up file sharing apps rather, (which is also great for sharing content with your colleagues) than printing, and avoid adding in surfaces for papers and files to congregate. A modern home office should take in the latest knowledge for a healthy working day; a standing desk or a sit to stand desk can incorporate storage and stop you from sitting all day.
Add an inspiring mood or cork board and photos of loved ones, which will keep your spirits lifted and remind you why you're working in the first place.
Add some greenery
That on-trend cheese plant won't just look great on your office shelves, adding houseplants to the space can also help to purify the air, apparently it also helps absorb noise and improves productivity. When choosing the right plant for your home office, consider the light levels it might require and its watering needs – a brown shrivelled plant isn't going to do much for your mindset.
Let the light in
A good work area needs plenty of light, but at the same time you don't want any glare on your laptop or computer. Blackout blinds are a great home office idea. Faux Wood Shutters will allow you to control the amount of light coming into the room throughout the day, plus their simple to clean and easy to maintain.