Do you do Duette® shades or pick Plissé?
Oliver Williams
Collections
And the number one most asked question… "What is the difference between Duette® shades and Plissé shades?"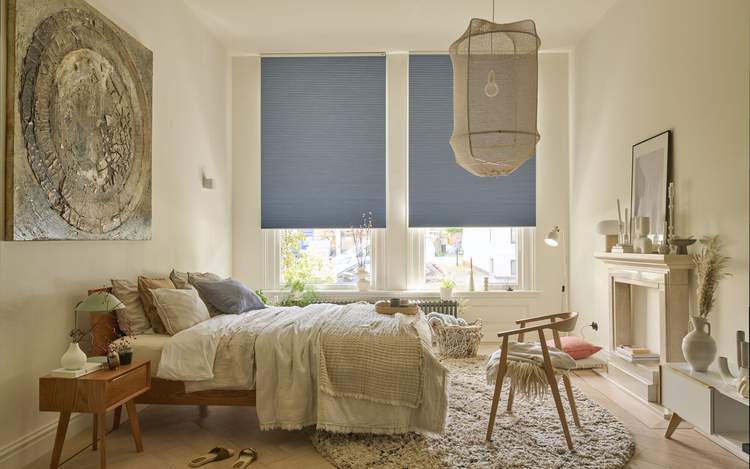 Fear not, we're here to share all the answers - giving you insight on the two products' similarities as well as differences while highlighting the benefits and key features of both along the way.
While at first glance Duette® shades and Plissé shades look like twins (or siblings if you've got a good eye) we like to think of them as cousins, let's take a closer look at these two window coverings...
Plissé shades - Duette® shades
Pleats
Pleats aplenty! It may look like the pleats are identical, but look closely and you'll notice that Plissé shades have a single layered pleat where the cords are visible through the fabric.
Duette® shades have a double pleat, creating a sleeker design and hiding the mechanism within the layers. The difference in design leads us to our next point…
Room Darkening
Although both offer room darkening properties, if you're looking to keep your room as dark as possible - choose Duette® shades. The hidden mechanism means there are no holes within the fabric to hold the cords providing a better room darkening performance. The cord holes in Plissé shades may allow light to break through ever so slightly.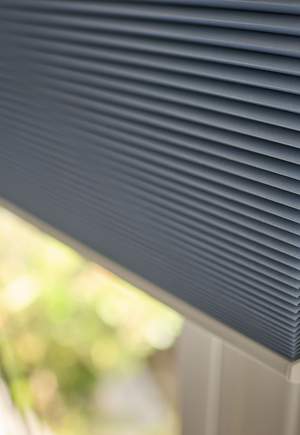 Duette® shades
Energy-Efficient
Did you know up to 50% of heat lost from the home is through the windows. Keeping your home warmer during winter and cooler in the summer has never been more of a talking point.
Honeycomb-shaped cells create an insulating layer at your window
Your home stays cooler in summer, warmer in winter
Special design also helps block the sun's UV rays
Exclusive colour and design choices
Noise reducing benefits
Duette® shades - Plissé shades
Colours
Both blinds give you plenty of choice when it comes to colours, prints and patterns as well as two different opacity options.
Plissé shades allow you to be a little daring with colours and prints while Duette® shades offer aesthetically pleasing designs, with a colour palette to suit every interior style.
See more colour and pattern ideas on our inspiration page.
Versatile
Proud owner of large abstract windows? Duette® shades and Plissé shades have your name written all over them.
Thanks to our bespoke made to measure service, we can fit blinds on most sizes of windows (even those with unusual shapes), and with the blinds' pleats folding technique, your view (swoonworthy or not) is never obstructed when the shades are fully raised.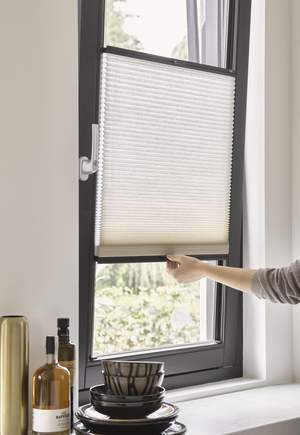 Duette® shades
No Drill Solutions
Calling all renters! Who said you're limited when it comes to making your place a little more personal?
Two unique no-drill blind solutions - FrameFix® and TruFit® - allow Duette® shades and Plissé shades to be fitted perfectly to your window frames with zero mess, screws or holes. Making your house feel a little more home.
Sustainability
We'll forever be proud of our sustainability credentials and it's no different when it comes to Duette® shades and Plissé shades. Both products' fabrics are Cradle to Cradle Certified® at bronze level - a stamp awarded to products that have been designed and manufactured using materials worthy of recycling.
Privacy
We all crave a little privacy from time to time and with these two products there's no compromise on style.
Two innovative systems provide your home with the best of both worlds with an added bonus of room darkening options. Day & Night shades combine blackout fabric with transparent to offer the choice of privacy and darkness, as and when you need it. Meanwhile, Top Down, Bottom Up puts you in control of where you want the light to stream in and what you want to block. Win, win!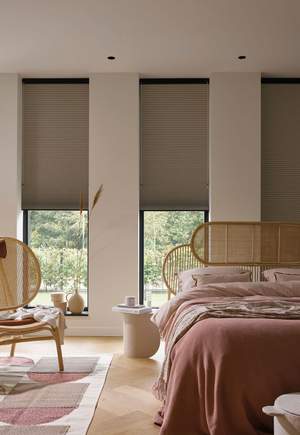 Duette® shades
PowerView® automation
Alongside the features highlighted in this blog, both Duette® shades and Plissé shades are compatible with PowerView® automation, motorised blinds using our smart home technology.
Advantages of PowerView® Automation:
Precise control of your Luxaflex® window treatments even when you're not at home
Control multiple blinds automatically
Perfect for windows and doors
Child safe with cordless control
Remote, app, or voice control