Embrace hotel chic and create luxury hotel vibes at home
Transforming your bedroom into space that's reminiscent of a luxurious hotel bedroom is more achievable than you might think.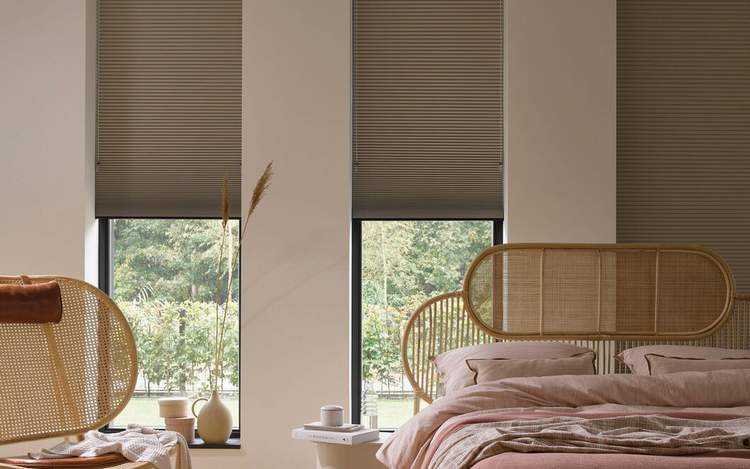 Infusing your personal space with the style, comfort, and ambience of a high-end hotel bedroom can elevate your home to a whole new level!
From colour palettes and bedding to attention to detail in furniture and lighting, here's our tips for getting a luxe bedroom feel everyday at home…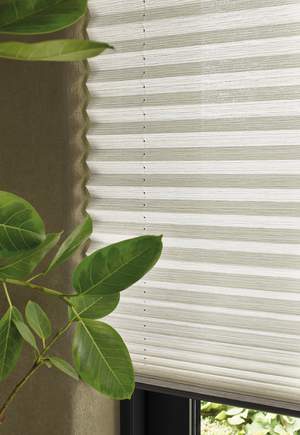 Soft tones
First thing's first, let's set the tone for your hotel bedroom by deciding on the colour palette.
Warm and classic neutral colours are a hotel staple and for good reason. They won't date, so there's no need to make costly updates year-on-year and the tones can all work in harmony. Think crisp white, cream and beige, with hints of black for a rich luxe feel. Make sure to use different textures to ensure the colours don't appear too flat.
If you're craving colour or pattern look at accessories to add in some pizazz! Cushions, prints and faux flowers are a cost-effective way to inject some personal touches.
Styling your bed
We don't want you to spend hours making your bed each morning, but there are a few ways you can ensure your bed is the focal point without all the faff!
Layers are key to creating a sumptuous hotel-vibe. Pick throw for the end of the bed and select an assortment of cushions in different sizes. Opt for larger cushions at the back and smaller styles in front - and to finish the look you can always incorporate a statement cushion at the front, look out for rectangular shapes.
Also key to this part of the room is a statement headboard, we love upholstered styles in fabrics such as linen or velvet and a wraparound design - perfection!
Conceal the TV
Is there a more divisive subject than whether you should have a TV in your room or not?
While some experts argue against having a TV as the omitted blue light can disturb sleep, if you can't live without a TV in your bedroom consider hiding it so it's not on view all of the time.
Built-in media cupboards work well as a place to house the TV and any unsightly cables, simply open the doors when it's time to watch for your favourite programme and close to maintain the room's clean aesthetic.
Alternatively, if space is an issue consider Frame TVs that seamlessly blend into your interior space, displaying bespoke artwork and photographs on the screen when the TV's not in use. You could also consider an easel stand to make a feature in the room if hiding the TV away isn't an option.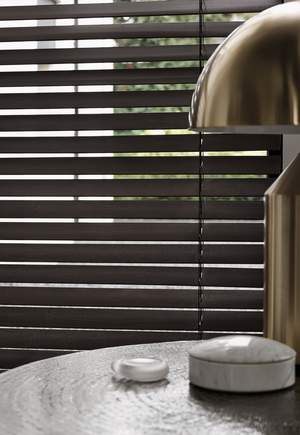 Illuminating spaces
Forget harsh lights in the bedroom, we're all about soft ambient lighting and incorporating a myriad of lighting fixtures and finishing materials.
Start with a ceiling light, this is where you can go bold, think or a statement chandelier, setting the mood for relaxation. Complement this with elegant wall lights, strategically positioned to cast a warm glow in the room.
Consider bedside table lamps with dimmable settings, allowing you to adjust the ambiance according to your mood. They not only serve as functional additions in the room but also contribute to the overall aesthetic, adding a touch of boutique chic.
When it comes to natural light choose a window covering that allows control of daylight but maintains privacy too. We've got a page dedicated to Bedroom Blinds that's full of ideas and inspiration.
Furniture statements
Step into any luxury hotel room and you'll find a table and seats, a multi-functional space in your bedroom, use this area to have breakfast and read the paper or as a dressing table.
When considering other furniture for your bedroom make it all symmetrical, from bedside tables to lighting and chairs, be sure to double up for a truly luxurious feel.
And, to maintain the luxe feel everything should have its place. That means not storing things under the bed - keep everything out of sight to enhance the feng shui energy.
Sensory updates
Often forgotten, but considering sensory elements in your bedroom can bring the whole room together.
Think about scents for your room, using a diffuser or flowers and plants. Switch up your scents seasonally, fresh floral blossom notes in spring moving to fragrant evergreens, berries and zesty orange in the colder months.
Music also falls into this category, download soothing sounds to hit play on to help you drift off.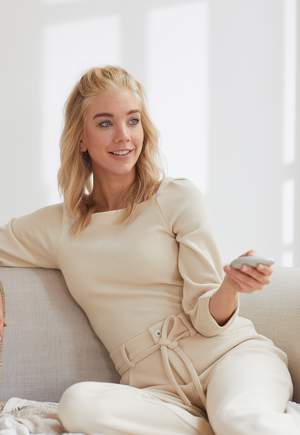 Add a touch of automation
Preparing your bedroom for a cosy night in, or do you dream of a peaceful wake up with natural daylight gradually seeping into the room?
Control your bedroom blinds at the touch of a button. You can make that happen with our exclusive electric blinds' technology, PowerView® automation, available on most window coverings in our product range.
Pair PowerView® automation with our room darkening blinds for the best night's sleep. Darkness and temperature in particular can play a major part in getting great sleep - read more in our blog 'The 'dark' secret to deep sleep'.
Here's a few PowerView® automation key highlights
Control via remote, app, or voice control
Perfect for windows and doors
Manage multiple blinds automatically
Child safe with cordless control
Enhanced privacy & security
Finishing touches
If making over your bedroom is out of the question, there are some small ways you can recreate the hotel bedroom feeling at home on a budget.
If you love breakfast in bed, treat yourself to a breakfast tray. Not only do they look chic, they are practical too for housing all your breakfast necessities - no one likes to get toast crumbs on the sheets!
A fluffy bathrobe and slippers and luxurious beauty products will add to your hotel-esq experience.