Forget Flowers: How To Decorate With Vases
Vases, pots and jars, once heirlooms, wedding presents or junk store finds. These vessels can be found in most homes and from the most practical to most precious, they can be repurposed to create show-stopping everyday displays. So even if no one recently brought you home blooms, your best vases for flowers or greenery can delight in their own right.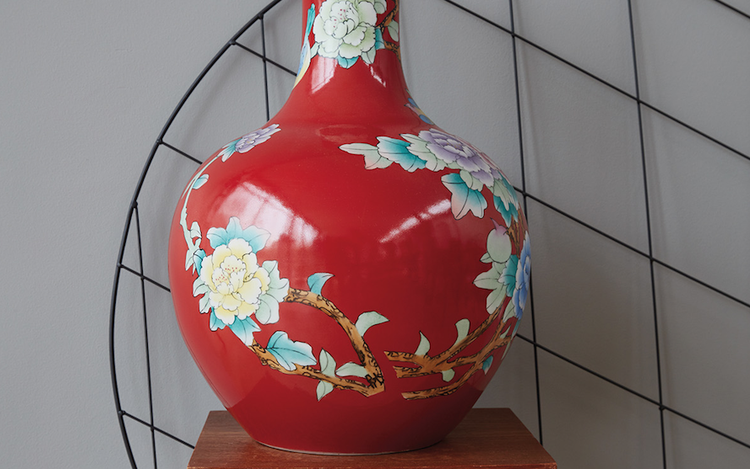 Bold And Bright
The striking presence of a tall floor vase or a large vase in an entrance hall can create a powerful visual focus and add proportion in a high ceilinged hallway. If the visual discipline of a pair of ceramic traditional ornate vases is too classical for you, try a more informal arrangement like this floral red vase standing on a side table. The vivid red is popping vibrantly against the cooler grey, making the look more fun whilst retaining its elegance.
Dark and Dazzling
A tone on tone space can work very well for some low-lit, sophisticated drama. Placing dark vessels in different materials, from a turned burnished wooden vase to a high-shine black vase in shiny ceramic glaze, against linear typography on smooth art books allows the light to gently pick out these varying forms. Low-key and very refined.
Start Talking
A side table is a lovely place to create a conversation starter of favourite keepsakes, treasures and tokens from loved ones. Here a piece of driftwood against a milk glass white vase and pretty pink vase reflecting the hue of a child's dolls house, all come together to create a harmonious little grouping. Keep the hues tonally connected will make it seem like a carefully curated collection rather than a casual family lost and found gathering point.
Mixing Materials
Decorating with vases is a very simple way to add interest for those with a disposition set against fuss and frills. A modern vase or table vase in the material-of-the-moment marble is a thing of beauty even if never filled, offering the subtle appeal of nature whilst within a modernist form. Combine with an angular jug vase, and more organic shapes such as this PowerView Pebble, and there is an instant focus to your coffee table without too much dusting required.
Where Flowers Fear To Tread
Beautiful vases are a delight to behold but expensive ones, like treasured gifts of wedding vases or expensive decorative glass vases that are more for gazing at than use, can end up boxed away as their practical options are limited. A great solution for keeping them safe and actually on display is to use them on boxed in radiator covers that cry out for decoration but are unsuitable for fresh flowers.
Everyday Elegance
Tall vases can be easily replaced by scouring your kitchen to find a multipurpose option. Using jugs as vases is a great option for those storage space pressed or for a penchant for a more relaxed style of decorating. A flower jug is ideal for blousy, wild flower blooms or a single stem and can make even a breakfast table a special event.
All Together Now
Ceramic paint and 'slips' can come in many finishes, so choose a theme such as all white vases, and have fun collecting and growing your selection of the many types available. Round vases, small vases, tiny white flower varied in feel from glistening shine to hand thrown through to delicate or earthy.
Op Art Drama
Ceramic pottery in a graphic pattern can work to great effect as part of a permanent display. These large decorative vases work as a counterpoint to the block colours of the storage boxes. They key here is to see the tableau as a whole when planning it, so consider the balance between block colours and detailed pattern. Cylinder vases are a great way to add height without fuss to this kind of arrangement.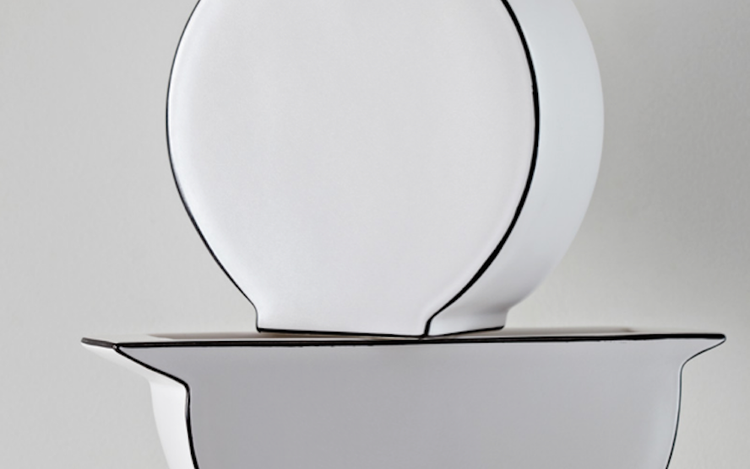 A Vase, But Not As We Know It
Flowers aren't for everyone; this take on a traditional vase shape results in a modern vase that doesn't need any additional adornment, already arresting enough with its witty take on a 2D version of the 3D shape. Unique vases such as these black and white vases, allow you to think beyond the standard empty vessel approach which can seem bereft as a dining centrepiece. Move away from the flower vase when looking for centrepiece vases if you want an ever-ready set up, by choosing a graphic piece. Add a brass candelabra or some teal glass tea lights and the table is always fully dressed for dinner.