Frank Gallagher Commercial Manager Q&A
To mark the 70th anniversary of Luxaflex® we're launching a series of Q&As, giving you insight into our UK team, and who they are. First up is commercial manager, Frank Gallagher. See what he has to say about his job role and find out the five things he can't live without…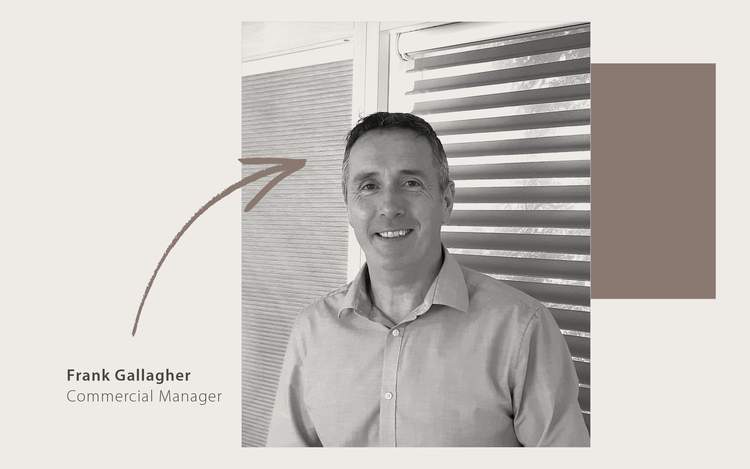 Tell us a bit about your job and what you do...
Tell us a bit about your job and what you do...
I'm the commercial manager for Luxaflex® here in the UK and I'm responsible for the processes that are linked to the customer's order journey.
The journey begins at the estimate and sampling stages, and goes right through to the order processing, delivery and even aftersales. I'm constantly looking to improve the process and ordering experience for our customers.
If you weren't doing this job, what do you think you would be doing?
I'm a structured person who likes clarity and organisation so, it would have to be a job with a known set of rules to follow. Perhaps an auditor of some description.
What's your best memory from your time at Luxaflex®?
My best Luxaflex® memory was when I was heavily involved in an extensive project to ensure our products and processes met with the requirements of child safety guidelines being introduced in the UK (2014).
It was a real learning curve with product safety testing and saw us working closely with test labs, component suppliers and the BBSA. It involved extensive internal training of staff and a national roadshow to help our dealers understand the requirements of the new EU directive.
Unlike most other projects it involved every department and person in the company to some extent and everyone worked as one to achieve the business goal.
What are the biggest changes you've seen? Are there any aspects of the job that are completely different now, if so why?
The biggest change I've seen is the creation of Centres of Excellence for manufacturing our products. Rather than several smaller assembly units making all products, we now have specialist purpose built manufacturing sites across Europe using state of the art assembly equipment, integrated IT systems and centralised stock holding.
With this change, I now get more involved with various colleagues at each site to feedback any issues as they arise. This was a challenge to begin with but it's now much easier with the use of our linked IT systems, video calls etc.
What is an interesting fact about yourself?
My last job, which was way back in 1987 before Luxaflex® and I was a silver service waiter at the 5-star, now Waldorf Astoria hotel in Edinburgh, attending to the great and the good!
I never let a day go by without…..
Sitting down with the family for an evening meal. No phones… just chatting about our day!
Name five things you can't live without?
My wife and children
A challenge - it keeps the mind active and my job interesting!
A cup of tea first thing in the morning
A holiday… anywhere really but ideally by the sea
A nice glass of Rioja to round off a busy week
Keep your eyes peeled for the next instalment of our 70th anniversary Q&A.