Go Bold; Statement Blinds For Showstopping Rooms
Windows naturally draw the eye, so they're the obvious place to make a bold design statement. New fabrics and technology allow them to change the mood and use of a room, from shimmering fabrics that soften light to digital printing patterns that can bring a whole scheme together. We've got some new ways to make them the star of your interior design show.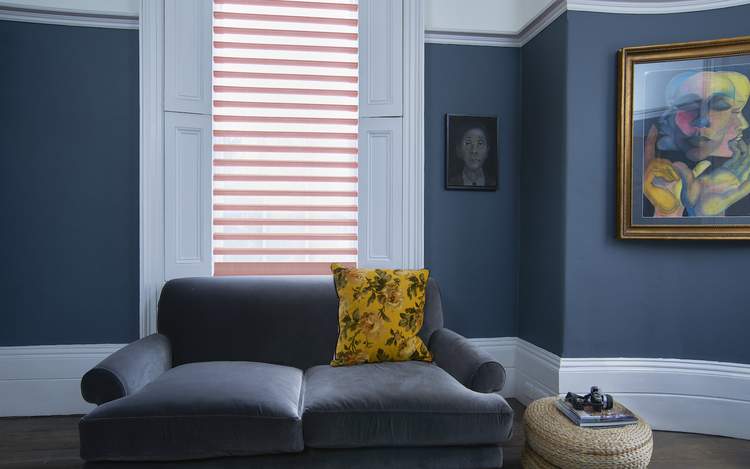 Contrast
Confident design breaks the rules of 'good' taste. Don't feel that your fabric choice needs to match your walls or furniture. Not only is it a great opportunity to create a feature in a complimentary tone, the right hue, such as this soft pink, can change the quality of the light. This shade will warm up a cold Northern light, or try a cool blue or green to cool down aggressively bright sunlight through the clever light enhancing vanes of Pirouette.
Optical Illusion
Using a strong colour that works as a matt, opaque stripe will play with the changing view behind, as the light moves from a strong blue to a shimmering peach sunset. These bold on-trend ultra-violet twist blinds will keep the look feeling modern and graphic, adding more to the room in terms of form and pattern rather than a discreet white blind that blends into its surroundings.
Finishing First
The ombre story is popular across fashion, interiors and even hair. These faux wooden blinds move from a soft white to a pretty pink, helping them blend into the wall colour but also adding in a tone that can be picked up in accessories around the room. Contrasting tapes on these blinds in a yellow or blue would add some wit to the scheme; the combinations are as endless as your ideas.
Stand out from the crowd
Who says blinds have to match? These three roller blinds have a relationship and work as a triptych but also add an unexpected twist with this central window covering. This not only looks great but can help with practical problems such as a large tree blocking light from one window. The two end panes may need full blackout but the central one may benefit from a less opaque approach to let in available light.
Material World
Even a small window can have a big style impact. These metal Venetian blinds in 'Metallic Gold' add some glamour to this industrial vintage themed bathroom. Bathroom and shower rooms need special consideration taking into account the damp environment, making Venetian blinds both metal or faux wood an ideal solution.
Keep it in the family
Another way to add impact is to layer colours in the same tone but of different intensity. These bright mid blue walls are made softer with the introduction of these dark blue blinds and deeper hued furniture. The addition of a lime lamp throws all the colours into relief and help them feel harmonious. A great look for a modernist that hates pattern but wants to create a strong look. A bold statement if ever there was one.