Good Homes? - Only The Best Home Items!
Luxaflex® Sonnette™ Shades are officially Good Homes Approved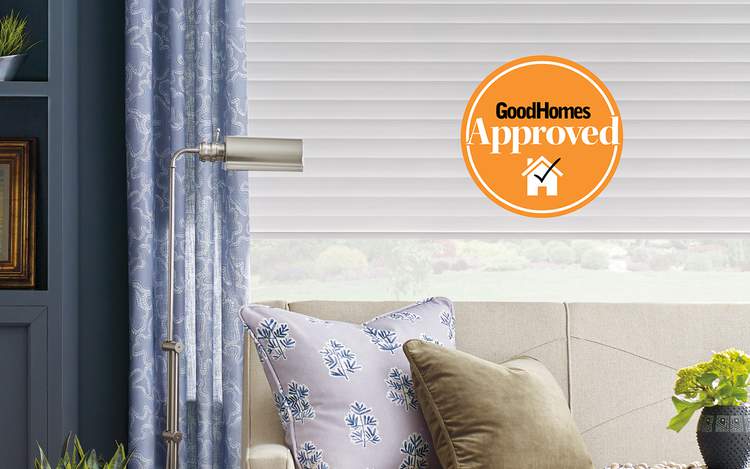 Every month, Good Homes experts run extensive test and review workshops on a range of the latest on-trend products and services to find and highlight the best quality home items. This supports Good Homes readers in making smarter choices and enjoying peace of mind when investing in products for the homes they love.

Here at Luxaflex®, we know our products are designed, tested, crafted, and fitted to the highest possible standards – that's why they come with a five-year guarantee. They are available only through approved retailers and installers, which allows us to wholeheartedly vouch for their consistent quality.
But we don't expect you to simply take our word for it.


The Luxaflex® reputation is built on a commitment to quality
We encourage discerning homeowners to read independent reviews and do their own thorough research before investing in anything for the home, to ensure they receive the quality products they deserve.

As such, we were delighted to see Luxaflex® Sonnette™ shades receive the official Good Homes seal of approval, proving at a glance that they offer exceptional quality and performance.

The Good Homes team reviewed Sonnette™ in 'Still Creek' and found that Sonnette™ Shades combine the simplicity of a roller blind with the insulating properties of a honeycomb blind. The softly contoured fabrics transform natural light with a soft glow and dimensional beauty, in a colour palette of sophisticated neutrals, luxurious linen looks, timeless white and grey tones, plus more vibrant hues.

The GH team also pointed out there's more than meets the eye with the Luxaflex® Sonnette™ Shade. Not only does the proprietary cellular design provide an energy-efficient layer that insulates your home in the winter and cools it down in the summer, there's also the option to install an automated version, such as PowerView®.
Reviewers went on to discuss design and fit as well as all the colour options available, highlighting the fact that colour and fabric swatches are available free of charge. As with all Luxaflex® products, Sonnette™ Shades are made to measure to customer's exact specifications.
After pointing out the many programable and automated options available, including Powerview®, the Good Homes team analysed the battery-powered SoftTouch™ version of Sonnette™ they had tested: "easy-to-use, and the wall-mounted control is available on black or white to blend with most decorating schemes." Perfect for those with small children or pets.
Reviewers rightfully pointed out that the price of smart Sonnette™ Shades from Luxaflex® is dependent on size, fabric and colour etc and your knowledgeable Luxaflex® retailer will be happy to advise.
When asked 'Would you recommend?'
Good Homes replied "Absolutely."