The Greater Outdoors
Making more of your garden and patio space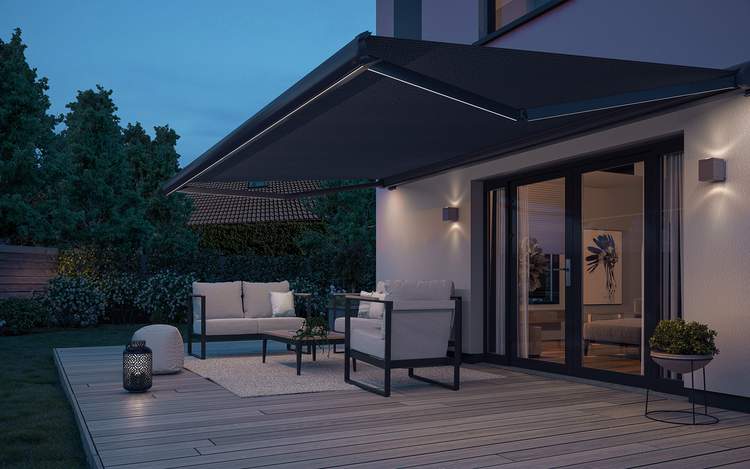 Outdoor contemporary living
Architects and interior designers continually strive to further blur the line between indoors and outdoors in contemporary living.
We've included a few ideas in this blog about how you can connect your existing home and garden with a biophilic approach. Biophilic design relates to the human instinct to interact with nature, and the health benefits this brings.
Luxaflex® Awning - Clouds in the sky
Take the indoors out
Furnishings such as weatherproof rugs and outdoor cushions might encourage you to spend more time in nature, using the garden as a comfortable extension of your living space. Forget rigid and unforgiving wooden benches and treat yourself to some lounge-worthy patio and garden furniture.
As the warmer summer weather approaches, why not think about a projector for outdoor movie nights?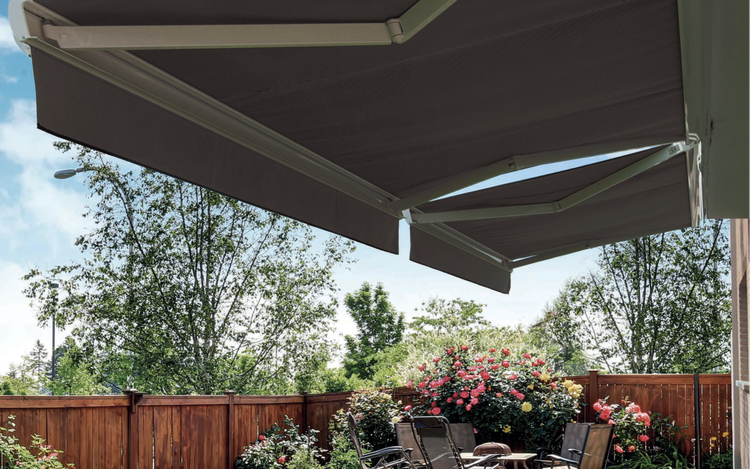 Luxaflex® Awning
Seamless surfaces
Choose a flush threshold for your patio doors and carry the same flooring choice through from inside to out, creating a beautifully contemporary effect and a smooth transition between these spaces.
Flagstones or non-slip tiles work perfectly to achieve this look.
Pirouette® Shades - Garden Room
Let there be light
One of the most popular things on the 'wishlist' for extensions, renovations and new builds is more natural light. And yet, huge windows or glazed doors can be both a blessing and a curse, depending on the weather and which way your property faces.
In the heat of summer, expanses of glazing have the capacity to fade your flooring and furniture and make your home too warm. Ideally, large windows or glass doors should be paired with Luxaflex® window coverings. Shades such as Pirouette®, which blocks up to 81% of harmful UV rays with the vanes open, and 99% with vanes closed, can extend the life of your furnishings.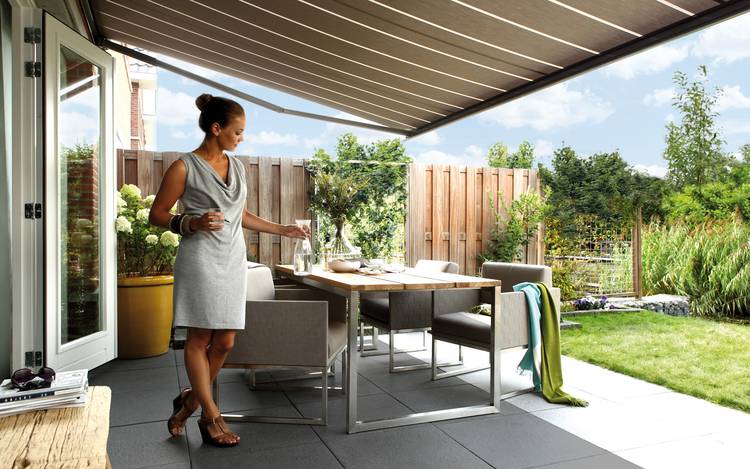 Come rain or shine
Canopies and awnings let you keep your home open to the fresh air, without letting in the worst of the weather.
Luxaflex® awnings keep the sun off and provide cover from unexpected showers. They are perfect for protecting delicate outdoor plants or extending kitchen areas to create an alfresco dining area. You have the option to include lighting within the arms of your awning to entertain into the evening, and there are even smart options with automatic opening and wind sensors.
Available in a vast range of colours and designs, these awnings can be chosen to subtly blend into the background, or wow with a pop of colour or cheerful stripe.
Pretty as a picture
Consider your garden's planting scheme from inside as well as out. Think about how it will be 'framed' by your windows or patio doors. With splashes of colour and carefully considered textures, the view from your window can become your favourite work of art.
Choose colours sagely
Sage, Bancha, Invisible Green, or Olive - whatever green you choose for interior walls, you can create a peaceful nature-inspired space. It has associations of the natural world, health and growth, and has even been linked to enhanced creativity.
Positioning houseplants against a green colour scheme creates a lush backdrop, bringing a garden feel to any room.