How To Design The Best White Kitchen
Who doesn't love a white kitchen? Fashions in design and lifestyle trends (like the vogue for dark and moody colours) or the best wooden kitchen ideas for the perfect mindful country kitchen may come and go. But a clean, serene white kitchen is a joy most of us can agree upon. Whatever your dream white kitchen ideas may be, there are a few simple considerations to take your design from pleasant to perfect.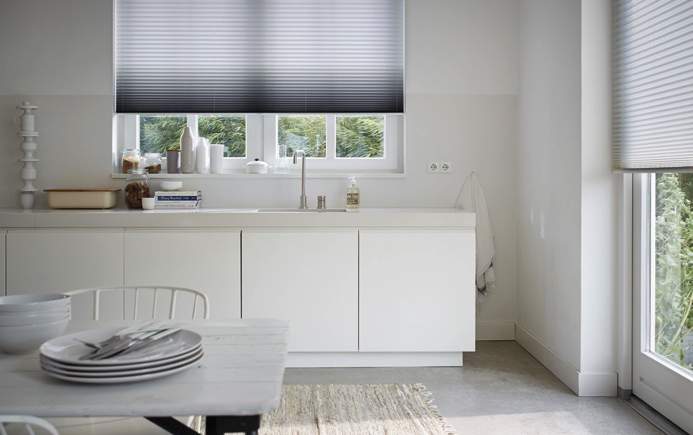 Start with your finish
So you've answered the core question and opted for a white kitchen.
But there is a huge breadth in white kitchen units that can dramatically alter the look and practicality of your room.
A high gloss finish may seem like an obvious win for a house with small children as they are easy to wipe clean, but they only really suit a more modern style door.
White kitchen cabinets can also show smears and highly pigmented food, so if you are keen on using paprika, combine with more forgiving metal handles.
If shiny is for you, adding in some unexpected quirks like this horizontal paneling brings a little beach style without confusing the look.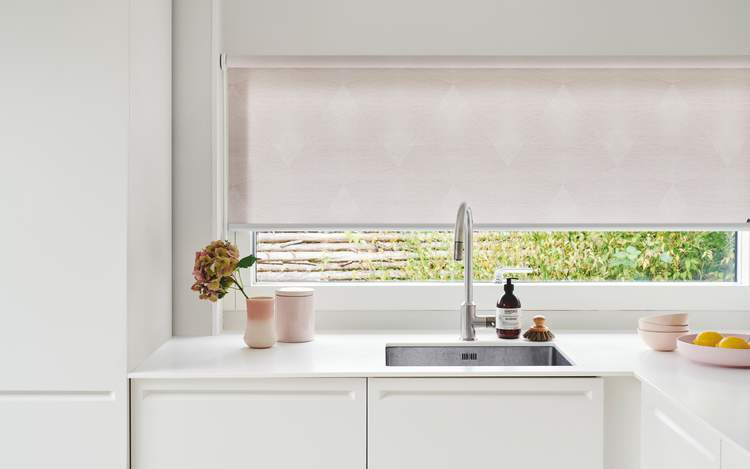 White kitchen design ideas
Practical Magic
One of the great things about choosing white kitchen units is they work effortlessly with white kitchen appliances, giving a long tidy expanse of units without having to hide away kit behind doors.
And they can also be cheaper than their stainless steel or integrated versions. Another practical consideration is wipeable surfaces such as worktops.
This can be an opportunity to add some wins on the easy-use front. White Corian worktops or other composite materials look great but can mark easily.
Not good if you are likely to splash your morning coffee grounds (and it's too early to care and speed mop them up).
A stainless steel or concrete finish is industrial in feel and hardiness, and because they can be formed in many shapes can be great backsplash ideas for a white kitchen.
Modern white kitchens also love wood and the material of the moment, marble. Perfect if you want a sense of the natural world to offset the sharp cleanliness of your space.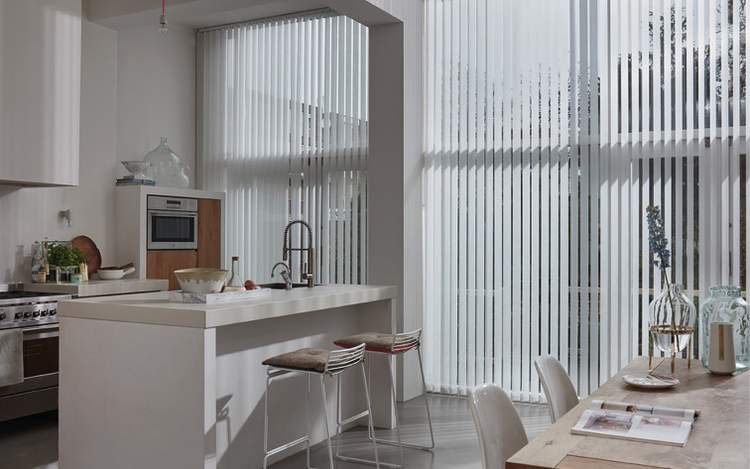 Luxaflex® white kitchen ideas
Grey Days
The call of a classic grey and white kitchen, still light and bright but not too bright, is great for making the most of smaller kitchen designs.
A white kitchen can feel like it's ungrounded if some other elements aren't introduced to add balance. In this scheme, the mid-tone of the concrete floor, with its earthy finish, is enhanced with a warm, uneven rag rug.
The soft white textured Vertical Blinds and wood table add a visual counterbalance against the all-white cabinets.
Other great kitchen floor ideas to create depth include an easy-clean classic black and white checkerboard tile or a reclaimed wood that gives a peaceful sense of softness as a counterpoint.
Just don't make that floor white unless you like that space station feel.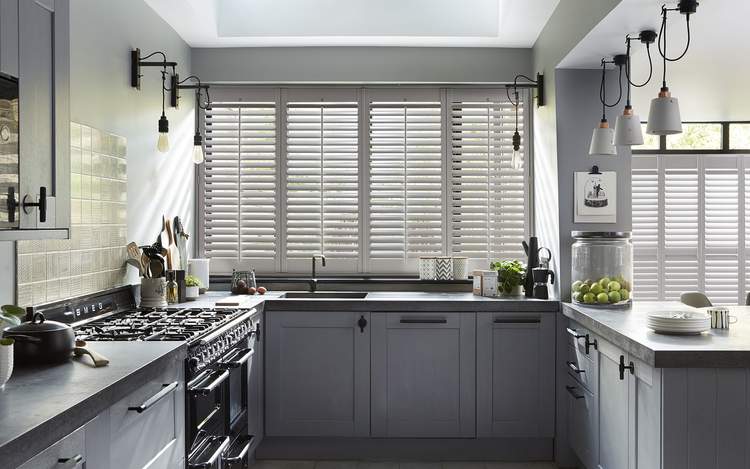 Luxaflex® white kitchen design ideas
Shaker it down
The best white kitchen ideas work in conjunction with the space you have.
If you want a clean white kitchen but have a period home don't give up. It's more about modifying your scheme so it feels seamlessly at home rather than jarring with the rest of the architecture.
Shaker cabinets painted in a soft blue-white with a little detailing to them work beautifully against high ceilings and dado rails. Pair with crisp white Shutters to complete the look.
A white and wood kitchen or a white country kitchen with some weathered terracotta tiles or flagstones can be hugely arresting with shiny copper pans hanging above a white Aga.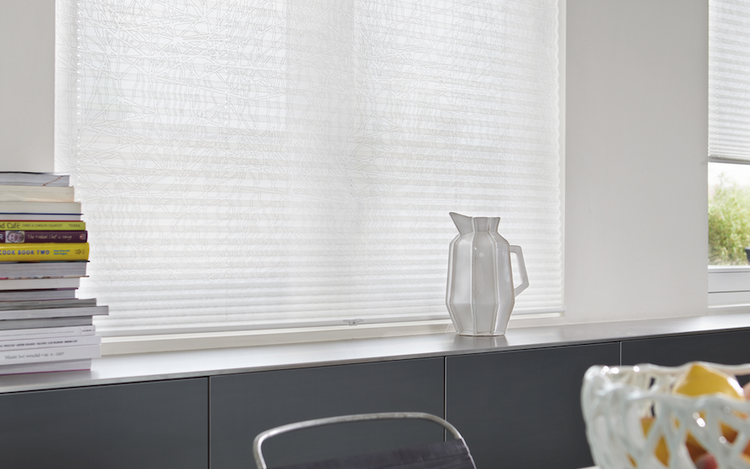 Luxaflex® white kitchen blinds
Every inch counts
All kitchens need to be space planned carefully, but large white kitchens need to be thought through properly before they become a dumping ground for every item that hasn't been catered for.
When planning your white kitchen units look for ways to hide bins, and less aesthetically pleasing products and cleaning materials will need lots of space as well as blenders, chopping boards, and knives.
Even the smallest kitchen space can have extra seating if one side allows a shallow delve for bar stools. It keeps the space social and works to make the island double in purpose, increasing the use, and therefore a sense of space.
And if all that white is too much on a bright sunny day, choose sleek made-to-measure blinds to filter the light and add some privacy.
If you are also looking for kitchen window coverings, our kitchen blind advice page might be useful.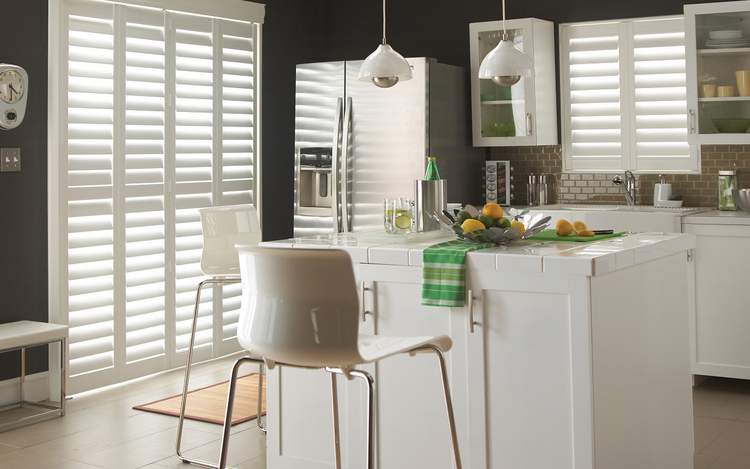 Luxaflex® Kitchen Shutters
Easy Going Style
One of the best things about plumping for a white kitchen design is that it can accommodate new kitchen ideas as they change.
The trend for all things moody such as black kitchen ideas can be worked in here and there, by changing just one bank of doors to a dark hue.
Quick win accessories or packaging is also a great way to add local interest on open shelves that can be whipped away when the next design wave arrives. This is why a white classic kitchen is the ultimate versatile classic.