The Best Ways To Winter-Proof Your Windows And Doors
So, we've created a handy checklist for making sure you can cut back on your bills whilst maximising your comfort factor.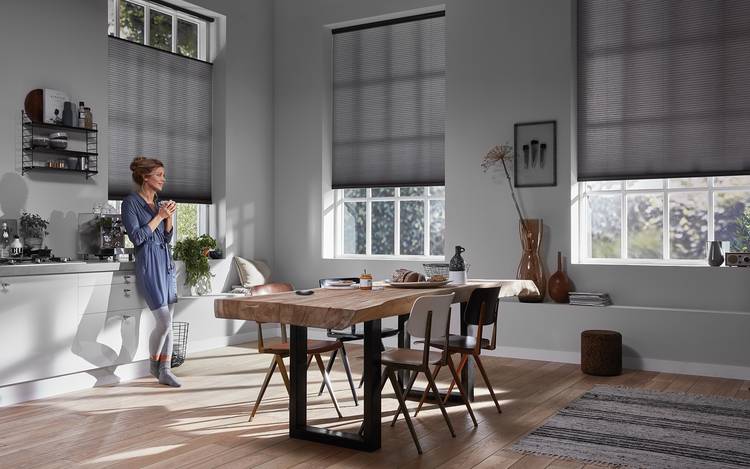 Stay warmer this winter
Winter is wonderful, but it can also be bone-chillingly cold. Which happily creates the perfect excuse for cosying up at home. However, keeping that home toasty warm can be a drain on energy and resources, with windows and doors being a large part of that potentially costly problem. So, we've created a handy checklist for making sure you can cut back on your bills whilst maximising your comfort factor.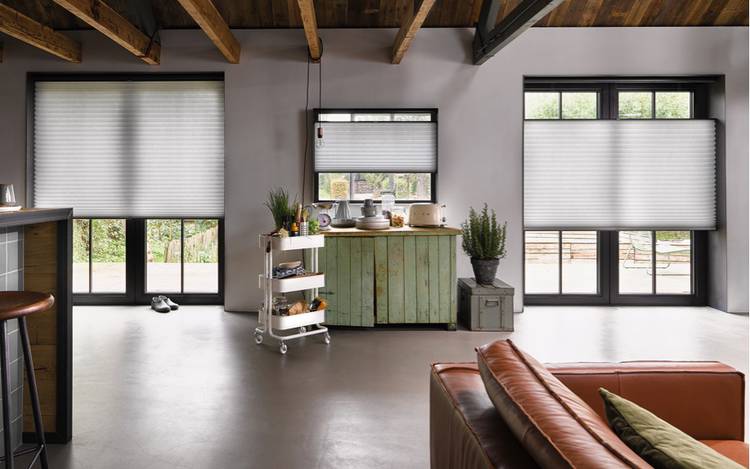 Know Your Enemies
Windows can transform a home, bringing the daylight in and protecting us from the worst of the elements. But they can also be the biggest source of energy loss in our homes. Depending on the number and size, we can lose almost 50% of our home's heat. Windows and doors mainly lose heat is through radiation - the transfer of warm air inside to the cooler atmosphere outside, and even double glazed windows lose heat through radiation.
The second-largest drain comes through ill-fitting windows; these can be old and warped or simply gappy sash windows. If there is a gap between two panels in a sash window, adding in brushes between the two can make a huge difference (these opening types usually lose the most heat). Metal window frames also lose more heat than wood and of course, triple-glazed windows securely fixed lose the least.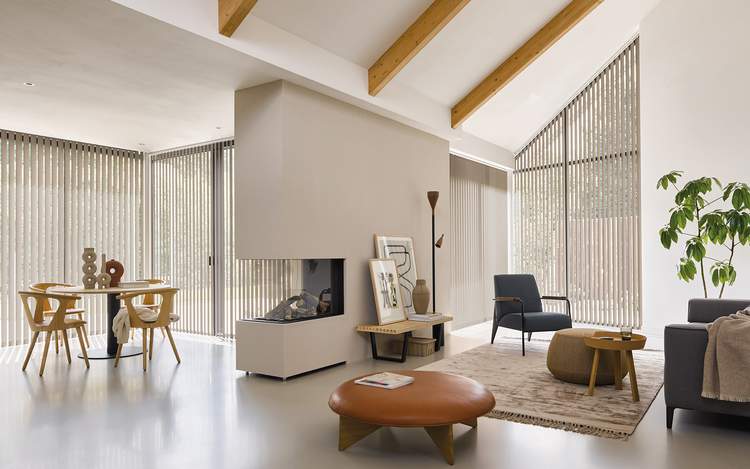 Hand It Over
Essentially, the best way to heat a house is to keep the heat in as long as possible; so start with an energy audit to see if yours comes under the energy efficient homes bracket and if not, which of the above might apply to you. This may sound obvious, but pulling out some of worst offenders can make a big difference. Start by running your hands over the top edges of your windows and work your way across and down.
You may be amazed to see that the modern sliding windows or patio doors you love in summer contribute to heat loss in winter, or the small window by your open fireplace is draining the flame's warmth. Once you've worked out your hot (or cold) spots, you can start making adjustments. If replacement windows aren't an option then making the most of what you have is the next best thing; and happily there are lots of ways to make your windows warmer.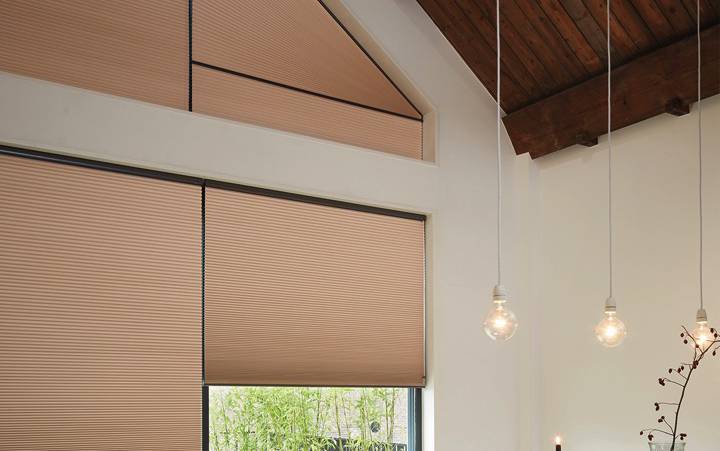 Look Up – And Left And Right
Daylight thermal gain is one of the energy wins of big windows. The key is to keep it inside where you can make the most of that warmth, and prevent it from escaping as the sun drops. South-facing windows will deliver the most heat, then East and West facing windows when they reach their peak sunlight hours as the day progresses.
Trapping the warmth through systems such as Luxaflex® PowerView Automation is an instant energy win. This smart home system can be timed to close as the sunlight drops, keeping the heat inside; use it with Duette® Architella blinds with a unique fabric construction that can prevent up to 40% leaving through the glass, and reducing the need for supplementary heating.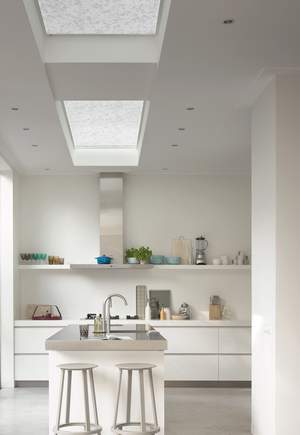 Free heat
An energy efficient house makes the most of what it already has. Even homes that have employed lots of energy-saving ideas had blind spots. A kitchen full of energy efficient appliances whirring away in the kitchen may have a lovely skylight that is letting a huge amount of saveable energy float out into the air. Heat rises, which is why roofs are one of the worst heat drains on a warm house.
So even if your windows are not overlooked, keeping warm in winter can be improved by up to 50% by covering roof windows with a Luxaflex® skylight blind installed with our TruFit® system . Its design is perfect for skylight and tilt and turn windows, and best of all, you don't need to drill the window frames. Control your blinds with simple motorised operation.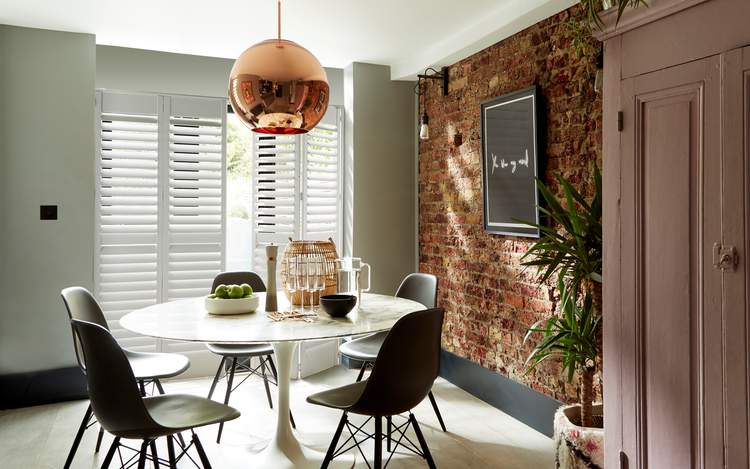 Old-Style Solutions
Replacing windows is a big commitment, but there are many advances such as 'Low-E' glass that can allow heat in but not out, or triple, high-performance glazing. However, traditional window styles may be more important than the most efficient window insulation. There are of course double-glazed windows in traditional timber frames if you don't like UPVC windows.
The efficiency of either of these style of windows can be improved with the addition of classically styled shutters, which can hide either less-than-desirable modern windows or block out more drafty old windows. Faux wood shutters can cut both heat loss and outside noise even further, to keep your home feeling extra snug.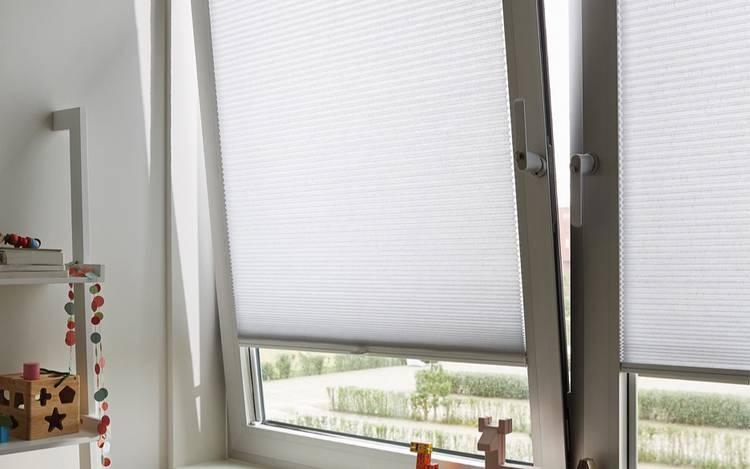 Keeping Comfortable
Perhaps your problem isn't keeping the room warm (or a generally miserably cold house), and you have a toasty warm home. It may be that regulating that heat is harder as the bare trees and lower angle of the sun can increase thermal gains into the room.
Here using your window covering as a way to diffuse this light and keep the excesses of the thermal gain out is the best option. If you don't want to lose light, just the heat, then choose the finest transparency in a window covering such as Duette® Shades. The neat profile of Duette TruFit is also ideal for keeping window ledges and surfaces clear, making house cleaning simpler and providing a privacy win for bathroom windows.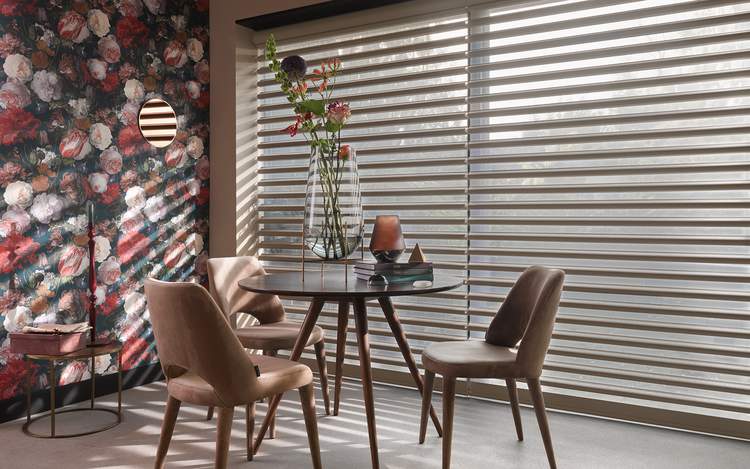 More is More
Energy efficient buildings may find this less of an issue, but if reducing energy costs is key for you, the same principles apply to all: the cheapest way to heat a house is to stop what you already have leaving. Dressing windows for winter can enhance that sense of being secure and snug against the elements outside and will of course, add even more protection from escaping heat or draughty frames.
If you love the maximalist look or just the play of a clean-lined window covering against the flowing drape of curtains, the undulating silk of our Pirouette blinds can deliver both. These unique blinds add a touch of glamour to a room that extends beyond the window frames. With the right fabric you can also save electricity, as the gauze fabric will also disperse the light for as long as possible into the evening, pushing the time you need to switch the lights on later into the night.