Top Navy Decorating Ideas
Navy isn't just for those with a nautical passion. It can be just as modern and chic as its close relation black, but has more drama than the alternative laid back grey. So if you're just looking for ideas on how to create a dark room with a classic edge, look beyond navy paint and see how it can become a chic and unexpected alternative for every room in your home.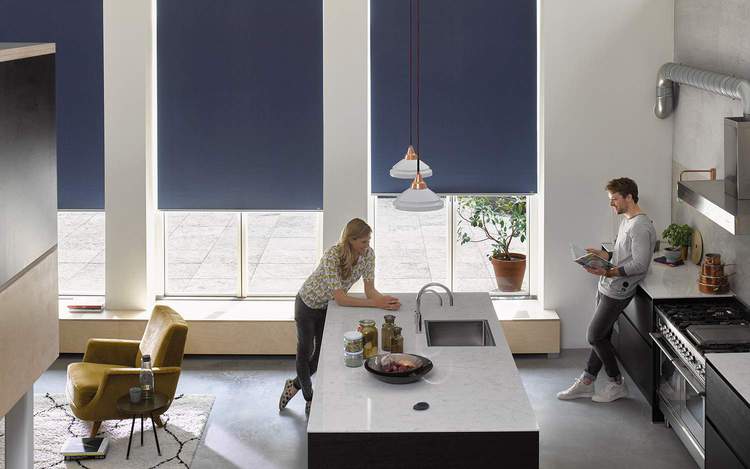 What Colours Go With Navy
The natural combination of navy and white is a favourite for a reason; it recalls Hamptons elegance and the fresh feel of the seaside.
But navy is a natural partner to many other hues too: orange, red, mustard yellow, and pale blue are all both enhanced by, and flatter, navy.
The key here is in getting the proportions right; choose your dominant shade, which here is white, with navy used as the secondary hue, and finally accents of mustard.
Using colours in equal proportions makes a scheme look riotous, so choose your hero tones before you begin.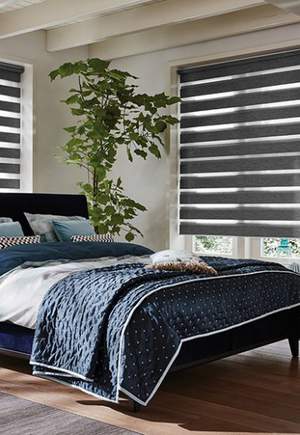 Top Navy Decorating Ideas
Bedroom Ideas
A navy blue bedroom can be a refined and elegant space with a more sumptuous softness than other dark shades.
A navy and white bedroom can feel very fresh, but if you want something more unexpected try a grey and navy bedroom.
If navy blue walls seem too drastic, start with navy pillows and a navy throw; a textured navy patterned rug overlaid on a more neutral scheme is an easy way to introduce the colour while making the room feel luxurious.
The addition here of grey Twist® blinds keeps the palette feeling very modern and stops it feeling too matching, whilst staying tonally in the same family.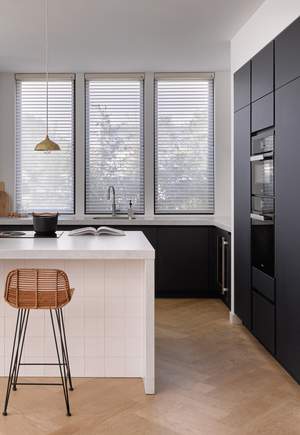 Silhouette® Shades
Kitchen & Dining Spaces
Navy blue kitchens are a big story for 2017.
After the proliferation of anthracite grey, navy blue kitchen cabinets lead the way for interesting paint colours for kitchens, so you can get a bold look with a friendly softness.
If a cabinet repaint is too much for you, try a window covering that gives a bold flat plane of rich colour to the room.
Combine this with some mismatched navy and white dinnerware to add a quick blue update with a slightly Scandi feel.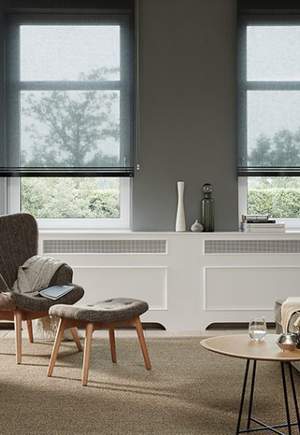 Living Room
Living Room
A navy living room is a quick way to update the regal feel in your home.
If it feels too heavy as a hue for the whole room start with a navy feature wall and overlay with large frames in white or light wood to break up the intensity.
Navy blue furniture such as a sofa, or rug is family-friendly and easy to maintain additions.
But you can also have the subtle elegance of navy without it feeling blocky. Trying a navy window treatment in sheer roller blind will feel sophisticated without blocking out too much light, with the added benefit of stopping a neutral scheme from feeling one-note.
Luxaflex® - Duette® Shades Bathroom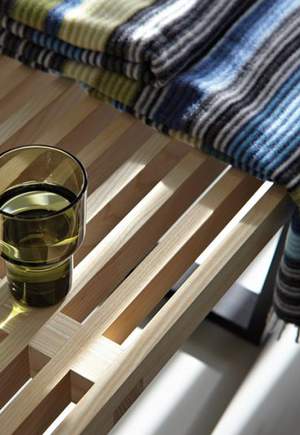 Luxaflex®
Navy Blue Bathroom Tips
White and blue are internal choices for bathroom designs.
But a navy blue bathroom can be a more directional alternative (whilst still feeling fresh).
If you want to keep the sanitary ware neutral in white or light oak, add in some navy towels and a navy bath mat or navy blue bathroom accessories to build up the look.
If you want to bring in navy but don't want to end up with a traditional nautical bathroom look, try using various shades of blue paint in paler hues and add in geometric hand towels to keep the look modern.
The Navy triumphs again.
Looking for more inspiration? Visit our inspiration gallery.