Why Vertical Blinds Are The Clear Window Winner
Making larger windows sing - once the choice for a chic office solution, the latest generation of vertical blinds have become increasingly popular around the home. The combination of material and colour varieties, their suitability for a range of uses like blinds for big windows or solving issues posed by unusual or narrow windows, is what makes vertical blinds a winning option.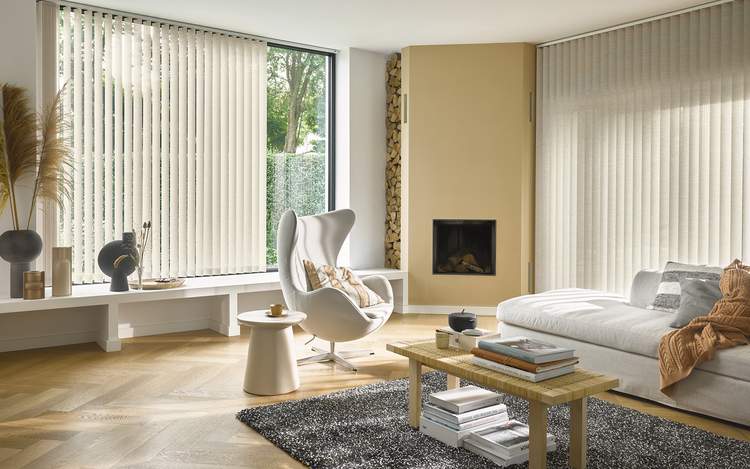 Maximum Control
Control is essential for modern apartment windows, and vertical window blinds are the obvious window covering solution.
As well as clean lines, they can be subtly adjusted to manage the view (whether you want to obscure it or keep others peering into your place).
A wide range of transparencies, plus the control of motorised blinds for smart home automation such as Powerview®, can be combined for very nuanced levels of control.
Add into the mix the choice of vane widths to determine the amount of light and visibility, and they become one of the most versatile options.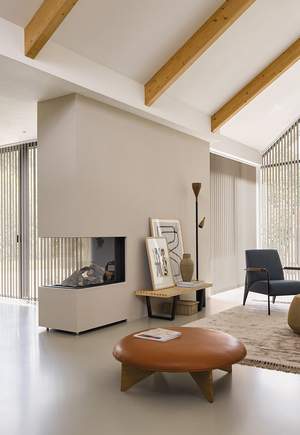 Sloping & Narrow Windows Blinds
Sloping & Narrow Windows Blinds
Vertical blinds are often the only options with difficult spaces such as sloping windows.
Long lean spaces don't always work well with a blind that needs to be pulled up or down. Tilting the veins instead means you can allow most of the available light without the window covering needing much attention.
If you have windows that require the blinds to cover the windows at all times, PVC options can have various perforation sizes to give a gently filtered light.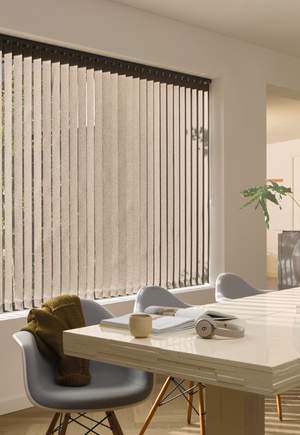 Large Windows Love Vertical Blinds
Large Windows Love Vertical Blinds
Vertical blinds are ideal for picture windows, large floor-to-ceiling windows, and patio doors.
It is so easy to appreciate the scenery by being able to pull back the blinds in an elegant, easy way when you want to enjoy your view.
Available at a maximum width of 3m and height of 5m, vertical blinds are ideal for homes that want to have refined modern shapes and want a window treatment that enhances those qualities.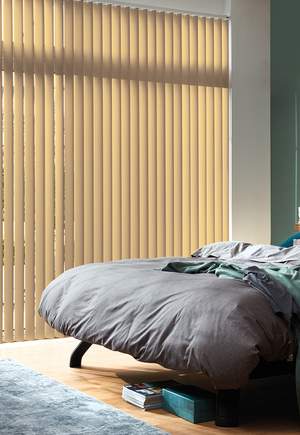 Materials & Colours Are Key
Materials & Colours Are Key
Hard colours make a bold statement, and this whilst may work if you're looking to create a modernist feel, for most homes that may be too strong.
You can achieve a softer effect by choosing textured linen in a champagne tone or soft material that will provide a subtler backdrop without losing the strong and modern feel.
For an earthy wooden scheme, the soft glow of metal vertical blinds can add strong contrast.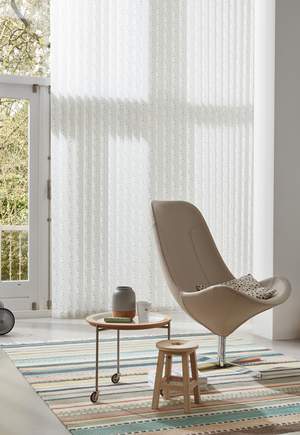 Peace of Mind
Peace of Mind
If you're motivated by the desire to protect the planet as well as your home, environmentally friendly options are a great way to get style with a clear conscience.
Recyclable, reused aluminium and PVC fabrics make them a worry-free choice – even in a nursery.
For added safety, choose child-safe smart home PowerView® automation to control your vertical blinds from your phone app, remote, or sound of your voice.