Faux Wood Blind and Shutter Materials
Whether you're going faux for simplicity, cost or ethics, faking it can be a great way to add in the varied textures that are essential to creating an interesting room scheme. Venetian plaster adds depth and classical glamour to a light-filled living room or hallway, while faux wood blinds make an easy-to-clean, stylish and moisture resistant option for bathrooms and kitchens.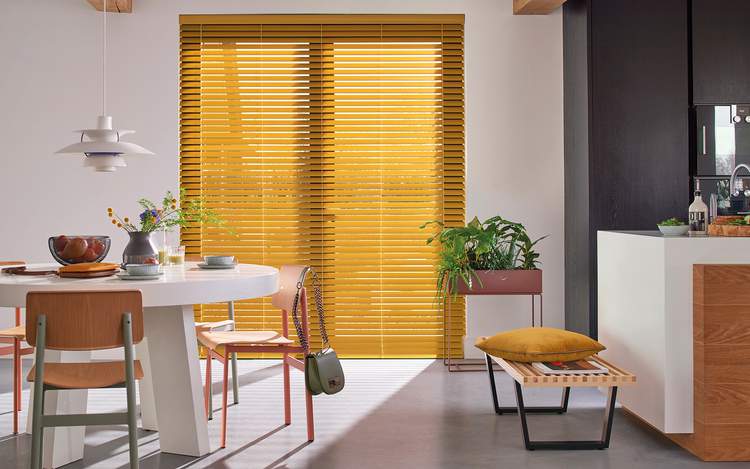 Perhaps it's a statement piece of upholstery you need, such as an artfully cracked faux leather fabric to lend character to a modern space.
Whatever you choose, it's about creating that sense of authenticity: like many things in life, you might simply need to fake it 'til you make it… 'it' being a scheme that looks good and works hard.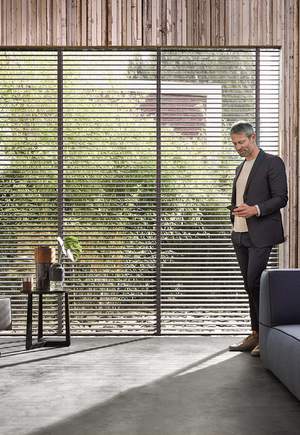 Luxaflex®
Faux Paint Effects
A myriad of faux painting effects and techniques can artfully age interiors that feel flat.
Distressed paint and decorative plaster add richness and drama to dull cream walls, while a black fireplace can become a centerpiece when coated with Italian plaster and a coating of metallic paint.
Venetian polished plaster gives a popular slick veneer, but you might prefer the DIY element of sponge painting walls.
Glamorous Venetian stucco will evoke memories of a grand villa holiday (lime Marmorino Venetian plaster looks great in both modern and aged spaces), or you can opt to distress furniture with a plaster paint that can give a standard side table a feel of shabby aristocratic refinement.
If glimmering Venetian plaster is not for you, try layering wooden wall panels to bring a rustic and earthy vibe into a room.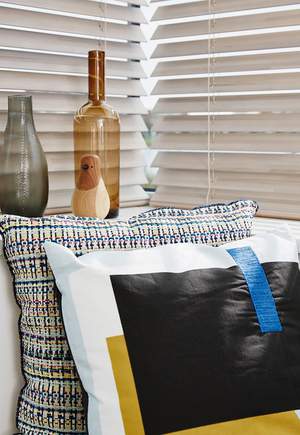 Patterned bedroom cushions
Faux Fabrics
Anyone conscious of animal welfare will have long sought out faux fabric as a way to add warmth and texture. Faux or synthetic suede and textures are now widely available, with vegan options becoming more varied.
Fabric adds shine to sofas and upholstery, while faux suede wallpaper can add instant hotel chic. Pep up crisp linen bedsheets with large faux fur cushions in bright hues, smarten up an armchair with faux suede or reupholster an old sofa in a luxe faux leather fabric – contrasting textiles pack a powerful and unexpected decorating punch.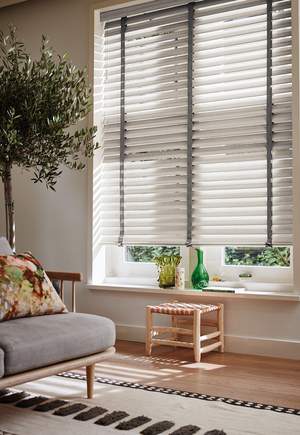 Faux Wood Blind and Shutter Materials
Faux Wood
If 'felled in a nearby forest' is the theme you're aiming for, start by researching faux bois (the French name for faux wood).
You'll recognise faux wood Venetian blinds, up there, perfect for light-filled kitchens (not least because they're easy to clean), and even better when offsetting a living room's faux brick wall covering or veneer.
The best faux wood blinds are practical, easy to use, and give the illusion of space – think functional as opposed to the beauty of distressed wood furniture.
The Luxaflex ® range offers smooth finishes and insulation benefits and can be made-to-measure with short lead times on fittings.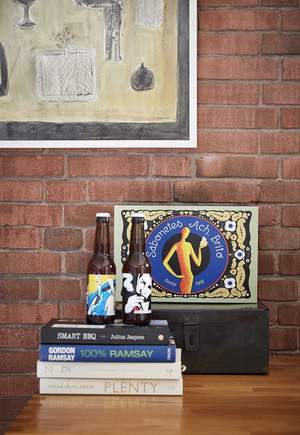 Faux Wood Blind and Shutter Materials
Faux Brick & Stone
Look around any modern hotel or restaurant and we guarantee you'll find a trend that's exploded over the last couple of years. Most eateries now have faux stone panels here and a faux brick wall there.
Some will even feature a more subtle addition of warmth emanating from a faux stone fireplace, perhaps framed by wing-back chairs and a coffee table spread with the Sunday papers.
You can easily 'build' a faux stone wall at home, even with limited space; add faux brick panels to unused bathroom corners, or create a stylish backdrop to brighten furniture with moody faux stone wallpaper or as a talking point in an unexciting hallway or small guest bathroom.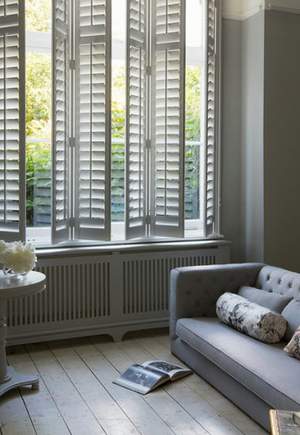 White shutters in living room
Get the Vintage Look
Vintage homeware remains huge news in interiors, but too many 'retro' accessories can make any space feel outdated and like a theme restaurant.
If you want to add in some vintage elements, begin by choosing a more classic colour scheme that won't date quickly.
Follow on by adding a subtle faux finish to one key element of the room like full height wood shutters at the window or wood-look coffee table. Try a vintage sign or just one large piece of furniture such as an old school bench, or lining a hallway with aged terracotta pots.
These can normally be bought from your local garden centre; paint with yoghurt and leave outside, and within a few days they'll have taken on an aged appearance.
Try ageing shiny charity store candlesticks or candelabras with patina paint which instantly creates an aged feel. Finding just the right items to age will become a part of the pleasure. For once, looking older feels great.