What Are The Best Blinds For Insulation?
Whether it's swapping to an electric car, shopping local, switching lights off, or simply remembering to take a reusable shopping bag to the supermarket – we all like to do our bit to reduce our carbon footprint. Discover how Luxaflex® are ahead of the competition with their high spec blinds.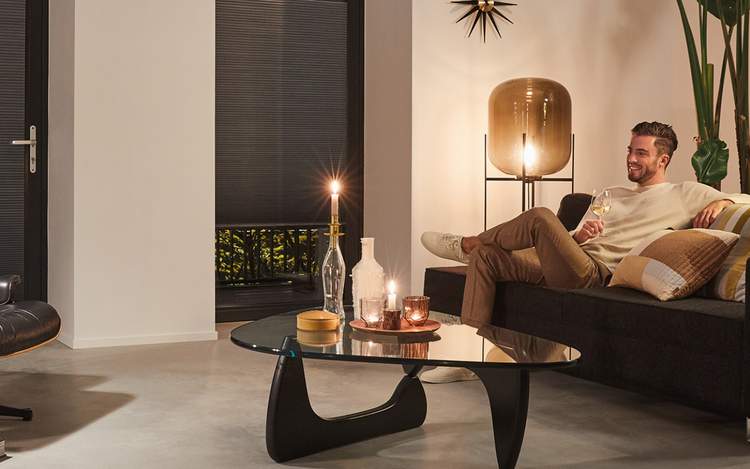 A major way we can contribute is by insulating our homes against energy waste and this is a clear win-win; saving money on energy bills and keeping a clear 'environmental conscience'.
The main area of home heat loss is usually the attic and roof, followed by walls, windows and doors. If your roof and attic space is well insulated, you might want to turn your attention to windows and window coverings.
When it comes to energy-saving window coverings, there are many options to consider. However, Duette® and Sonnette™ from Luxaflex® thoroughly outstrip the competition.
These high spec blinds reduce energy waste and conserve heat in largely the same way as double glazing. Where windows insulate your home with a layer of air (or inert gas) contained between two panes of glass, both Duette® and Sonnette™ trap a layer of air within their design, providing a formidable barrier against energy transfer and heat loss.
Long and heavy curtains used to be the fashion for creating a hefty draft excluder, but with the constant evolution of technology for blinds, discerning homeowners can choose sleek shades with clean lines and still keep the cold at bay.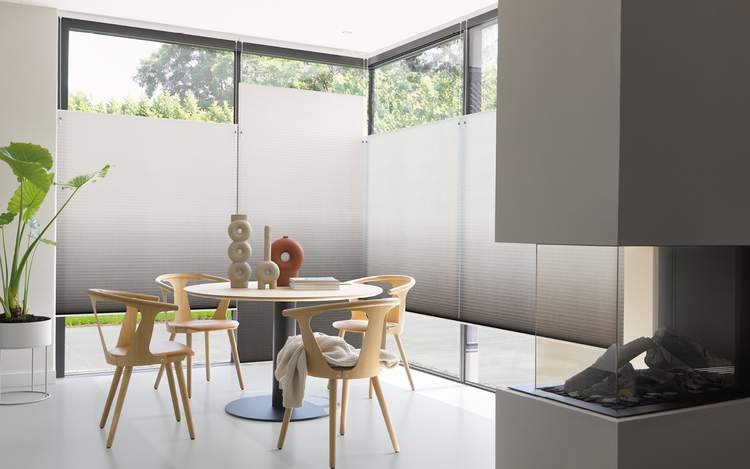 Duette®
Duette®
With a focus on sustainable living, Luxaflex® developed Duette® Architella Shades to reduce the staggering 50% of heat lost through windows, even with double glazing. The design of these award-winning blinds can reduce this figure by almost half, thanks to Duette's® honeycomb-shaped cell-in-cell construction.
Homes stay cooler in summer, warmer in winter, and well-insulated all year round. In fact, the latest range of Duette® fabrics is A++ energy rated.
An additional sustainability benefit of this design is that it helps block the sun's damaging UV rays preventing flooring and furniture from fading, and keeping them looking as good as new for longer.
Not only do they have practical and tangible energy-efficiency benefits, Duette® blinds are also available in exclusive colour and design choices to perfectly suit your style.
Installing Duette® Shades reduces heating, cooling, and lighting needs in three distinct ways:
Insulating against heat loss, protecting against excess solar gain, and enhancing available daylight which postpones the need to use electric lighting in the evening.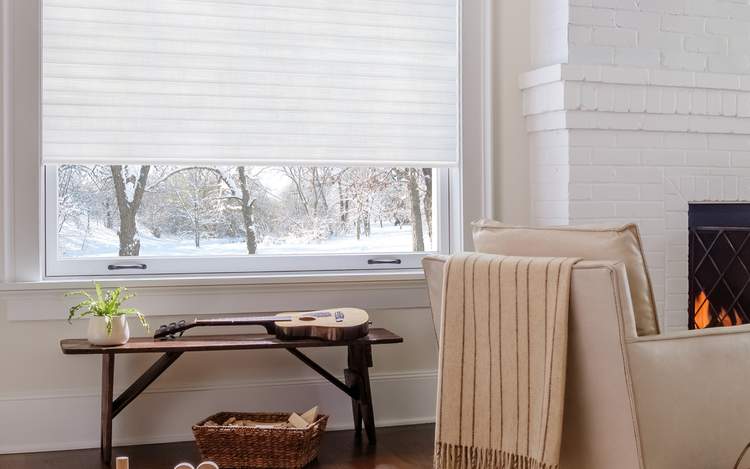 Sonnette™
Sonnette™
Luxaflex® Sonnette™ Shades combine the simplicity of a roller blind with the insulating design of a honeycomb blind.
Combining style and technology, these innovative blinds are available in two opacities; semi-opaque which softly diffuses light, and room-darkening which blocks light and affords extra privacy.
Both opacity options will reduce the level of UV rays entering the home and – much like Duette® - will reduce heating, cooling, and lighting demands.
The unique proprietary cellular design of Sonnette™ provides an energy-efficient and versatile layer of insulation for your home - keeping it warmer in winter and cooler in summer.
Both Sonnette™ and Duette® shades are made to measure so they can be perfectly matched for patio doors, shaped windows, bay windows and more, for a thoroughly considered and coordinated look.
Both ranges are also available with smart home PowerView® Automation, so you can maximise the sunlight and reduce the cold entering your home with automated settings.
You can control all your shades using your smartphone, remote control, wall switch, or even your voice. PowerView® is compatible with all leading smart home systems like Apple HomeKit, Google Assistant and Amazon Alexa, and more.
See how PowerView® works at your local Luxaflex® showroom.
Your local specialist Luxaflex retailer will also be able to advise on all the colour and fabric options to suit your style, while also considering the greatest potential for energy-efficiency improvement.