Are Café Shutters right for my home?
Cafe-style shutters are a very popular choice for homeowners but which windows or rooms are they best suited?
Even with such a flexible shutter design, it can be hard to know if Café Shutters are right for your windows, style, and needs.
Here are some key factors that we hope will help you work through what might be best for you.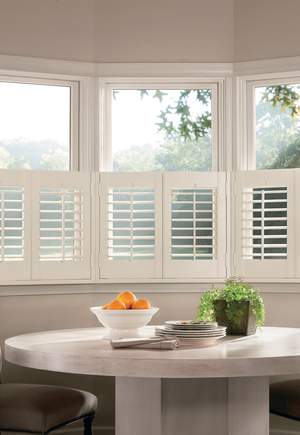 Cafe Shutters
What are Café Shutters?
Café shutters are roughly half the height of full-size shutters and only cover the bottom half of your window. The top half of the window remains clear and open to taking advantage of the natural light.
Not just practical but super stylish too with a sophisticated look and distinctly continental feel. Cafe shutters work brilliantly in every space but particularly in living rooms, kitchens, and bathrooms.
This versatile design and quality of Luxaflex® made to measure cafe shutters are a great choice for rooms that require privacy over maximum light reduction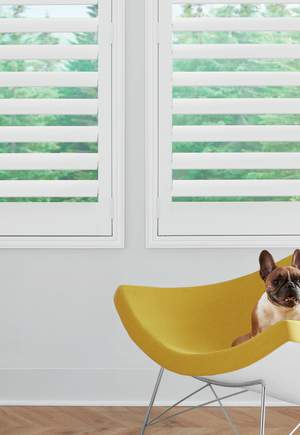 Cafe Shutters
How do Café Shutters address my privacy issues?
Keep your room bright and light whilst still preserving your privacy is something we all value, and that is one of the top reasons to choose café style shutters.
If you have a street-facing room where passers-by can look in or you are overlooked by neighbours, cafe shutters give you the best of both works – flexible light control and privacy in one.
The unique half shutter-style means you can control how much of your window you want to be covered and how much light your want in the space.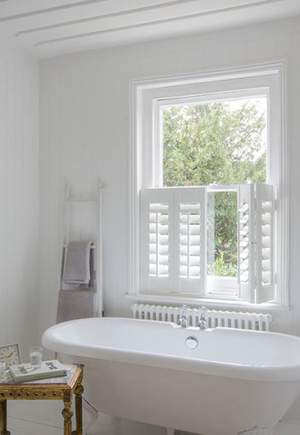 Café Shutters
Are Café Shutters suitable for bathrooms?
For bathrooms, cafe-style shutters are a popular choice as you want to ensure privacy from the outside world but also need light and ventilation.
Built to last our shutters are ideal for bathrooms that have a lot of humidity.
The solid design of Luxaflex® faux wood shutters reduces the risk of warpage, cracking, fading, chipping, peeling, or discolouring. Plus they are easy to clean with soap and water with stainless-steel hinges that won't rust.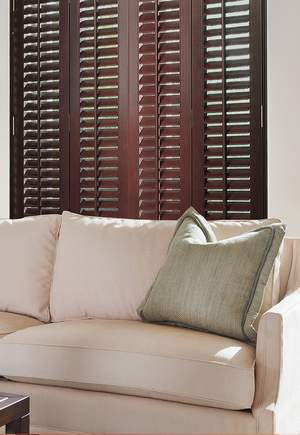 Café Shutters
How high should Café Shutter be?
It really depends on your window height, light control, and privacy needs.
Although many people associate café style with shorter shutters especially when buying off-the-shelf shutters, Luxaflex® shutters are custom-made to virtually any height depending on the amount of light and privacy you want.

Don't worry as your local Luxaflex® retailer is an expert in our shutters so can help you work out what the best solution is for your specific needs.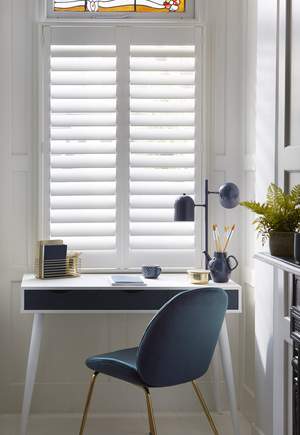 Cafe shutters
Why are Café Shutters a good choice?
Our custom-made shutters mean you can choose how much of your window your café shutters cover will cover. As your light and privacy needs may differ from room to room, you can choose the same great style but customise it to your exact needs.
Made to measure for your exact window style
Great for light control
Great for privacy
Choose from natural wood stain or painted looks
Water-resistant options for kitchens and bathrooms
Hard-wearing and durable
Looks for every budget
Combine with curtains for a layered window look
Luxaflex® guarantee
Luxaflex® Café Shutters are made to measure your exact window configuration and style with premium materials and craftsmanship.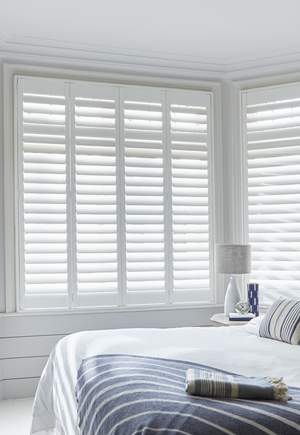 Full Height Shutters for Bedrooms
Can I have Café Shutters in my bedroom?
Of course, it's your choice but we wouldn't usually recommend café shutters for bedrooms as only the bottom section shuts so potentially this leaves unwanted light flooding from the top when you are trying to sleep.
There are other shutter alternatives you could consider for improved room darkening like full-height shutters as they cover the whole window with a sleek shutter style. With this model, you can also fold the shutters back or adjust the louvers to get the light and privacy levels just right.
Another style is a tier-on-tier shutter design that lets the top and bottom sections move independently of each other. During the day the top half can be folded back to let in the light but keeps your privacy at the bottom. Then at night, you can close both the top and bottom sections for extra room darkening.
You can see the different shutter models and get advice at your local Luxaflex® retailer.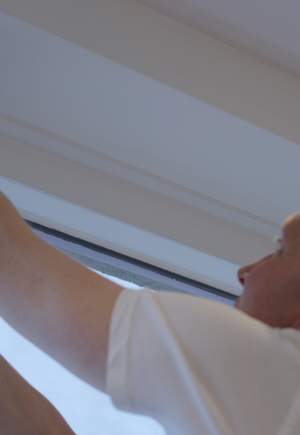 How do you measure and fit shutters?

At Luxaflex® we always recommend using a window covering professional to expertly measure and install your new shutters for a perfect fit and function.
Anything less than a perfect fit means less than a perfect look.
That's why your Luxaflex® retailer will visit your home to accurately measure your windows and then return to do a flawless installation so you don't need to worry.

Just sit back and enjoy the view!
Where to Buy Luxaflex® Shutters?
Book a free consultation with your local Luxaflex® retailer who'll take you through all the shutter options to choose the perfect look for your home.
Nothing transforms a window and room like bespoke Luxaflex® shutters that's been individually crafted for your home with exceptional attention to detail.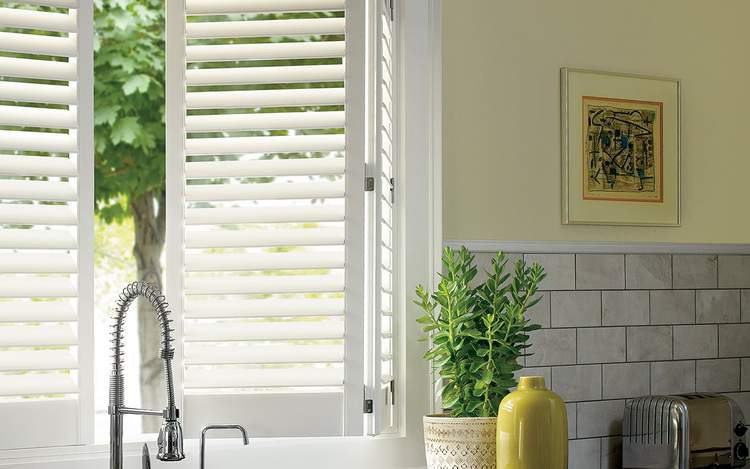 Café Shutters